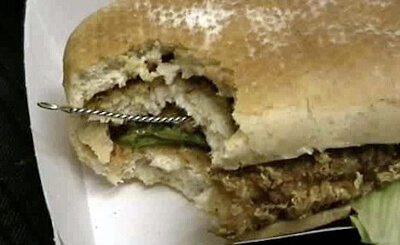 Finding a foreign object in your food can be a truly traumatizing event. These foreign objects can be anything from a relatively harmless piece of soft plastic to metal nails and rocks that can crack teeth and cause damage that at times can be irreversible. Victims who have been damaged by foreign objects in their food have every right to sue the fast-food chain, restaurant, or food product manufacturer responsible for the incident. If you or a loved one has suffered damages as a result of finding a foreign object in your food, you may be eligible to file a claim for compensation. At Los Angeles's top law group, Normandie Law Firm, our qualified team of experienced lawyers can guide you through the often arduous process of building your case and filing a claim for compensation. If you are looking for the average settlement amount for a foreign object in food lawsuit, please read on for some guidelines. If you have any questions after reading this article, please feel free to reach out to our top-rated law offices for a free consultation. An attorney with expertise in foreign object in food injury lawsuits will be able to help you.
Fast Food Restaurants and Traditional Sit-Down Restaurants
Fast food restaurants are named as such for their expediency in getting the food from the grill to the customer's hands at a low price. Due to this focus on speed, mistakes are bound to occur during the food's preparation. A large majority of these restaurants also pre-prepare a lot of the ingredients to make their food products, so when there is an object inside of a burger patty or salad, those preparing the food are unlikely to spot it. Bulleted below are some of the popular fast food chains throughout the state of California:
Burger King
Carl's Jr.
McDonald's
Del Taco
In-N-Out Burger
Jack in the Box
Sonic Drive-IN
Taco Bell
Wendy's
Subway
KFC
Long John Silver's
Panda Express
Chick-fil-A
Arby's
Fat Burger
Baja Fresh
Chipotle
Papa Johns
Pita Pit
A foreign object can be found in the food of any of these, or any other fast food establishment. Foreign objects could appear in a burger, a taco, a slice of pizza, or even a cup of orange juice. While these foreign objects are more likely to appear in fast food chains, they can also show up in traditional sit-down restaurants as well. Some objects that could end up in your food include:
Glass
Nails
Screws
Band-aids
Pebbles
Fingernails
Pieces of metal or plastic
Fish Bones
Cherry pit
Jewelry
Ring
Wires
Wood
Rocks
Insects
Rodent
Feces
Bones
Hair
Blood
Human Fingers
When someone consumes, breaks a tooth, or damages their dentures on a foreign object, the restaurant should be held liable for the damages that they have to endure. The reparative treatments that are often required to fix broken teeth can be incredibly expensive, as can the costs to repair broken dentures. Sometimes, swallowing a foreign object can cause life-threatening conditions that require extensive hospitalization, treatment, or even surgery. Some common injuries caused by a foreign object in food are as follows:
Cuts in the mouth and throat and damaged teeth
Illness due to ingestion of the object
Allergic reactions to ingredients that were not supposed to be in the food
Lacerations by sharp objects found in the food that the consumer did not expect.
A victim of injuries sustained as a result of having a foreign object in their food should not have to suffer without some form of compensation. Fast food chains, restaurants, and other places of business are all responsible for the safety and security of their customers, especially when they are consuming their products. When this duty is breached or neglected a lawsuit can be filed against them to help the victim recover from the damages that they have endured. A lot of times, people who have been injured wonder about the value of their case or how much their case is worth. It would be meaningless to talk about the average value of a particular case because there are so many factors that could affect the value of your case, that no two cases are ever the same. Regardless, it is still possible to provide you with an idea of how much your case may be worth and the factors affecting the value of your case. Please read below for an outline of these factors, or contact an expert lawyer experienced in foreign object in food cases.
You and Your Case
When clients come into our law firm seeking assistance for their foreign object in food lawsuit, they ask a broad series of questions that in fact reoccur quite regularly. Some of these frequently asked questions are bulleted below:
What is the average value of a foreign object in food lawsuit?
What is the average settlement value of a foreign object in food lawsuit settlement?
How much is my foreign object in food case worth? What is the typical payout?
It is often difficult to generalize the value of a foreign object in food lawsuit, or any lawsuit for that matter. While it may be simple to reach an estimation, there is no guarantee that this reached amount will fit into the parameters of every case; regardless of whether you are trying to find the average or individual case value. The best way to estimate the potential value of your case is to calculate the damages that you want compensation for. An accomplished attorney who has experience in foreign object in food claims can help give you an estimate. These compensable damages come in three different categories: economic damages, noneconomic damages, and punitive damages.
Economic damages typically make up the bulk of any case as they are damages that are defined by specific monetary losses. These monetary damages are made up of the following:
Past & Future Medical Expenses: These are the costs that a victim must endure for the hospitalization of the initial injury and any further treatment needed in the future because of this injury. These expenses often make up a significant portion of a settlement value.
Loss of Income: These compensatory damages are meant to reimburse the victim for any wages lost from the injuries. This amount can be determined through a thorough examination of the victim's salary history and can include sick and vacation time
Loss of Potential Income: Sometimes injuries can be so severe that the victim may lose the ability to perform at the same level they had before their injuries. To determine this amount, a complex formula is used that involves the evaluation of the victim's projected earnings and the impact that the damages may have had on the victim's ability to find and perform any future work.
Noneconomic damages often referred to as general damages, provide monetary compensation to victims of non-monetary damages. These damages are often challenging to monetarily define as they are not directly related to any monetary losses. For this reason, it is highly recommended that you seek the assistance of an attorney to help calculate an accurate value of these non-monetary losses. Some of these noneconomic compensatory damages are listed below:
Pain and suffering: This damage is compensated to a victim based on the pain and suffering they endured from their injuries. This amount is often calculated by the use of a pain multiplier that has the victim identify their level of pain on a scale of one to ten.
Emotional Distress: This form of compensation is offered to victims that have experienced any emotional trauma suffered due to the injuries. The compensable amount of emotional distress often varies from state to state.
Loss of Consortium: Loss of consortium is often added to the value of your case when the injuries are so severe that the victim's loved ones are deprived of a normal loving relationship and companionship
Lastly, punitive damages are added to a case as to punish a defendant for their actions and to deter them from engaging in similar conduct in the future. Punitive damages are in most instances challenging to fight for. Lesser attorneys will more than likely settle a case without making an argument for these damages. However, our skilled injury attorneys at Normandie Law Firm are committed to ensuring that all of our clients receive the compensation that they demand, punitive damages included.
About Normandie Law Firm
Having an experienced attorney on your side can make the difference between filing a successful claim for compensation and having your case dismissed from court entirely. At Normandie Law Firm, our attorneys with experience in foreign object in food cases are wholly committed to our clients and our clients' cases. Our attorneys practice in Los Angeles, San Diego, Orange County, Riverside, Bakersfield, San Francisco, Fresno, Sacramento and throughout the state of California. If you contact our law offices today, we can walk you through the complicated process of filing your claim and earning the compensation you deserve. Call us to speak with an attorney who has experience handling foreign object in food claims.
No Upfront Fees – Ever
As a display of our commitment, under our zero fee guarantee policy our clients don't pay for our services until we follow through on our promise and win your case.  If you contact us and we take your case, it will be fully on a contingency basis, meaning we don't get paid unless and until we get you money.
Free Second Opinions
If you already have an attorney, you can still contact our law offices for a second opinion on your case. Unfortunately, many attorneys in this field are only interested in their bottom line. As such, they will be available when it is time to sign you up, but after that, they will not communicate with you anymore because they are busy signing more cases. Our attorneys are compassionate and they will not treat you like a number. If you are having doubts about your current attorney, you can contact us for a second opinion on your case.
FURTHER INFORMATION:
Foreign Object in Food: Legal Options
How Much Is a Foreign Object in Food Case Worth?
Sue Restaurant for Foreign Object in Food Injury