What Is the Average Case Value of a Finger Amputation Lawsuit?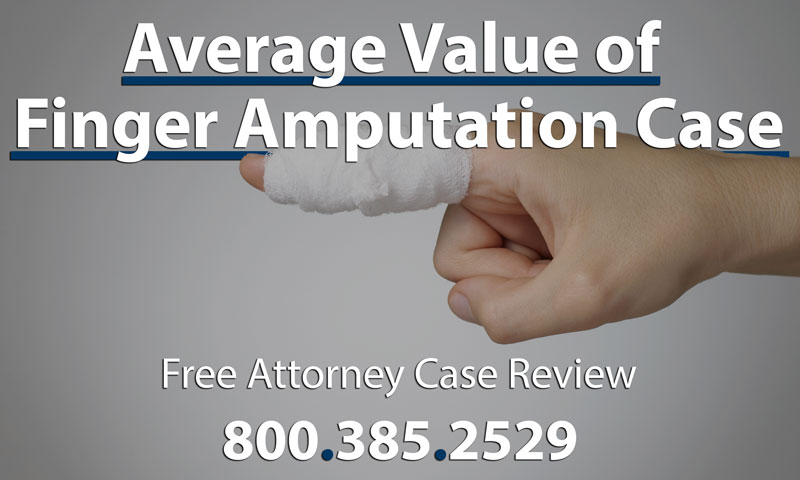 Accidents that result in amputated fingers can be devastating – they may not have life-threatening or fatal consequences, but losing a digit can permanently alter your lifestyle. Your daily routines may be altered or require a change, while you may find it exceptionally difficult to complete new tasks. In many cases, amputated fingers happen due to the negligence of another party or because of a fault with a product. Sometimes, the entire finger will be lost; other times, the finger can be replaced. Perhaps the most severe types of injuries occur when multiple fingers are severed or mangled. The aftermath of the incident can be extremely troublesome to deal with. Our team of experienced attorneys at Normandie Law Firm knows that an amputated finger case is a confusing and painful thing to go through, and nobody should be subjected to it. The consequences can be dire, and pursuing compensation can be stressful and time-consuming. Clients often call us for representation in these types of cases, and they ask us questions about their injuries and the legal process. Some examples of these questions include:
What is the compensation for the amputation of a finger?
How much is a finger amputation case worth?
How much is the value of an amputated finger case?
How much are average amputated finger settlements?
Reasons for Finger Amputations
Fingers may get amputated after accidents of all kinds. There are even times when a finger must be amputated by a doctor in order to preserve the hand or because the digit is damaged beyond repair. Occasionally, only the top of the finger or part of the finger is damaged, and may not require a total amputation. Many of these accidents are preventable, but not all. Finger amputations often occur in the following instances:
Workplace accidents: Those who work in positions that require a lot of manual labor or those who work as loading dock workers have an increased risk of suffering amputated fingers. Heavy machinery can easily sever a finger if you do not pay close attention to what you are doing, and any equipment that has a malfunction can lead to the same result. Falling objects may also contribute to these injuries.
Car accidents: When involved in a car crash, your hand may be pinned against the door, windshield, or steering wheel. Sometimes, the impact and stray glass or sharp metal may slice your finger off.
Construction sites: Construction sites are filled with dangerous machinery and sharp objects, but there is also danger present in the work itself. Your finger may be caught under pieces of wood, slip into frames or grooves when inserting materials, be snipped by a saw, and more. Because of all the metal, wood, and glass, you should work thick gloves for protection.
Firearm accidents: Improper handling of firearms, explosives, or fireworks can lead to explosions that blow your fingers off. These injuries can be extremely damaging as there may not be an easy way to repair them; fragments are difficult to fix. When operating something like a firearm, you should take care to obey all proper safety measures.
Appliance malfunction: Sometimes appliances and household items malfunction and lead to severed fingers. For example, a knife with an automatic blade or a chainsaw can malfunction, causing intense damage to the fingers.
Medical malpractice situations: While on the operating table in surgery, the doctor may mistakenly amputate your finger or do something that will harm the digit. Because it is the responsibility of the doctor to keep you safe while you are in his care, you should pursue a medical malpractice claim.
Assault and battery: Some assault cases are so severe or violent that you may suffer a severed finger. A knife attack or gunshot wound, for instance, can lead to an amputated finger.
In instances where an amputated finger is necessary, you likely won't be able to sue for damages. For example, if you are afflicted with diabetes or gangrene and your finger becomes unsalvageable, the best option may be to amputate the finger. Leaving it attached could cause further complications. Your doctor will know the best route to take, and it is highly recommended that you discuss all options with him.
Legal Action
Depending on the circumstances behind your finger amputation, you may have the ability to file a lawsuit to collect damages for the injury. For example, if you were injured at work, you would be able to file a worker's compensation claim to cover your lost wages and medical expenses. Personal injury claims, such as those resulting from car accidents or assaults, can garner you pain and suffering and punitive damages as well. If you were hurt while under the care of a medical professional, a medical malpractice lawsuit would be the best option.
All of the different lawsuits have varying statutes of limitations that dictate the time limit under which you can file a claim. Personal injury lawsuits allow you to file a lawsuit up to 2 years from the date of the injury, for instance. Reach out to an attorney at Normandie Law Firm to find out more pertinent information about your case. The longer you wait, the less time you will have to effectively file a claim.
Settlement Amounts for a Finger Amputation Case
The compensation amount for a finger amputation case is not a static sum. How much you will receive is dependent on many factors, including your part in the accident, the extent of the injury, the impact it will have on your life and career, and even which finger it was. Amputated thumbs can earn ten times as much as any other amputated finger, while pinky injuries net the lowest compensation. This is due in part to how important the finger is to everyday activities. The stronger and more versatile the finger, the more compensation you can earn.
There is no settlement calculator that exists for amputated finger injuries. The concrete numbers that stem from medical bills and lost wages can be easily awarded, but the damages that come from punitive awards or pain and suffering are much more difficult to determine. For your convenience, we have provided a few cases below that show the possible compensation you can earn. While these will not show what you are guaranteed to receive, they can be helpful as benchmarks.
$200,000 Verdict: A 31-year old man using an electric lawn mower turned the appliance over to remove the accumulated grass and dirt. He did not unplug the mower despite knowing and seeing the warning that advised him to do so to prevent serious injury. The mower turned back on, which was listed as a design flaw in the product, but ultimately, due to his own negligence, he lost three of the fingers on his left hand as well as partially severing the fourth. Because of his part in the incident, his settlement was greatly reduced.
$156,000 Verdict: A high school boy severed a portion of his middle finger on his nondominant hand in his shop class. He was using a jointer-planer, or standing saw; though he was found to be partially at fault, he was still able to recover damages based on the negligent supervision of the teacher.
$850,000 Verdict: A carpenter partially amputated three of his fingers while using a saw, much like the school boy did. His future compensation was the most highly rewarded, totaling at over $750,000 for 40 years. He sued his company for the damages.
$465,000 Verdict: A construction worker's finger was caught between a hook and the hoisted material, which resulted in the tip of his finger getting amputated. The portion was unable to be reattached, and he required surgery to cover the exposed bone. He sued his company for the damages and was awarded ample pain and suffering compensation.
These amputated finger settlements vary depending on the extent of the damage and the fault of the injured victim. Our lawyers can give you more information and help you earn coverage for your medical expenses, lost wages, damaged property, pain and suffering, and punitive damages.
Free Second Opinion
If you are curious about the average value of a finger amputation case, you may already have an attorney helping you file your claim. Clients often double check to see if what they are being offered by their lawyers is what matches the average. Sadly, in many cases, attorneys will hurry through claims and rush to get them settled, often for lower amounts than what you deserve. They do this to quickly get paid themselves and take on even more cases. It is a seedy practice and we advise against going to law firms that will take the first offer given.
To receive a second opinion, reach out to us at Normandie Law Firm. We will give you our input on whether or not your current attorney is acting in your best interest or if your case is worth a lot more than what you are being offered. If you choose to switch law firms, we promise that our team of experienced attorneys will negotiate until we have a settlement we feel you will be satisfied with.
Normandie's Help
We at Normandie Law Firm know how debilitating finger injuries can be. It is our goal to bring you the fairest settlement possible for your damages, and we will do so to the best of our ability. We will aggressively fight for your rights as a victim and will not hesitate to bring your case to court if necessary.
Call us today for a free legal consultation with an accomplished lawyer. You can ask any questions you want about your injury and the litigation process, and we will give you necessary information you need to file a claim. If you select us to represent you, you also receive a zero fee guarantee on your case – meaning you pay no out of pocket expenses throughout the process. Our fees will only get paid if we win your case, and the money comes out of the settlement we earn for you; if we lose, you owe us nothing at all. Your savings will always remain untouched.
Contact us today at Normandie Law Firm to speak with an attorney about your finger amputation case.
OUR ATTORNEYS CAN HELP YOU GET MAXIMUM COMPENSATION
Hand, Wrist, and Finger Injury Settlement Amounts
Los Angeles Finger Amputation Attorney
What Is the Cost of a Prosthetic After a Motorcycle Accident?