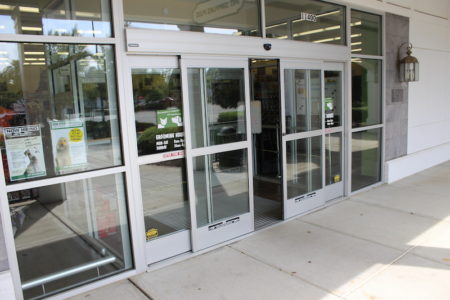 Individuals who have been injured on business property should be aware of their rights as victims. They may be able to pursue financial compensation for their injuries; those who have been injured by an automatic sliding door are no different. Sliding glass door injuries are more common than you would believe, and one of our attorneys in San Diego, California, can help you recover damages for these injuries. Whether you have been hurt at a hospital or an airport, you can be sure that an expert attorney with experience handling automatic door injury claims will help you. At the top-rated Normandie Law Firm, our experienced lawyers have worked sliding door injury cases for years, and we know the process better than anyone. Our clients often call us asking questions about who is liable and who can be sued after they were hurt by an automatic door. Examples of other questions include:
Where can I find an automatic door accident attorney?
Who is the best sliding door injury attorney in San Diego?
Can I sue a business if their automatic door hurt me?
Common Locations of Automatic Doors
Automatic doors have become staples in many businesses across the world. It is not uncommon to walk into any business and not have to open the door yourself; large chains especially have numerous doors that open of their own will to accommodate the thousands of customers that walk in and out of the store each day. It should be noted that some of these stores that have a lot of foot traffic and feature many shopping carts being wheeled around pose greater risks for injuries by sliding doors. A few of the locations that feature an automatic door at the entrance or elsewhere include:
Grocery stores (Ralph's, Vons, Food 4 Less, and others have automatic doors that allow customers to leave while pushing shopping carts and carrying bags of food)
Hospital (patients who have been injured have an easier time entering and exiting, while gurneys are easier to maneuver through the halls and to other wards)
School (for kids who have heavy backpacks or at school gyms where a lot of equipment needs to be brought in and out)
Airports (for passengers who have a lot of luggage, as well as to allow luggage carts easy access to other terminals)
Malls (outlet stores like Target and Walmart have a high number of people entering and exiting, and automatic doors increases efficiency and helps safety measures in case of an emergency)
Shopping centers
Office buildings
In all of these buildings, automatic doors pose risks for injuries to customers. The doors can suffer from overuse and eventually malfunction, and if too many people try to go through an entrance at once, a door can close and cause harm. Our qualified San Diego lawyers can help you pursue legal compensation if you are hurt by a sliding door at a business.
Problems with Automatic Doors
Automatic doors that see a lot of use may become worn over time. It is crucial that business owners have employees whose job is to inspect these doors and perform regular maintenance on them. Many of the malfunctions could have been prevented if an employee had paid attention to the door. However, it is a common business practice to not hire anyone for this purpose, as it saves costs.
Automatic doors may fall off their tracks and topple onto patrons, causing broken bones, fractures, lacerations, bruising, and more. This may happen due to overuse, as stated above, or from an improper fitting when the door was installed. Because an automatic sliding door usually contains a glass window, you may be greatly injured by broken glass if one falls on you, resulting in numerous cuts and shards of glass getting stuck in your skin.
Nearly all of these doors operate on sensors and optics that make the door open when a person is nearby. Sliding doors that sink into recesses in the wall open when a person walks into the range of detectable motion; the doors usually stay open for a little bit and then close. However, the doors can close prematurely if the sensor is broken or unclean. An electric malfunction can also make the door close with more force than necessary, causing broken bones and crushing injuries, especially if you were caught between the door and the pocket.
These risks are prominent for anyone who is walking through automatic doors, but those who have multiple bags of goods are at an increased risk of injury – they are more focused on not dropping their belongings and are less able to protect themselves in the event of an accident. Additionally, small children, the elderly, and those with physical disabilities are also more likely to be injured in sliding door accidents.
For more information, reach out to an accomplished attorney with expertise in automatic door injury lawsuits.
Filing a Lawsuit
If you have been injured in a sliding door accident, you may be able to earn financial compensation for your injuries. The business owner should have been aware of the problem with the automatic door if it were an obvious error, or he should have been aware if he had exercised proper control over his property. Maintenance workers, for instance, could have pointed out that the door needed to be cleaned, fixed, or replaced, and if the business owner ignored these requests, he could be held totally liable for your injuries. However, there are some notes that must be made regarding filing a lawsuit based on premises liability.
For one, you must determine your legal status as a visitor. The highest level of care is afforded to those who are considered invitees; these are generally customers at stores who come in with the express or implied consent from the business owner, and they are there for some sort of benefit. Often, it involves the exchange of goods and services. It is the responsibility of the business or property owner to warn the invitee of the potential dangers of stepping onto the property. Although some automatic doors have caution signs on them, not all do, and the ones that have a tendency malfunction may not be marked as such.
A licensee is someone who comes onto the property or into the business for his own benefit. A salesperson, for example, is a licensee; licensees are afforded a lesser amount of care than invitees, but they still must be warned of any dangerous parts of the property. Finally, trespassers are afforded the least amount of care, as they are on the property illegally. Most customers, if not all, are invitees.
By filing a premises liability claim with the help of our experienced San Diego attorneys, you may be able to receive coverage for:
Medical expenses (surgery, hospitalization, physical therapy, medication, and any other procedures that need to be done) of both past and future.
Lost wages that came about from missed time at work due to your injury or ensuing recovery process (which can also be collected for both the past and future).
Property damage for any belongings you had that were lost or broken in the incident.
Pain and suffering (emotional scarring, psychological issues, mental stress, fear, anxiety, and PTSD).
Punitive damages, which are only given out in the event of gross negligence or the intention to cause harm. These damages are difficult to win, however, and many courts see them as unnecessary or too excessive, as they are purely additional forms of monetary compensation and are meant to further punish the defendant. Only a skilled attorney with expertise in sliding door lawsuits will be able to win these damages.
You deserve to be compensated for a sliding door injury, and your best chance at a sizeable payout is with the assistance of a skilled lawyer experienced in handling automatic door cases.
The Law Firm for You
Normandie Law Firm is home to some of the top attorneys with experience in automatic door injury cases. Our San Diego law firm is willing to help you through the whole legal process and will not stop until we've brought you a settlement you deserve. We are an aggressive group of lawyers and we believe in making our clients' lives stress-free – in the wake of an injury, you should not be worried about finances or expenses. We will do our best to make those worries disappear.
Call an experienced attorney at Normandie Law Firm to receive a free consultation on your case. We will discuss your injury and the circumstances of the accident, and you can ask us whatever you'd like about the legal process and what you stand to earn in a lawsuit.
Our clients are given a zero fee guarantee when they choose us for legal representation. You are not asked to pay any money for our services; our payment comes from the settlement we win for you, ensuring that your savings are left untouched. If we lose your case, you don't owe us anything at all.
To speak to an attorney who has experience in automatic door injury cases in San Diego, call Normandie Law Firm today.