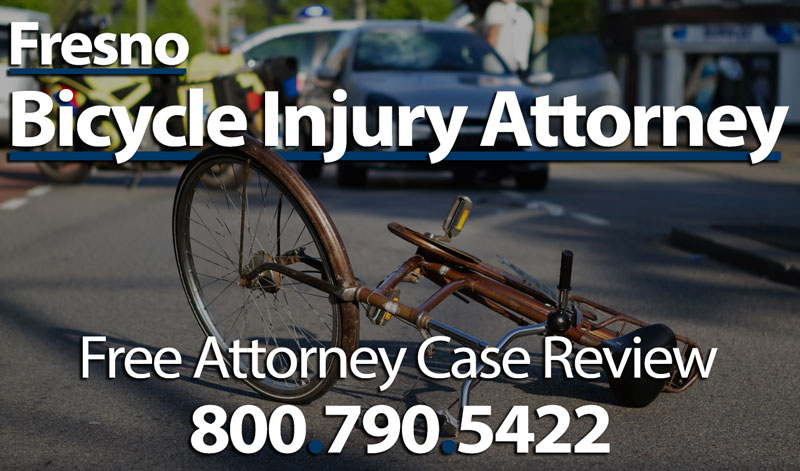 Have you been involved in a bicycle accident in or near the city of Fresno? Are you a native Spanish speaker? Our Spanish speaking bicycle accident lawyers in Fresno can help guide you through the often complicated process of filing a bicycle accident lawsuit against the party responsible for your damages. The legal process can be incredibly challenging even when it is in a language you're familiar with. With the help of our Spanish speaking Fresno attorneys at Normandie Law Firm, we can guide you through the arduous process of building a case, filing a claim and collecting compensation for the damages suffered. If you have any questions after reading this article, please feel free to reach out to our Spanish law firm for a free consultation from one of our legal advisors experienced in handling cases of this nature.
Bicycle Accidents In Fresno
Bicycles are a primary source of transportation for people throughout the city of Fresno. Located in central California, the city is known for its flat layout making for easy accessibility for cyclists. However, bicyclists in Fresno often share the road with other motorists, making for a somewhat risky situation. Spanish speakers in Fresno are somewhat often victims of bicycle accidents with not just other vehicles on the road, but other bicyclists as well. In some cases, no damages are done. However, there are incidents wherein a native Spanish speaking cyclist receives a series of devastating damages. The Fresno City Sheriff's Department has written out a list of tips they recommend every cyclist in Fresno take note of:
Be cautious when coming out of driveways or from between parked cars
Stop completely at all stop signs
Be cautious when checking for other traffic and don't swerve when looking over your shoulder
Always go with the flow of traffic and keep to the far side of the road
Always wear your helmet
Use hand signals when making turns
Always ride in a single file line when in groups of riders
Never allow another person to ride on your bike with you
Exercise courtesy and drive defensively
Know local and state bicycle laws
Walk your bike across any street when in a crosswalk
Wear bright clothing and use proper lights when riding at night
Know and record your make, model, and serial number of your bike
Register your bike with local law enforcement.
While these tips will not guarantee the avoidance of a bicycle accident, they can certainly help prevent one.  If you or a loved one was injured as a result of a bicycle accident and you are a Spanish speaker, a Spanish attorney will recommend that you can prove that you followed these guidelines, as well as proper bicyclist law in Fresno. Some of these laws include prohibiting bicycling under the influence, equipment requirements such as having proper brakes and a helmet. If it is found that you or someone you love was injured in a bicycle accident for not following these guidelines and laws, it is more than likely that you will find your case dismissed from court. A Spanish speaking bicycle accident lawyer in Fresno will also recommend that you can identify the injuries that you suffered. Accurately identifying your injuries can play a significant role in settlement of your suit. The injuries from bicycle accidents can be quite varied, but for your reference, we've included some of the more common injuries bicycle accidents can cause:
Back and Neck Injuries: back and neck injuries can vary in severity from minor neck pain to serious damage such as dislocated spinal discs. In their more serious instances, back and neck injuries can prevent victims from returning to work and performing daily activities.
Broken Bones: The force behind a collision with another vehicle or object while on a bike can be truly devastating, so much so that the force can break bones. Broken bones often take a long time to heal, especially injuries like a broken pelvis, ribcage, or even hip. These injuries could prevent a victim from returning to work and their previous state of life immediately.
Head Injuries: The force from some bicycle accidents can cause severe head injuries that can result in prolonged seizures, and other life-threatening Traumatic Brain Injuries (TBIs). In some, more severe cases, victims can never fully recover their damages.
Internal Injuries: Internal bleeding to organs like the bladder, liver, kidneys, pancreas, and spleen can be challenging to treat, and in some cases can result in a case of wrongful death
Lacerations: Often caused by broken glass and sharp metal, lacerations can be particularly painful and can leave massive scars that never heal entirely.
Rib and Torso Injuries: The rib cage protects a multitude of the body's vital organs, and when it breaks the whole system beneath is at risk of prolonged damage.
Spinal Cord Injuries and Paralysis: The spinal cord is an incredibly sensitive part of the body and when damaged can lead to devastating nerve damage, and may result in paralysis.
As mentioned before, filing a lawsuit against another cyclist or driver can be incredibly challenging and complicated, especially for native Spanish speakers. For this reason, it is in your best interest that you seek legal representation from a Fresno attorney who speaks Spanish to help you sue the party responsible for your damages.
What A Bicycle Accident Attorney Who Speaks Spanish Can Do For You
The legal process can be incredibly complicated. There are a large number of criteria that victims must adhere to reach a successful outcome for their case. This complication is only exacerbated for native Spanish speakers unfamiliar with the legal jargon that this kind of suits often entails.  Having a Spanish lawyer who can sue another cyclist or driver, can make all the difference in the outcome of your case. A Spanish speaking attorney with experience in cases of this nature can help you understand things like the statute of limitations and how they influence your case. To put it simply, the statute of limitations is essentially the time limit a victim has to bring their case to court. If the victim fails to follow the statute of limitations they could have their case dismissed from court entirely.
A Fresno bike accident attorney that speaks Spanish will also recommend that you collect all the evidence you can get as soon as possible. In cases like this, the evidence could take the form of street security cameras detailing the accident, photographs of the damages, or medical records showing the extent of the injuries. This evidence can then be used to prove the negligence of a driver or other cyclist on the road. When proving negligence, it is always recommended that you have an attorney with experience in doing so. Listed below are some of the components that make up a claim of negligence:
Duty: The plaintiff (injured or damaged party) must be able to show that the defendant (Other cyclist or driver) owed a legal duty to the plaintiff under the particular circumstances of the case.
Breach: The plaintiff must be able to show that the defendant breached said legal duty through specific actions or failure to act appropriately
Causation: The plaintiff must be able to show that the defendant's actions or lack thereof caused the plaintiff's injuries
Damages: The plaintiff must be able to show that they endured some specific damages. This can usually be shown through the presentation of medical records, a loss of wages, or a loss of potential income.
While every individual has a right to represent themselves in court, the best way to guarantee a successful outcome for your case is to seek assistance from a Spanish speaking lawyer who can help you sue for the damages and injuries that you may have suffered.
How Normandie Law Firm Can Help
If you or a loved one is a native Spanish speaker and have suffered injuries as a result of a bicycle accident you may be eligible to file a claim for monetary compensation. However, when filing claims of this nature, it is always recommended that you seek legal representation from a Fresno bike accident attorney that speaks Spanish. At Normandie Law firm our Spanish speaking personal injury attorneys can guide you through the often arduous process of bringing your case from the filing process to the settlement process. If you file a claim with our Spanish speaking law firm, you may be eligible to receive compensation for some if not all of the following damages:
All of you medical and hospitalization costs
All of your future medical care and treatment
A loss of income and loss of future earnings due to long-term recovery or permanent disability due to the accident
Compensable economic damages include loss of property or damaged property.
Compensable non-economic damages include emotional distress, trauma, PTSD resulting from the accident, pain and suffering and anxiety.
Native Spanish speakers who have experienced damages as a result of a bicycle accident in Fresno can contact our law offices to learn more about how to receive compensation for their injuries. While our law firm is based near Fresno, our attorneys also practice in Oakland, San Francisco, San Diego, Sacramento, Orange County, Riverside, Los Angeles, and throughout the state of California.
Free Second Opinions
Other attorneys will sign you up for their firm but will disappear once your name is on the paper as they are busy signing up more cases. In these instances, their business is based more on volume and will attempt to sign up as many cases as possible. In turn, they will spend less time on cases resulting in severely reduced settlements. Our firm will not treat you like a number. We will be in communication with you throughout our lawsuit and will treat you like family. So if you already have an attorney don't worry, we'll give you a second review of your case 100% free of charge.
Zero Fee Guarantee-No Upfront Fees Ever
If you contact our law offices today, we can walk you through the complicated process of filing your claim completely free of charge. As a show this commitment to you and your case we offer our clients the benefits of a zero fee guarantee policy. Under our zero fee policy, all clients don't pay for our services until their case is won. If you feel in need of a second opinion, second opinion case reviews are also free under this policy. Please, feel free to give us a call, and we can guide you down the path of receiving proper compensation for your damages.