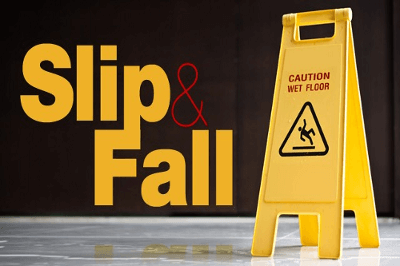 Slip and fall injuries are very common; they do not require you to be in any special place and the circumstances surrounding the accident can vary greatly from incident to incident. You may slip for any number of reasons in a place that is familiar to you or you may fall in an area that you have never been in. Of course, your injuries can also vary, and if you have slipped and fallen due to the negligence of another party, you may be able to collect compensation for your damages. Our experienced lawyers in Los Angeles at the top-rated Normandie Law Firm are here to help bring you a fair settlement for your accident, especially if the injuries resulted in further complications, such as PTSD. Our clients often call us with questions about slip and fall injuries and their connection to psychological damages. Examples of these questions include:
Can I sue for PTSD due to injuries caused by a slip and fall accident?
How much can I earn for PTSD from a trip and fall accident?
Can I get PTSD from a slip and fall accident?
Slip and Fall Locations
You may slip and fall at any time when out walking around, and the location of the accident may exacerbate your injuries. Many people fall while in stores due to slippery floors or wet sections of the ground; in some cases, raised or torn carpeting can also cause you to trip. Falls in department stores and malls are what people are most familiar with. If you slip and fall as a customer of a business, you may be able to sue various entities responsible for your injuries.
You may also fall in the workplace. Those who work in department stores and outlet malls have the same risks that customers do, while other workers may have more dangerous jobs. For instance, dock loaders and factory workers are around very dangerous equipment and lots of materials on the ground. Falling over a loose object can lead to disastrous consequences, such as tumbling off a dock or falling into a machine. Workplace injuries are quite common and can lead to sizeable settlements if an experienced lawyer handles the case.
Occasionally, falls happen in public places outdoors. In winter, snow gathers on sidewalks and freezes overnight; if it is not shoveled before freezing, it can become very difficult to pry off the sidewalk, and some icy bits may remain regardless of how much you remove. Property owners have a duty of care to pedestrians; they must shovel their own sidewalks to make sure people do not slip and fall. On the other hand, damages to sidewalks can be out of the property owner's hands. The city would be responsible for fixing a damaged sidewalk, for example, and would be the primary target in a lawsuit if an individual fell due to a crack.
Our accomplished Los Angeles attorneys who have experience handling in slip and fall injury claims can help you file a lawsuit against the liable party.
Injuries from Slips and Falls
Falling can cause numerous injuries, especially if you slip while going down the stairs or if your arms are full of belongings. The damages you can receive from a slip and fall injury may sideline you for weeks and leave you unable to complete daily activities. Some examples of these injuries include:
Broken bones (ankles, legs, hands, arms, shoulders, and more).
Neck and back injuries (spinal damage, stiffness, back sprains, slipped disc, and others).
Fractures (knees, wrists, clavicle, hip, and other bones).
Sprains and torn muscles (sprained ankle, torn MCL, torn ACL, sprained back, and more)
Traumatic brain injuries (cerebral bleeding, concussion, hemorrhaging)
When you sustain an injury from a slip and fall accident, you may also go through psychological trauma. Sometimes an incident can put you in an extremely dangerous situation that may have killed you; for instance, falling down a flight of stairs could have left you in a coma, and in the wake of the incident, stairs trigger a psychological response built on fear. This manifests as post-traumatic stress disorder, or PTSD.
PTSD Information
PTSD is a condition that affects the mind in the wake of a traumatizing event. A slip and fall that led to a debilitating injury may be extremely traumatizing, and the troubling thoughts could lead to you having an episode. A PTSD episode is identifiable by certain characteristics, including flashbacks, nightmares, depression, difficulty concentrating, suicidal thoughts, irritability and a temper, headache, and adverse reactions to anything that reminds you of the event. The condition is often lingering and cannot be cured without prolonged psychiatric treatment.
Unfortunately, PTSD is a mental condition that is not easily measured in the same way as other medical injuries are. A broken bone can be viewed under an x-ray, for instance, but mental damages cannot be determined except by interviewing and monitoring brain activity; however, brain activity only functions as indications of something and doctors cannot view these measurements as proof.
If you have sustained PTSD from a slip and fall accident, you should be prepared to undergo a demanding examination from the defendant's insurance company if you are filing a lawsuit. Insurance agents will do what they can to prove that your condition does not exist, that you are exaggerating, and that you do not deserve compensation for these damages.
A qualified Los Angeles attorney who has experience in handling post-traumatic stress disorder claims can help you prepare for your case.
Your Earning Potential
A slip and fall case that results in PTSD can yield a sizeable settlement. A personal injury lawyer will be able to negotiate fair compensation for different areas. Some examples of this potential compensation are:
Medical Bills: Any hospital bills, medication fees, physical therapy costs, and surgery costs can be covered. This also may include future medical treatments as well.
Property Damage: If your belongings were damaged in some way from the slip and fall, you can be reimbursed for their costs.
Lost Income: A slip and fall injury and PTSD may keep you out of work for some time. During these missed days, you would lose wages; you can thus be reimbursed for these lost wages from both the past and the future.
Pain and Suffering: Emotional damages are the hardest to measure and they often yield the highest compensation. Other examples of emotional damages besides PTSD including fear, anxiety, mental scarring, and psychological pain.
Don't wait to talk to an expert personal injury lawyer experienced in PTSD cases at Normandie Law Firm.
Our Law Firm
Our top team of skilled attorneys with experience in PTSD cases at Normandie Law Firm is here to help you earn your fair compensation for mental damages you suffered as a result of a slip and fall accident. Our attorneys are empathetic and understand that you are going through a lot of stress, and we want to do everything we can to ease that load. We will take care of all the legwork of your case and will not ask you to add to your emotional burden. We will fight for your rights as a victim and will dedicate our time to keeping you safe and healthy.
Call us today to receive a free legal consultation. You can speak to an experienced attorney and confidentially receive information about your case. You can ask any questions you want and we will be happy to answer them.
All of our clients are also given a zero fee guarantee when they hand us a claim. You do not pay any out of pocket expenses at Normandie; our fees are taken from the settlement itself, and we collect our payment only if we win. If we lose, we eat all the costs, and you owe us nothing at all.
Contact Normandie Law Firm today to talk an attorney with expertise in PTSD injury lawsuits.