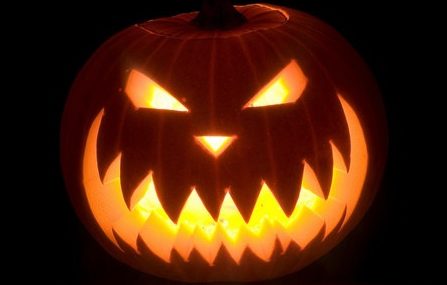 Haunted houses and other Halloween attractions are very popular during the time leading up to Halloween. In the United States, there are over 1,200 professional haunted houses. There are a total of 300 theme parks with specialized horror-themed events, and over 3,000 other Halloween attractions run by charities.
In Southern California, residents are familiar with the following theme park attractions:
Universal Studios Horror Nights
Knott's Scary Farm
Six Flags Fright Fest
Disneyland Halloween Time and Mickey's Halloween Party
These theme parks offer the most mainstream Halloween fun. Halloween attractions at Universal Studios, Knott's, and Six Flags are designed for teenagers and adults. While Disneyland's Halloween attractions are kid-friendly.
These are not the only Halloween attractions available, however. There are many small-scale attractions all over the city and all over California. But why are Halloween attractions so popular? People enjoy being scared and actively look for new attractions to visit. There are even a few attractions that are open year-round. Below is a list of some of the small-scale Halloween attractions:
Los Angeles Haunted Hayride
The Queen Mary: Dark Harbor
Alone
Urban Death: Tour of Terror
The Haunted Shack
Creep Los Angeles
Reign of Terror
Backwoods Maze
Heretic Horror House
The Tension Experience
Psychiatry: An Industry of Death Museum
Some of these attractions are basic haunted houses and mazes—you simply have to pay the fee and you will be allowed to enter. Others are not completely public. Attractions like the Heretic Horror House are selective of the individuals who can enter the premises. Heretic Horror House is considered to be an atmosphere and requires guests to submit current medical condition before entering. Heretic Horror House also offers an experience where guests must be medically and psychiatrically evaluated before entering. The attraction warns that guests will experience extreme physical aggression. Before participating in the attraction, guests must sign a waiver. This protects establishments like Heretic Horror House against guests taking legal action.
So, what about the attractions that do not make guests sign waivers? Visitors expect to attend the attraction, be scared, and go home in one piece. However, this does not always happen. Haunted houses will do anything necessary to scare their guests, including creating potentially dangerous situations. Guests can leave Halloween attractions with injuries that they would not have sustained if they did not attend the attraction. Contact the top-rated Normandie Law Firm to speak with an experienced attorney concerning your haunted house injuries. A qualified lawyer with experience handling haunted house injury claims will be able to take your call.
Haunted houses are fun, what can possibly go wrong?
Haunted houses are usually dark. Darkness will not allow guests to see where they are going. Guests may trip and fall on rubber mats, carpets, exposed extension cords, or on any props left in the walkway. Additionally, it is very likely that there are people in the haunted house focused on scaring guests. How do they achieve their scaring purpose? They jump out at guests unexpectedly, sometimes grabbing and pulling the guest. The natural guest reaction would be to jump back or pull away. In the dark, guests have no idea where they are jumping back or pulling away to. They might end up falling into walls or props. Also, many haunted attractions enjoy creating artificial fog to minimize visibility even further. In confined places, it is possible that guests can experience carbon monoxide poisoning. Further, large Halloween attractions use trams to move guests between different areas. With moving vehicles, it is always possible that guests might suffer an injury. Trampling can also pose an injury threat for guests of Halloween attractions. After a scare, groups of guests might all run at once, potentially knocking another guest over. In the dark, other guests would not notice someone on the ground. Last but not least, the people hired to scare you during your visit might be the ones responsible for causing you harm. In large events, employees are not allowed to touch guests; however, in smaller events, an employee might grope or inappropriately touch a guest. So, if you are injured during your visit to a Halloween attraction, can you file a claim with the help of an accomplished attorney with expertise in haunted house injury lawsuits?
If you did not sign a waiver, you could file a lawsuit for your injuries in the haunted house. All amusement parks with horror-themed events and haunted house owners have an obligation towards their visitors. What is this obligation? Owners and staff must operate and maintain their attractions to protect guests from unreasonably dangerous conditions that might lead to injuries. They have a duty of care to all guests; they are responsible for ensuring guest safety. How could owners and staff ensure guest safety? They could make sure to remove any hazards in walkways, like electrical cords. They could also routinely check mat placement, as mats can become misplaced after guests constantly walk over it. Staff and owners could also ensure that guests have some visibility so that they can see where they are going. If owners and staff do not do anything to ensure the safety of all guests, then they are being negligent.
After your injury at a haunted house or Halloween attraction, you should take the appropriate steps to ensure you have everything you need to file a lawsuit. You should do all of the following;
Ask to see a manager or owner of the attraction—you must report your injury to someone with authority.
Ask for a written incident report—this gives you proof that you reported the incident to someone of authority.
Get witness statements—ask witnesses to write detailed descriptions of what they saw. Ask for their contact information for future reference.
Take pictures and record video of the scene of your accident—this will provide visual proof of what conditions might have caused your accident.
If you do not gather the appropriate evidence, you might have a difficult time filing a claim. Additionally, if you needed medical attention, you should keep a record of all of your expenses. An expert attorney who has experience in haunted house injury cases will offer more guidance after you have presented him or her with all of the appropriate information.
Normandie Law Firm Can Help
Normandie Law Firm, one of the top law groups in Los Angeles, is a personal injury law firm focused on getting clients the compensation they deserve. If you were injured in a haunted house because of the negligence of a manager or an owner, you need to contact a haunted house injury lawyer. A skilled lawyer experienced in Halloween haunted house injury cases will be able to help you take legal action against the negligence that resulted in your injuries.
Normandie Law Firm is 100% committed to clients. Our Los Angeles attorneys will fight for you until we win your case. We offer our clients free consultations. You can talk to an attorney to sue a Halloween haunted house for injuries to its guests. Our attorneys will answer all of your questions and make the necessary clarifications to ensure that you completely understand the legal process. Additionally, we also offer free second opinions.  If you already have an attorney at another firm, you might be experiencing a lack of attention. Many attorneys rush through cases so that they can continue signing more and more. This might result in the attorney neglecting you and your case. At Normandie Law Firm, our experienced lawyers are committed to always giving you the best treatment. Our attorneys with experience in haunted house accident cases in Los Angeles will make your case their number one priority.
FREE LEGAL CONSULTATION: Normandie Law Firm offers clients a Zero-Fee guarantee. We understand the emotional, mental, and financial stress that your injuries might have caused. Therefore, we want to give you peace of mind.  You never have to worry about paying any upfront fees. Our law firm is strictly based on contingency; therefore, you will not have to pay anything until our lawyers win your case. Call us now and let a Los Angeles haunted house injury lawyer fight for your rights.