2 Boys, Ages 7 and 9, Killed in Sheriff's Department SUV Crash In Boyle Heights; Mother In Critical Condition; Witnesses Say Sirens Were Not On Before Crash | 11-17-2017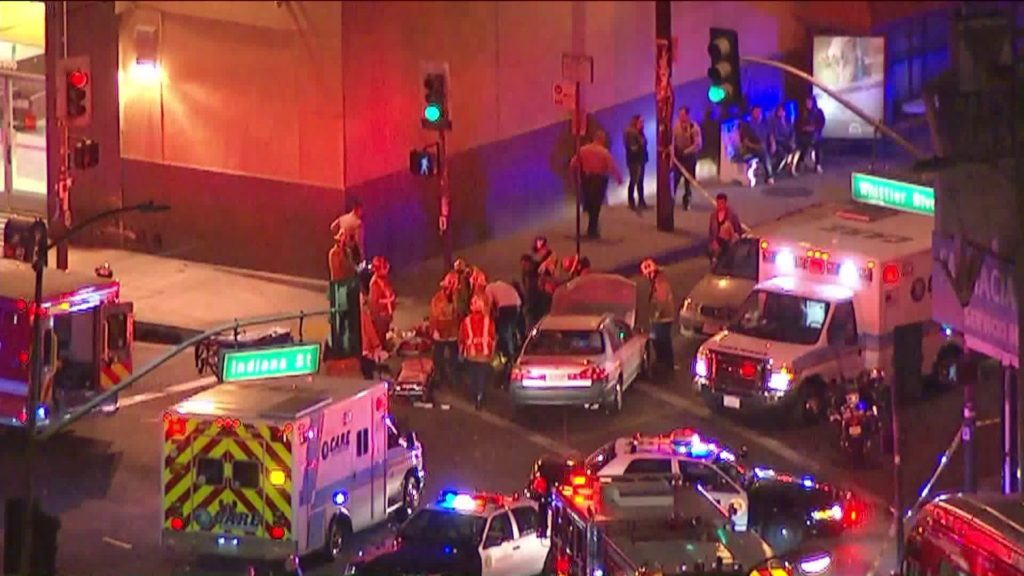 Recent reports have been released further detailing a tragic accident that occurred on the border of Boyle Heights and East L.A. The crash took the lives of two children, who were identified as 7 and 9-year-old boys. Their mother was also struck and is still in critical condition, police said Friday. The accident involved three cars, one of which was a Los Angeles County Sheriff's Department SUV. The crash was reported at about 7:25 p.m. after the SUV collided with two other vehicles on the intersection of South Indiana Street, and Whittier Boulevard. The deputies were responding to an emergency call when the SUV crashed into the other vehicles. On impact, the SUV was sent off of the roadway, where it struck three pedestrians, who were later identified as the two boys and their mother. One of the boys was reportedly pronounced dead at the scene, while the second boy was taken to a local hospital where he later died. The mother was also taken to the hospital for treatment and is still in critical condition. Eyewitness accounts have pointed out that the Sheriff's Department vehicle did not have its lights and sirens on at the time of the collision. Investigators have still yet to determine whether the sirens were on or not at the time of the crash. After the initial crash, the vehicle that struck the SUV then crashed into a third vehicle. This secondary crash left two adult pedestrians injured. The deputies involved in the accident were hospitalized with minor injuries, while the other drivers involved in the accident were not injured. Reports show that the car collision occurred near several businesses, including a Wells Fargo bank, which may have taken surveillance footage of the crash. If you or someone you know has any information regarding this incident, you should contact the LAPD at 213-833-3746.
If you or a loved one have suffered damages or have lost a loved one as a result of this tragic incident, you may be eligible to file a claim for significant monetary compensation. However, filing suits against police officers can be incredibly challenging, as in most cases they are protected by something called sovereign immunity. With the help of a skilled attorney, you could prove the negligence and misconduct of the police officer or sheriff's deputy involved in your case.
How To File A Lawsuit
In most cases, police officers, sheriff's deputies, and other law enforcement officers are protected under something called 'sovereign immunity.' Sovereign immunity protects government agencies and entities from having lawsuits filed against them. However, that is not to say that filing a lawsuit against a law enforcement officer for misconduct is altogether impossible. Sovereign immunity only goes so far regarding protecting government bodies, and if it is found that a government body acted particularly negligent, they can still be hit with a lawsuit. Regarding this case, if it is discovered that the Sheriff's Deputy vehicle had not sounded their sirens to warn nearby vehicles and pedestrians, sovereign immunity may not be able to protect them from a lawsuit. If you or a loved one have been made a victim of this tragic incident and wish to file a lawsuit it is highly recommended that you follow the steps listed below to ensure a positive outcome for your case better:
Speak to a civil rights attorney as soon as you can, as they will better understand the complexities that come with suing a police officer or law enforcement officer for the damages caused by misconduct.
Collect as much evidence as possible by taking pictures of the injuries, gathering eyewitness accounts, and holding on to any clothing or any other property that was damaged by police.
Report the incident to the police department, as well as the United States Department of Justice and the United States Attorney General's Office.
If you have lost a loved one as a result of this incident, or any incident similar to this one, you may be eligible to file a wrongful death lawsuit. Wrongful death lawsuits are filed against someone dies due to the fault of another person or in this case, government entity. The survivors are then able to bring a wrongful death lawsuit to seek monetary compensation for the survivors' loss, such as lost wages of the deceased, lost companionship, and funeral expenses. Listed below are some of the parties that may be eligible to file a wrongful death lawsuit in the state of California:
The deceased person's "putative spouse" or the putative spouse
The deceased person's stepchildren
The deceased person's parents
When filing a case of this nature, it is incredibly important that you can prove the negligence or misconduct of the law enforcement officers responsible for the damages. With every claim of negligence, it is vital that you have substantial evidence to support your claims. Regarding this case, this evidence can take the form of security camera footage detailing the accident, photographs of the damages, eyewitness accounts, and even medical records that detail the damages suffered. Listed below are the key components of every claim of negligence:
Duty: The plaintiff (injured or damaged party) must be able to show that the defendant (law enforcement officer or any other government body) owed a legal duty to the plaintiff under the particular circumstances of the case.
Breach: The plaintiff must be able to show that the defendant breached said legal duty through specific actions or failure to act appropriately
Causation: The plaintiff must be able to show that the defendant's actions or lack thereof caused the plaintiff's injuries
Damages: The plaintiff must be able to show that they endured some specific damages. This can usually be demonstrated through the presentation of medical records, a loss of wages, or a loss of potential income.
As mentioned previously, it is in your best interest to seek legal representation from an attorney with experience in cases of this nature. While every individual has a right to represent themselves in court, doing so can be incredibly challenging, especially when attempting to file a lawsuit against a law enforcement officer.
How Normandie Law Firm Can Help
If you or a loved one have suffered from this tragic car collision, you may be eligible to receive significant monetary compensation for your damages. With the help of one our well-versed attorneys at Normandie Law Firm, we can guide you through the often arduous process of building your case, filing your claim, and collect monetary compensation for your damages. If you file a claim with our law firm you could find some, if not all of the following damages compensable to you:
All of you medical and hospitalization costs
All of your future medical care and treatment
A loss of income and loss of future earnings due to long-term recovery or permanent disability due to the accident
Compensable economic damages include loss of property or damaged property.
Compensable non-economic damages include emotional distress, trauma, PTSD resulting from the accident, pain and suffering and anxiety.
Victims of this incident or any other incident similar to this one can contact our law offices to learn more about how to receive compensation for their injuries. While our law firm is based in Los Angeles, our attorneys also practice in Oakland, San Francisco, San Diego, Sacramento, Orange County, Riverside, Fresno, and throughout the state of California.
Free Second Opinions
Other attorneys will sign you up for their firm but will disappear once your name is on the paper as they are busy signing up more cases. In these instances, their business is based more on volume and will attempt to sign up as many cases as possible. In turn, they will spend less time on cases resulting in severely reduced settlements. Our firm will not treat you like a number. We will be in communication with you throughout our lawsuit and will treat you like family. So if you already have an attorney don't worry, we'll give you a second review of your case 100% free of charge.
Zero Fee Guarantee—No Upfront Fees Ever
If you contact our law offices today, we can walk you through the complicated process of filing your claim completely free of charge. As a show this commitment to you and your case we offer our clients the benefits of a zero fee guarantee policy. Under our zero fee policy, all clients don't pay for our services until their case is won. If you feel in need of a second opinion, second opinion case reviews are also free under this policy. Please, feel free to give us a call, and we can guide you down the path of receiving proper compensation for your damages.
OUR ATTORNEYS CAN HELP YOU RECOVER THE COMPENSATION YOU DESERVE
Statute of Limitations for Car Accidents in California
DUI Car Accident Attorney | Injured by a Drunk Driver
Car Accident Brain Injury Attorney
Attorney for a Back Injury Sustained After Car Accident