Xarelto Class Action Lawsuit – Dangerous Drug Claim Info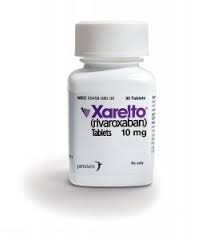 Our law firm is currently investigating possible class action and single party claims against the manufactures of the blood thinning medication Xarelto (rivaroxaban). If you or a loved one have suffered from severe medical complication due to the taking of this drug contact our law offices. Xarelto is a relatively new anti-coagulant drug approved by the FDA in 2011 meant as a replacement for existing blood thinning medications such as Warfarin. Such drugs have been shown to result in a heightened probability of major bleeding events.
Why Bayer and Johnson & Johnson May Be Held Liable
The manufactures of the blood thinning medication may be held liable for major bleeding event and other serious side effects caused by the taking of the drug because of their failure to advise such patients and their doctors of a requirement to perform a simple blood test. Manufacturers of previous blood thinning medications properly advised medical practitioners of a necessity to perform the blood tests before the use of their medications. Such tests would easily display a heightened propensity amongst some patients for excessive bleeding.
Other Severe Side Effects: Some of the other side effects which may be associated with the use of this drug include the following..
Deep Vein Thrombosis
Pulmonary Embolism
Internal bleeding
Brain hemorrhage
 Bleeding of the kidneys
Filing a Defective Drug Claim – And Wining Your Case in the Court of Law
Product liability lawsuit victories can be achieved by proving the existence of a defect in the product. Generally there are three ways in which a defect in a prescription pharmaceutical medication can be proven in the court of law.
1. Defect in the products original design.
2. Defect  in the product cause by faulty manufacturing process of the medication.
3. Labeling defect – failure to properly warn consumers and the medical community at large of the dangerous side effects caused by the common use of the consumer product.
What is a Class Action Lawsuit
Class action lawsuits require certification by the court of law. Certification take place when all the criteria listed below are met.
1. Numerosity: There are is a significantly large number of victims with a viable claim against an at fault party.
2. Commonality: There victims share a common issues of fact and or law with one another.
3. Typicality: The claim of the class representative is typical (ie significantly similar or nearly identical) with that of the other members of the class.
4. Adequacy:  The class representative is able to adequately represent the interests of all class members.
Should I Join or File a Single Party Claim: This is one of the most common questions asked by injured victims of defective pharmaceutical and medical products. In class action lawsuits all members of the class will receive a same percentage of the settlement amount regardless of the type and severity of the injuries suffered. Thus individuals who have injuries more severe than those suffered by other plaintiffs will benefit less if they join a class action lawsuit. In class action claims the class representative bears the weight of going through the litigation process while in single party claims the plaintiff will have more hands on participation in his or her case.
Attorney Consultation: All legal consultation regarding claim against the manufacturers of defective prescription drug medication are provide by our legal team free of charge. If you have any further legal questions feel free to contact our law offices toll free.