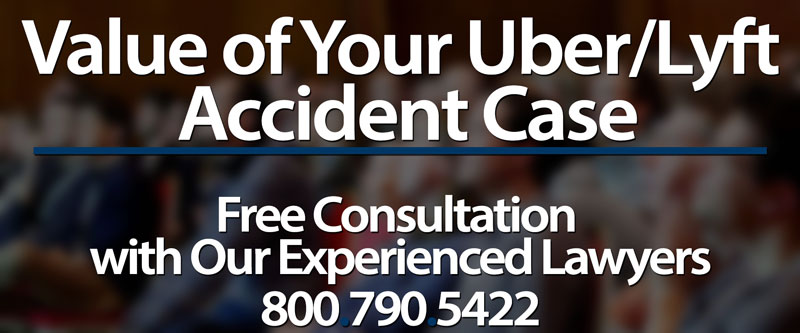 Uber has become one of the preeminent ways to get around in big cities, but the risk of entering an Uber vehicle is different from driving yourself to and from your destinations. When you are in an Uber car, you place your trust and safety in the care of a stranger; any negligent actions he commits can cause you harm, and you are essentially unable to stop them from happening. For this reason, it is imperative that you seek compensation from the proper insurance company for injuries caused while in an Uber vehicle. One of the most common injuries sustained in car crashes and Uber accidents is whiplash, which usually affects those who have been rear-ended by another vehicle. Our clients come to us with questions regarding these whiplash injuries, often curious over who can be held responsible – the Uber driver? The other vehicle? Uber itself? We want to help our clients earn the fairest compensation from any liable party, and we do our best to answer these questions. Examples of other such questions include:
How much does Uber's insurance pay for whiplash after a car accident?
How much does Uber's insurance settle a car accident claim for a whiplash injury?
What are average James River settlement offers for whiplash after an auto accident?
What are the average Uber Insurance settlements for a whiplash injury?
Whiplash Information
Whiplash is a condition that comes about after your neck is thrown back and forth in a rapid, forceful manner. It often occurs in the wake of rear-end accidents in car crashes, but can also happen if the vehicle is struck anywhere else. The neck is a fairly fragile part of the body, with only a small connection holding up your head and keeping it attached to your spine. Any damage that area accrues, therefore, can be highly debilitating and may warrant extensive treatment to heal, and it may never return to full health.
Symptoms of whiplash include:
Stiffness of the neck
Headaches
Dizziness
Fatigue
Chronic neck pain
Reduced range of motion
Tenderness in shoulders, upper back, and upper arms
Of course, these symptoms are also shared by various other conditions, such as concussions and mild traumatic brain injuries. Your best bet is to schedule a visit to your doctor's office to determine if your injury is whiplash or another condition altogether.
The treatment for whiplash is simple: your doctor will often advise you to ice the affected area, rest it, take anti-inflammatory medication, and make sure you do not further damage it. It may take a few months before you feel totally healed, unless you were afflicted with a sudden onset of pain and severity; this is usually indicative of a more permanent or serious problem, and you should seek immediate medical assistance to prevent it from worsening.
If all else fails, your doctor may prescribe you stronger painkillers, muscle relaxants that will keep your neck from tensing up, and numbing or anesthetic agents (whether by injection or as topical applications). There is also an opportunity for acupuncture and alternative medicine to help, as well as the tendency for physical therapy and stretching to improve the area.
The important part is to consult with a skilled medical professional after you suffer a car accident whiplash injury.
Getting Whiplash in an Uber
If you are involved in an auto accident, truck accident, or motorcycle accident while in an Uber and you sustain whiplash, you may be entitled to financial compensation.
Uber drivers are required to give you the highest level of care while transporting you around; if your Uber driver were negligent in his actions, you may be able to sue both him and the company for your damages. On the other hand, if the accident were caused by another responsible driver, you may only be able to pursue compensation from Uber in the event that the opposing driver's insurance does not cover the extent of your damages.
Initially, Uber operated with an independent contractor style with respect to its drivers – that is, its drivers were considered true employees of the company, but they were contracting themselves to do work. Companies are not often responsible for the actions of third-party contractors, and Uber was able to get around paying for insurance policies for its drivers for some time due to this fact, until a law was passed that forced each and every driver to be covered by Uber's insurance company, James River Insurance.
Now, Uber drivers have a policy of $50,000 when they are preparing to find a customer and $1,000,000 when they are en route to a customer and driving him to his destination. The reason it is so high is because Uber is a common carrier, and customers are required to be given the highest level of care. As a result, patrons are able to collect ample compensation in the event of a whiplash injury.
If you have sustained whiplash while in an Uber, contact a Los Angeles attorney to sue Uber.
Determining Your Case Value
The average Uber settlement offer for a whiplash injury varies from case to case. Some whiplash injuries that accompany other injuries may yield higher amounts of compensation than the problem by itself. You can also expect different James River Insurance offers for a whiplash injury depending on your age and what career you have.
It is important to note that there is no settlement calculator for determining the average compensation or payout for your whiplash injury. Each case is evaluated by itself; for example, insurance agents will consider the extent and severity of your injuries and the impact they have on your quality of life and ability to continue working. When you file a claim, you may also include requests for emotional damage and lost wages; all of these forms of compensation must be investigated. An agent will be able to give you an offer based on what he believes each damage is worth. Other cases that may appear similar could very well have yielded settlements that totaled upwards of half a million dollars, while others garnered less than $20,000.
You can look at similar Uber settlement amounts for whiplash injury cases to try and gauge how much your case may be worth, but you should always consult with an expert attorney to discuss your options.
Free Second Opinion
Many times, clients call us inquiring about the average payout of a type of injury or accident because they already have attorneys and want to know if they are being misrepresented. Some attorneys will claim that they can earn hundreds of thousands of dollars, while in reality, the case will only be worth five figures. At Normandie Law Firm, we are happy to consult with you about your current attorney and discuss whether or not you are being misrepresented.
Sadly, many lawyers will consistently sign up new cases and seek to settle claims for as low an amount as possible. This is done to rapidly acquire paychecks and keep their own streams of income flowing. We believe this practice is wrong, and we will give you our opinion on if we believe your current lawyer is acting in bad faith.
Selecting Normandie
Our team at Normandie Law Firm is here to help you receive compensation for your whiplash claim. No passenger in an Uber vehicle should be forced to be held responsible for his own injuries if another driver caused damage to his body. You are owed the highest duty of care while in an Uber vehicle, and Uber and James River Insurance should take care of your injuries.
Our aggressive attorneys with experience in personal injury cases will do everything they can to bring you a fair settlement. Contact an experienced attorney in Los Angeles at Normandie Law Firm to receive a free consultation about your case. We will discuss the legal process with you and talk about what you may possibly earn, and we encourage you to ask us any questions you may have. Further, we offer you a zero fee guarantee on your case – we promise that you owe us no out of pocket expenses throughout the entire litigation process. Any fees we charge will only be taken if we win your case and bring you a settlement; further, our payment comes from that settlement itself, thus guaranteeing that James River Insurance is covering your legal fees.
Contact Normandie Law Firm today to speak with an attorney with experience in handling whiplash claims against Uber.
OUR ATTORNEYS CAN HELP YOU FILE THE PROPER LAWSUIT AGAINST LYFT
Average Settlement Value of Uber/Lyft Accident Lawsuit Case
What Happens if You're a Passenger in a Lyft Accident?
Why Do You Get a Headache After a Car Accident?