Easy Access Attic Ladder Recall Lawsuit Attorney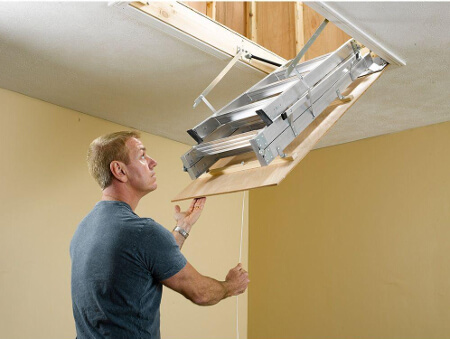 Werner Attic Co., a company based in Greenville, PA, has refused to issue a recall for its Easy Access Attic Ladders despite numerous complaints that they were unsafe and unfit to be used for their intended purposes. The ladders were manufactured and distributed starting in 2003; product and distribution ceased five years later in 2008.
Customers issued numerous complaints that the ladders were not able to withstand the advertised 300 lb weight limit and would collapse well underneath that amount. The reason for this is, according to the complaints, the hinges that keep the ladder splayed open are made of a cheap "pot metal," which is a category of metals that are susceptible to damage. They can crack, break, bend, and corrode. As a result, the ladder is vulnerable to collapsing when being used. It is irrelevant that the frame itself is constructed of sturdy steel when the hinges are apt to break.
The affected units have model numbers S2210 and S2208. They are Mk1, Mk2, Mk3, and Mk4 brands, of varying heights and sizes.
Because Werner has refused to issue a recall, the ladders were still sold in Lowe's hardware stores and other retail chains. Intriguingly, Werner has already issued a recall in the past for another one of its products. Their "Space Master" Sliding Attic Ladders were improperly installed on many doors, and could fall on consumers upon being opened. Werner issued a voluntary recall for these products and provided a fair warning of the potential hazards.
With the case of the Easy Access Attic Ladders, Werner had not provided any warning of a potential hazard in tandem with the refusal to issue a recall.
Product Liability Information
The myriad customer complaints about the design flaws of the ladder would be ample grounds for a class action lawsuit against Werner.
A class action lawsuit is a claim filed by an attorney on behalf of many plaintiffs against one company; this is usually done when there are numerous complaints and there would not be enough time to go through each one. If victorious, all of those involved in the class action lawsuit would be compensated in one way or another.
However, there is the option of simply filing a product liability claim with another attorney. We offer to represent you in the claim that will best suit your needs. A simple product liability claim can be filed if the product meets one of three issues:
Design Flaw: If a product were designed poorly by the developers, they and the company can be held responsible for any accidents that occur as a result.
Manufacturing Defect: This occurs when there is a problem with the actual creation of the product; there may have been an issue with a machine that lead to some warped edges or the product was not fully finished before it was shipped out. Distributors can also be blamed for manufacturing defects if they damage the product while it is in transit or being sold in stores.
Failure to Warn: If a company knows that there is a chance for the product to act in a way that may cause harm, you can file a product liability claim. The warning label should be present on the packaging or on the product itself.
In the case of Werner's Easy Access Attic Ladders, the product was known to fall under all three of these categories of fault. The ladders were designed with the intent to use shoddy materials on the hinges, manufactured with said materials, and did not contain any warning that the advertised weight limit may not actually be able to be reached without collapsing beforehand.
Injuries That Can Happen
The instability of the hinges of the ladder means that the ladder can collapse with a certain amount of pressure. This can lead to a slip and fall or a tumble from the ladder, and depending on the location, may cause you to fall down the stairs.
A fall from a ladder can lead to debilitating injuries, such as broken bones, spinal cord injuries, brain damage, cranial injuries, cracked skull, sprained wrists, internal bleeding, dislocations, concussion, and more. The injuries can be compounded if you are transporting materials while using the ladder; that is, if you are bringing boxes up to the attic and the ladder gives out, the contents may fall on you, crushing ribs and further damaging you.
Taking Legal Action
Because Werner has not issued a recall, there is no way for the ladders to be fixed on the company's dime. Therefore, if you are injured, you are able to sue the company for damages sustained from the product's dysfunction, especially given the fact that it was poorly designed and manufactured and contained no warning labels.
You can sue Werner for past and future medical bills stemming from an injury (including hospitalization, medication, physical therapy, and more); past and future lost wages resulting from time off work to attend doctor's appointments, upcoming medical treatments, and recovery time; property damage, which can cover the cost of the broken ladder and attic door, as well as any surrounding belongings or personal items; and punitive damages, which can be filed for gross negligence. Punitive damages are usually very difficult to argue for as they are meant to punish an individual or a company for the act in question, and many judges may see them as unnecessary. However, we at Normandie Law Firm will do our best to win punitive damages for you against Werner, a company that has willingly refused to recall a product known to be dangerous and to have caused injuries with its defects. They are engaging in willful negligence, and this should be punished.
Normandie: Here to Help You
Our team of attorneys at Normandie Law Firms believes that all companies should be held responsible for any injuries their products cause, and especially if those injuries could be avoided with some action taken by the company itself. We promise to aggressively fight for your fair compensation and will work hard to bring you restitution for the damages you have accrued. We are willing to include you in a class action lawsuit or stick to an individual claim.
FREE CONSULTATION AND A ZERO-FEE GUARANTEE: Call us today to receive a free legal consultation on your case. We will help you understand product liability claims better and explain what we think you can earn in filing a lawsuit against Werner. Our attorneys are helpful and informative and will answer all the questions you have about the legal process.
Further, we offer you a zero fee guarantee when we take on your case. Our legal services are provided free of cost until we win your case, at which point our payment comes from the settlement itself. This is done to ensure that you pay no out of pocket expenses for legal assistance and, in the event we cannot bring you a fair settlement for your claim, we do not get paid at all. It is important to us that you stay financially stable, and we won't dip into your pockets for fees.
To file a product liability claim against Werner for a defective Easy Access Attic Ladder, call Normandie Law Firm today.