Wedding Tree Fall Whittier – Lawsuit Attorney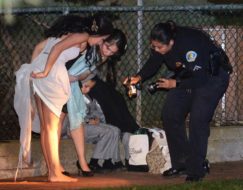 Update: According to investigators as the location of the incident the tree collapse resulted in the death of of individual and severe injuries to five others. According to witnesses the wedding party was posing for pictures under the three before the collapse. Once victim was a four year old female; she sustained severe head trauma and was rushed to hospital.
The incident tool place in Whittier California with initial 911 phone call coming in just before 4:30 in the afternoon. Shortly after local fire fighters arrived and began to break apart the massive tree using chain saws and axes.
Attorney Consultation: Victims of personal injury and harm to the negligent conduct of property owners have the right to seek financial recovery for all damages suffered. Family members of loved one who have perished are also able to seek recovery for the death of their loved ones.
Establishing Liability: Property owners owe individual who enter their property a duty to protect them from any potential harm. This requires regular inspections of the property to detect potential harms the the elimination of that danger once detected. If such harms cannot be avoided then the property owners need to properly warn individuals entering the property of all potential dangers.
Recovery Available: Victims of harm are entitled to financial recovery for all damages suffered. Including the following.
All medical and rehabilitation costs.
All future medical and nursing care needs.
Loss of income and future earnings.
Pain and suffering – mental anguish
Punitive damages – in the state of California punitive damages can be awarded when the at fault party acted wither intentionally to cause harm or acted in gross negligence (reckless disregard) for the life and health of others.
Free Legal Consultation: If you have been injured due to a collapsing tree or if your loved one has perished due the the tree fall incident in Whittier California, please feel free to contact our offices. All legal consultations are provided free of charge.