Water Park Accidents – Attorney Discusses Liability for Injuries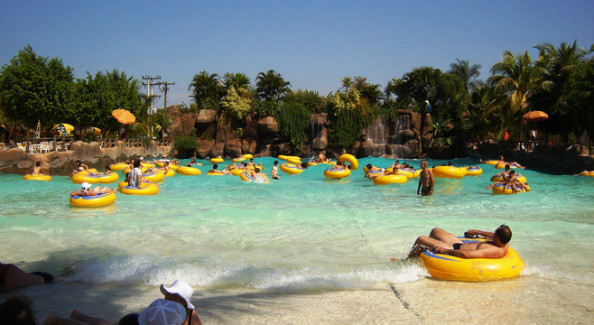 Millions of individuals, particularly minors, visit water parks each year. They vast majority of water park patrons enjoy their time there without any incidents. However, in some instances visitors suffer severe injuries often caused by the negligent or wrongful actions of water park employees, owners, and managers. Such victims have a right to seek full and just compensation for all damages suffered. Our law firm is proud to provide legal representation for victims of personal injury. If you have any legal questions after reading this article or if you would like to speak with an attorney regarding your claim feel free to contact our law offices. All legal consultations are provided free of charge.
Common Injuries: Some of the most frequent injuries which take place in water-parks include the following.
Laceration injuries and deep cuts to the face and body often requiring stitches and resulting in scarring and the formation of scar tissue.
Broken bones – including broken wrists, facial fractures, and skull fractures.
Traumatic Brain Injuries – concussions which can range from an MTBI (mild traumatic brain injury) to more severe types.
Back, neck and other types of spinal cord injuries.
Drowning accidents resulting in death.
Acts of sexual abuse molestation and rape on the premises.
Slip and Fall or trip and fall accidents.
Ocular injuries resulting in loss of sight.
Establishing Liability – Causes of Accident and Proving Your Case in the Court of Law
The vast majority of personal injury cases are predicated on a negligence base premises liability cause of action where the owner of the establishment would owe a duty to protect patrons from dangers. There are four basic element which need to be shown in order to prove a negligence bases lawsuit. (1) Duty owed, (2) The defendant breach (violated) the duty of care owed to the plaintiff (3) The breach of the duty resulted (was the cause) of the accident that took place, (4) The accident resulted in identifiable injuries.
Causes of accident can include, failure to properly inspect the premises including rides for all potential known and knowable dangers. Defect in the design of park attractions and premises, failure to properly warn individuals of dangers, failure to properly maintain the premises, failure to follow codes and statutory regulations to maintain a safe premises, and the use of untrained employees. Some of the most visited aquatic parks in California include, Raging Waters, Six Flags Hurricane Harbor, Wild Rivers, Knott's Soak City, and Waterworld.
Recovery for Injured Victims: Individuals who have suffered harm due to the negligent or wrongful conduct of others are entitled to compensation for all damages incurred. Specific damages recoverable in most personal injury cases include the following…
All medical and health related costs.
All future medical and rehabilitation expenses required.
Economic damages including lost wages and loss of future income.
Non-economic damages including pain and suffering and emotional distress.
Legal Consultation Available: If you or a loved one have suffered injuries in a theme park or water park and would like to learn more about your legal rights feel free to contact our law offices. All legal consultations are provided by our attorneys free of charge.