Water Park Accidents – Attorney Discusses Liability for Injuries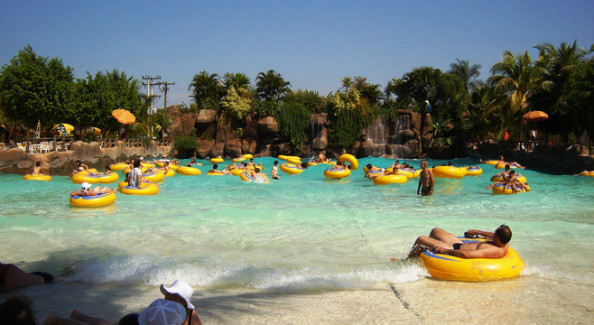 Millions of individuals, particularly minors, visit water parks each year. The vast majority of water park patrons enjoy their time there without any serious incident. However, in some instances, visitors suffer severe injuries often caused by the negligent or misconduct of water park owners and employees. In any amusement park or business, the owners are deemed liable in the event of proof positive misconduct or negligence. Victims of these forms of neglect have a right to seek full, and just compensation for all damages and injuries suffered. Claiming compensation and filing a water park injury lawsuit can be challenging on your own, however. Our Los Angeles based law firm is proud to provide legal representation for victims of personal injury. Our attorneys can study your case and possibly sue the water park for damages. If you or a loved one has experienced water park injury and are in need of contacting a water park injury attorney for consultation contact our Los Angeles law offices today. All legal consultations are provided free of charge.
Common Injuries
Water Park injuries, much like amusement park injuries commonly occur on the rides within the park. Injuries sustained by park patrons typically occur because of the high-risk nature of these water themed rides. Water themed rides often include elements like high speeds, free falls, and high impact landings. Crowding and the failure to adequately monitor lines is also a cause of patron injury. Wave pools are also a high-risk area for patrons, especially younger patrons. These pools can often become overcrowded, and due to these large crowds can limit the observable area of a lifeguard on duty. Determining what form of danger led to you or a loved one's injuries will help your water park injury attorney form a foundation for your case and pursue compensation. Below is a list of common injuries experienced by water park patrons.
Laceration injuries and deep cuts to the face and body often requiring stitches and resulting in scarring and the formation of scar tissue.
Broken bones – including broken wrists, facial fractures, and skull fractures.
Straddle Injuries- injuries wherein the patron injuries their groin by 'straddling' the side of a waterslide or safety bar.
Traumatic Brain Injuries – concussions which can range from an MTBI (mild traumatic brain injury) to more severe types.
Back, neck and other types of spinal cord injuries.
Drowning accidents resulting in death.
Slip and Fall or trip and fall accidents.
Ocular injuries resulting in loss of sight.
If you or a loved one have experienced any of these common injuries due to employee negligence or misconduct do not hesitate to reach out to a water park accident lawyer, the sooner you contact help, the sooner you can receive proper compensation for your damages.
Establishing Liability – Causes of, Accident and Proving Your Case in the Court of Law
The vast majority of personal injury cases are predicated on a negligence base premises liability cause of action where the owner of the establishment would owe a duty to protect patrons from dangers. If you are to get a lawyer to sue a water park for injuries four essential elements need to be shown to prove there is a basis for negligence in your case.
Duty: The defendant, or in this case water park owner or employee, owed a legal duty to the patron under the circumstances
Breach: There was a violation of that legal obligation by the defendant that was performed in breach of the stated duty.
Causation: The injury of the patron was caused by the action or inaction of the defendant
Damages: The patron experienced harm or injury as a result of the defendant's actions or inactions.
Causes of accident can include, failure to properly inspect the premises including rides for all potential known and knowable dangers. A defect in the design of park attractions and facilities, failure to adequately warn individuals of hazards, failure to properly maintain the premises, failure to follow codes and statutory regulations to maintain safe premises, and the use of untrained employees. It is also helpful to a water park accident attorney to know the water park where the incident took place. Below is a list of all of the water parks in California that are subject to these codes and regulations.
Alpine Slide At Magic Mountain
Antioch Water Park
Aqua Adventure
Aquatica Water Park
Boomerang Bay Water Park
Castle Park's Buccaneer Cove
Dry Town Water Park
Golfland/Sunsplash
Island Water Park
Knott's Soak City
Legoland Water Park
Martin Tudor Splash Park
Mustang Water Park
Pyrite Rapids Water Park
Raging Waters: Sacramento
Ranging Waters: San Dimas
Ranging Waters: San Jose
Ravine Water Park
Six Flags Hurricane Harbor
Splash Kingdom Water Park
Splash! La Mirada Regional Aquatics Center
Waterworld
The Wave Water Park
Waterworks Park
Wild Rivers Water Park
Wild Water Adventure Park
Recovery for Injured Victims
Individuals who have suffered harm due to the negligent or wrongful conduct of others are entitled to compensation for all damages incurred. Specific damages recoverable in most personal injury cases include the following:
All medical and health related costs.
All future medical and rehabilitation expenses required.
Economic damages including lost wages and loss of future income.
Non-economic damages including pain and suffering and emotional distress.
Our Team And You
If you or someone close to you has suffered a personal injury as a result of an accident at a water park, it is vital that you act quickly and find an attorney to sue the water park in question. You should not have to suffer alone from the negligence of a park owner or park employee. Medical expenses, the injury itself, and the residual emotional distress caused by a water park injury are enough to deal with; you should not have to pursue legal action alone. At Normandie Law Firm we can fit you with some of the best personal injury lawyers in Los Angeles. Our legal team will make sure we put all our resources to winning your case. We negotiate the fairest terms for you and your case and make sure you stay informed throughout the process, so there are no missing details.
Free Consultation
Every one of our possible clientele qualifies to receive free consultation and assistance in determining the most efficient path to resolving your case and making sure you get the compensation you deserve.  Give us a call today at our Los Angeles offices, and we will discuss the accident, the injuries, your medical expenses, all of your possible options, and what you can expect by filing your claim with us.
Our team is made up of legal experts who are passionate about being helpful and transparent to our clients. We believe that building a trusting relationship with our clientele is the key to any successful business.
Zero Fee Guarantee
As a further commitment to you and your case, we ensure that our firm operates under an entirely zero fee guarantee policy. Our belief is that you should not have to pay any fees for our services until we follow through on our promise to help you win your case and earn you compensation. In the unfortunate and unlikely event that we do not manage to get you the compensation and benefits you deserve, do not worry; you do not owe us any money. You only pay once we win your case.
If you feel like you need a second opinion as to the value of your case, please feel free to contact our law offices. Per our zero fee guarantee policy all second opinion case reviews are 100% free of charge, so please, don't hesitate to give us a call.