Walmart Poker Table Finger Amputation Lawsuit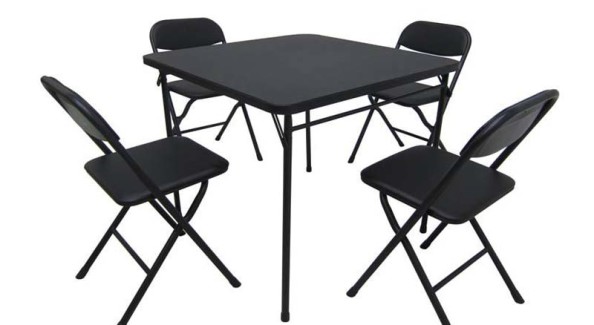 We have been receiving a number of inquiries involving finger amputations caused by defective poker table chairs sold at Wal-Mart Stores. Apparently these products were manufactured in a defective manner causing them to suddenly collapse. As a result the sudden collapse users of the product get their fingers caught between the chair, often suffering traumatic hand and finger injuries, often leading to amputations. If you have been injured, make sure you read this article. MOST IMPORTANTLY, no matter what never sign the release until you have had it looked over by an attorney.
Mainstays 5-Piece Card Table and Chair Set Recall
On January 2, 2014, the United States Consumer Product Safety Commission (USCPSC) issued a recall of the Mainstays five piece card table and chair set, sold primarily at Walmart and manufactured by Dongguan Shin Din Metal and Plastics Products Co. (some boxes indicate the manufacturer as Taiwan Shin Yeh Enterprises).  USCPSC cited a dangerous risk of falling and finger amputations as the reason behind the recall.
Collapsing chairs and finger amputations
Wal-Mart was the distributor and retailer of these products, which have caused significant injuries to users. Once the device collapsed, trapped fingers will suffer extensive injuries. This can include amputation of the finger, broken fingers, nerve damage or other injuries.
It is important to remember that you should NOT return the product to the manufacturer if you were injured. Make sure you keep the product as it will be used as evidence in future potential litigation. Often times the product will need to be tested in order to substantiate your claim and pursue damages for your injuries. If you have suffered serious injuries you will be entitled to compensation. Make sure you are fully aware of your injuries before you even consider negotiating a claim for injuries. If you were hurt as a result of this product call our office for a free consultation. Remember if we accept your case it is done on a contingency fee basis, no recovery no fee.
What if the insurance company offered me money?
As a rule of thumb if the insurance company is offering you money, there is something wrong. Insurance companies will generally put up a defense and are not in the business of paying out claims. If it seems suspicious it probably is.
Generally if the insurance company is offering you money or the manufacturer is offering money it is because they know something you don't. What they don't want you, the consumer, to know that they are at fault for your injuries, and they are potentially liable for your damages for several times more than what they are offering. Additionally, they will often times offer you a very small amount of money relative to your damages. Therefore, you need to consider all of your options.
Never sign the release for the offer provided by your insurance company. Often times this amount of money will be a nominal and a low-ball offer. However, many unrepresented parties will be coerced into believing that this is there only option when it is not.
Should I sign the release?
In short absolutely not, a release is a rather tricky legal maneuver here I how it works. Insurance companies or manufacturers will offer you a release to sign. Often times they will make false promises and misrepresentation to get you to sign it. In such cases they will give you a quick opportunity to settle the case in exchange for you signing the release. However, the release will always prevent you from ever bringing a lawsuit for your injuries.
In essence once the release is signed, you will not be able to pursue a subsequent claim for damage. Therefore, you should never sign a release without having it read over by your attorney.  For more information, please contact our product liability attorneys today