Video Shows Huntington Beach Police Officer Fatally Shooting Man Outside 7-Eleven | 9-22-2017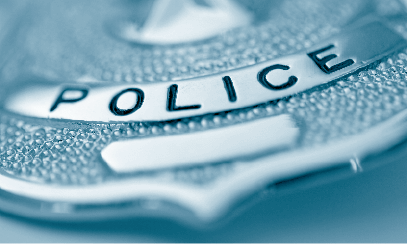 A video posted on Twitter Friday morning showed a Huntington Beach Police officer shooting a man multiple times who later died in a hospital. The 17-second video of the incident was posted to Twitter just after 9:30 a.m., and it shows an officer firing multiple times at a man. Reports from the Huntington Beach Police Department state that the male individual outside the 7-Eleven got into an altercation with an officer. The officer then fired at the man, who was later taken to the hospital with unknown injuries. Police have yet to release any more details, but it has been confirmed that the man died of his injuries. His identity has yet to be released.
A few additional seconds of the video show the officer struggling with the man who is lying on the pavement. The man appears to take something off of the officer's belt before the officer pulls away and fires at him. Two witnesses described the event but withheld their identities. They state the officer approached the man, who then swung a punch at the officer. Then the man and the officer ended up on the ground, and the man tried to grab what appeared to be the officer's magazine clip. It is still not clear whether or not the officer fired live ammunition or nonlethal rounds.
A female employee of the 7-Eleven was grazed by a bullet fired by the officer. Nearby Marina High School, at 15871 Springdale S was placed on lockdown as a result of the incident. Some students were reported to have left school after the lockdown was over, stating they were too disturbed by the shooting to return to class.
How Normandie Law Firm Can Help
If you or a loved one has suffered any physical injuries as a result of law enforcement's use of excessive force, you may be entitled to monetary compensation for all the damages that you have suffered. If you file a claim with Normandie Law Firm you could find some, if not all, of these following expenses compensable:
Any and all medical expenses
Loss of Income
Loss of potential future income
Emotional Damages (anxiety, depression, PTSD, etc…)
Punitive Damages
Victims of this incident or incidents like this one can contact our law offices to learn more about how to receive compensation for their injuries. Our team of personal injury lawyers is committed to ensuring every one of our clients has the resources to put up a fair fight for their case.
FREE CONSULTATION: As a show this commitment to you and your case we offer our clients the benefits of a zero fee guarantee policy. Under our zero fee policy, all clients don't pay for our services until their case is won. If you feel in need of a second opinion, second opinion case reviews are also free under this policy. Call our law offices today for a free consultation by one of our skilled attorneys, and we can discuss the incident, your damages, and the path to receiving proper compensation for your damages.