Value of a wrongful death lawsuit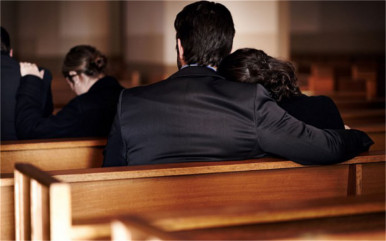 A wrongful death is defined as a death that was caused by the negligence or misconduct of another. The families who suffer from the wrongful death of a loved one find a difficult process of grief that can be especially severe. The loss of a loved be one can result in more than just emotional trauma, but most families must confront the daunting challenges of loss of income, loss of support, and the exuberant prices that come with death and funeral preparation. Fortunately, those who suffer from the wrongful death of a loved one can file a lawsuit against the party deemed responsible. The pursuit of suing for wrongful death can be a complicated process and shouldn't be taken on alone. Our experienced lawyers at the top-rated Normandie Law Firm are here to help. If you contact our team of expert attorneys with experience in wrongful death cases, we can help you navigate the process of filing a wrongful death lawsuit, find the value of your wrongful death case, and earn you the compensation you deserve.
What Is A Wrongful Death Lawsuit?
Wrongful death lawsuits can be filed when an individual is killed as a result of negligence, product liability, or malice on the part of another individual. A majority of wrongful death lawsuits are filed amidst criminal trials. In this case, they use similar evidence, but unlike a criminal case, require a lower standard of proof. A standard of proof is defined as a level of certainty and the degree of evidence necessary to establish proof of in a civil or criminal case. A suspect in a criminal case who has a wrongful death lawsuit filed against him may or may not be found guilty of the crime itself, while the party who files a wrongful death claim may win their case, and the suspected party may never face criminal charges.
For instance, in 1994 former football star and actor O.J. Simpson was found not guilty of murder. While he was found not guilty of murder, he was found liable for the wrongful death of the victims in his civil trial because the plaintiffs proved that he was responsible based on a preponderance of the evidence. The preponderance of the evidence is defined as evidence that shows that the defendant's negligence proximately caused the damages therewithin. O.J. had a team of top lawyers assisting him.
Wrongful death lawsuits are also commonly filed as a result of medical malpractice. Wrongful death malpractice lawsuits are usually filed when the suing party has suffered the wrongful death of a loved one due to the negligence or misconduct of a medical professional. Determining the liability of a wrongful death malpractice lawsuit can be tricky, however. While both hospitals and doctors can be held responsible in a wrongful death malpractice lawsuit, the specifics of any one case determine who is to be held liable.
Proving medical negligence requires a number of factors. Firstly, you need to prove that the deceased's medical professional was negligent. You will require an expert within the same field of medicine to determine what the proper standard of medical care was and if the health care provider followed said standard. Secondly, you will be required to prove that not only was the standard of care not lived up to, but that the decedent's death was caused because of this break of healthcare standard. Lastly, you will need to estimate your damages, as well as the decedent's. While accurately putting a dollar amount on any family member's death is next to impossible, you will be expected to calculate the monetary loss based on the financial support the decedent was expected to supply. In some states, there is a 'loss of consortium' or loss of companionship that can be calculated into wrongful death damages.
An accomplished attorney who has experience in wrongful death claims can help you prove medical malpractice.
Who Can File A Wrongful Death Lawsuit?
Determining who can file a wrongful death lawsuit is fairly simple in most cases. Usually, the one to file will be the deceased plaintiff's closest surviving relative, like a spouse, child or parent. This chosen individual will also often be the administrator for the deceased's estate if the deceased has one. Sometimes, determining who can file a wrongful death lawsuit erupts into a dispute amongst the surviving family members. For example, if the deceased's closest relatives are two family members who are already at odds with one another, this may spell trouble for the following lawsuit. Frequently in these cases, the dispute is resolved by the courts, prolonging a wrongful death settlement. If you are unsure of who can file a lawsuit, call an experienced attorney who has experience handling wrongful death claims.
Value Of A Wrongful Death Case
Some of the most frequently asked questions by parties attempting to file a wrongful death lawsuit include: 'How much is my wrongful death case worth?' or 'What is the average settlement of wrongful death case?'. Determining the average of a wrongful death settlement is tricky in that every case varies, and depends on some factors. The same goes for determining the value of any one wrongful death case. Below is a list of factors that go into what makes the value of a wrongful death lawsuit.
The death of a human being caused by another's negligence
The death of a human being caused by another's intent to cause harm
The monetary suffering of surviving family members as a result of death
The death of a human being caused by medical malpractice
The death of a human being caused by automobile or airplane accident
The death of a human being caused by criminal behavior
The death of a human being caused by exposure to hazardous conditions or substances
All of these factors play into the value of any particular wrongful death case. If you have suffered from any of these damages, you may eligible for a wrongful death claim. A wrongful death claim will often restitute the surviving family with paid burial expenses, medical expenses made before death, and the loss of income that the deceased person could have offered.
Another question often asked by families hoping to file a wrongful death lawsuit is, 'How long will my wrongful death case take to settle?' Determining the possible length of a wrongful death lawsuit is equally if not more challenging than determining the value or average of said suit. The length of a case depends on the case itself as every case is different. Determining the length would require a thorough evaluation of your case by a qualified attorney with expertise in wrongful death injury lawsuits.
Our Team And You
If you have lost a loved one or someone close to you as a result of wrongful medical negligence, violent criminal activity or reckless actions of others than you may be eligible to file a settlement. You shouldn't be left alone to deal with the grief and the expenses that come with the wrongful death of a family member. At Normandie Law Firm, we have some of the most skilled wrongful death lawyers in Los Angeles who will do whatever it takes to win your case. We make sure to negotiate the fairest terms and keep you up to date along with the way, so you know exactly what is happening and when.
Free Consultation
For every possible client, we offer a free consultation and help you determine the most efficient path to resolving your case and making sure you get the proper compensation you deserve.  Give us a call, and we will discuss the incident, the aftermath, your damages, all of your possible options moving forward, and what you can expect by filing your claim.
Normandie Law Firm is made up of legal experts who are passionate about being helpful and transparent to our clients. Our driving belief is that the key to any successful business is a trusting relationship with our clientele.
Zero Fee Guarantee
To further our commitment to you and your case, our firm operates under a zero fee guarantee policy. At Normandie Law Firm, we believe that you should not have to pay any fees for our services until we follow through on our promise to help you win your case. In the unlikely event that we do not manage to get you the compensation and benefits you deserve, you do not owe us any money. You only pay once we win your case. If you feel like you need a second opinion as to the value of your case, please feel free to contact our law offices. Per our zero fee guarantee policy all second opinion case reviews are 100% free of charge, so please, don't hesitate to give us a call. A lawyer experienced in wrongful death cases will be glad to talk with you.