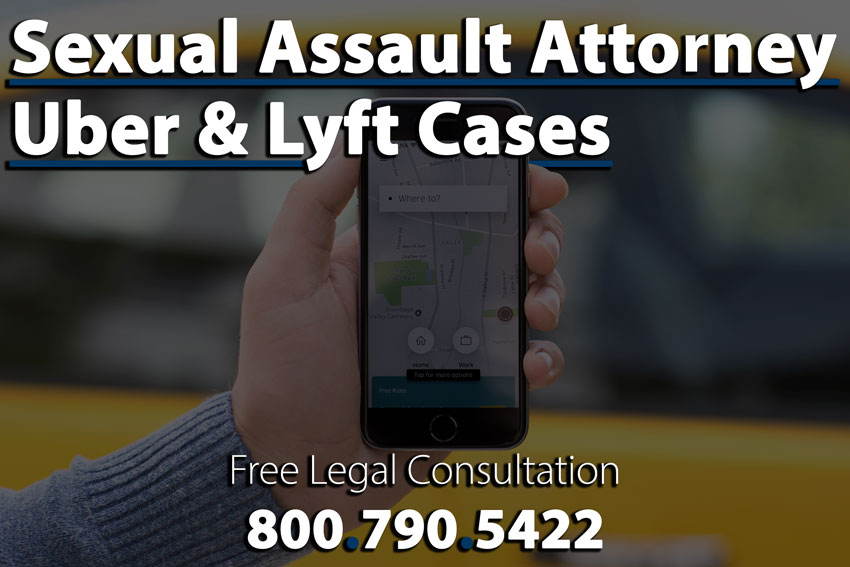 Uber and Lyft are mobile rideshare applications that have revolutionized means of transportations. Before these services were available, people were limited in their transportation options. If you did not have a car or did not know how to drive, you had the option to walk to your destination, take the bus or other public transportation, or simply ask for a ride from a friend with a car. Today, people without means of transportation can easily request for a driver to pick them up and take them wherever they need to go. Additionally, people who do have means of transportation, have the option to leave their car at home and request a ride.
Ridesharing is convenient, but do passengers really know who the driver is? Uber and Lyft provide driver information along with driver reviews and ratings directly in the application. Is this enough? Before individuals can sign up to become drivers for Uber and Lyft, they must pass a background check. These background checks focus on driving history—looking at moving violations, driving under the influence of drugs or alcohol, and driving-related convictions like a hit-and-run. Uber and Lyft also look for criminal backgrounds like felonies and misdemeanors involving theft, violence, or drugs. What about sexual assault? Sexual assault is listed nowhere on Uber's background check requirements. It is, however, listed under Lyft's background check requirements. If drivers are thoroughly checked for criminal history, why is sexual assault involving rideshare drivers still happening? Rideshare companies like Uber and Lyft only check up to seven years of a potential driver's background. This means that any crimes committed before the seven years are not acknowledged by Uber and Lyft.
Many states have shown interest in tightening rideshare background checks. In California, Governor Jerry Brown signed a law prohibiting Uber and Lyft from hiring drivers with any violent felony convictions. Additionally, the new law allows Uber and Lyft to perform complete background checks without the previous seven-year time limit. This law is expected to reveal complete criminal histories to ensure the safety of the riders. Previously, anything that might have happened before seven years was irrelevant to whether the rideshare companies hired a driver. But, what if a driver had a charge of soliciting a minor about eight years ago? Although people under the age of 18 are not supposed to use these rideshare applications, minors are allowed in the car if they are accompanied by an adult. An undisclosed charge of soliciting a minor, for example, might pose a danger to the minor in this situation.
If you need more information, don't hesitate to call an experienced attorney at the top-rated Normandie Law Firm. One of our skilled attorneys with experience in sexual assault cases will be available to take your call.
Sexual Harassment and Sexual Assault
Sexual harassment and sexual assault are often confused with each other. Sexual harassment is defined as any unwelcomed sexual advanced. This includes sexual comments and gestures. Usually, sexual harassment is directly related to employment. In regards to employment, a person with power in the workplace might be threatening to fire the victim if he or she does not allow the sexual harassment to continue. Although sexual harassment is most common in the workplace, it can also happen anywhere else. Sexual assault is a more physical issue. The issue surpasses comments and gestures and becomes forced sexual contact. Sexual assault includes rape, sodomy, and any other unwanted sexual contact.
Sexual harassment and sexual assault are not their own legal causes of action. A cause of action is the reason to file a lawsuit. For example, a few causes of action are medical malpractice and fraud. To legally pursue the party responsible for sexually harassing or assaulting you, you have the option to file the following causes of action:
Assault and Battery—assault refers to the threat of someone causing you intentional harm. Battery refers to the physical act of inflicting harm. Assault and battery can happen simultaneously but are not exclusive; there can be one without the other.
Intentional Infliction of Emotional Distress—involves conduct that causes severe emotional trauma in the victim.
False Imprisonment—this refers to the confinement of an individual against his or her will. For example, drivers who assault passengers might lock their victims in the cars to prevent them from leaving. This is grounds for a false imprisonment claim.
Negligent Infliction of Emotional Distress—this involves witnesses of crimes. Someone might suffer from mental or emotional harm from the negligence of someone else. For example, a child might have witnessed his or her mother being sexually assaulted during a home invasion. If the child experiences severe mental or emotional distress after witnessing the incident, he or she might have a claim against the attacker.
Contact a qualified lawyer experienced in sexual assault or sexual harassment cases in Los Angeles as soon as possible.
Uber and Lyft are companies that offer transportation alternatives. Young people who like to go out with their friends for a drink might choose to get a ride from Uber or Lyft instead of risking driving under the influence. This means that these young people might be intoxicated when they get the ride and might be unable to consent or stop a sexual attack. If you experienced sexual assault by an Uber driver or sexual harassment by a Lyft driver, you must take legal action to prevent these drivers from hurting more passengers.
Any sexual misconduct by an Uber driver or a Lyft driver should be immediately reported both to the rideshare company and to the police. Uber and Lyft will immediately remove the driver from the company. Additionally, you should contact an accomplished lawyer with experience handling sexual assault claims to begin a sexual assault lawsuit against Lyft or Uber.
Lyft and Uber Sexual Assault Lawsuit
Of course, you can file a lawsuit against the driver who hurt you. You can sue an Uber driver for unwanted touching. You must file a sexual harassment lawsuit against an Uber driver. You also have the option to sue Uber or Lyft directly. You might be able to claim that your assault was a result of Uber and Lyft not properly screening their drivers before allowing them to pick up passengers. An expert attorney who has experience in sexual assault cases will be able to help you.
Past Cases against Uber and Lyft
There have been many sexual harassment lawsuits against Uber. In 2015, two women came forward with allegations against Uber. The first woman stated that the Uber driver took an off-route detour and proceeded to grope her and forcibly kissing her. She was able to unlock the car and escape before the attacker could do anything else. The second woman claims that the Uber driver drove to an isolated parking lot and raped her. A woman who was sexually assaulted by an Uber driver in India filed a lawsuit against Uber in the United States with hopes that Uber could reform their policies to prevent sexual assaults from reoccurring.
Statute of Limitations for Sexual Assault
The statute of limitations to file a lawsuit for sexual assault was changed as of recent times. Victims of sexual crimes might struggle with mental and emotional issues associated with their attack. Therefore, many victims do not speak up about their sexual assault until they are mentally and emotionally prepared to do so. Because of the recognition that sexual assault is one of the crimes that can leave victims most traumatized, there is no longer a statute of limitation for this claim. If you were a victim of sexual assault, you could sue Uber or Lyft at any time. Further, if you believe you may be eligible for an exceptions to the statute of limitations, call a top attorney with expertise in sexual assault injury lawsuits.
Normandie Law Firm
Normandie Law Firm is a personal injury law firm dedicated to getting victims of sexual assault the compensation they deserve. Sexual harassment by an Uber driver or sexual assaults by a Lyft driver are both very serious issues. We trust these drivers to get us safely from point A to point B. Normandie Law firm will do everything legally possible to fight for your rights. Our experienced Los Angeles attorneys are available to answer all of your questions. If you need a lawyer to sue Uber or a lawyer to sue Lyft, contact Normandie Law Firm as soon as possible.
Normandie Law Firm offers clients free consultations. You might not be sure about filing a lawsuit because you do not understand the process. Our legal team will guide you. In a free consultation, you can ask all the questions you need to make an informed decision regarding your lawsuit. Normandie is a law firm with expertise in handling sexual assault and sexual harassment cases. If you already have an attorney with another firm, you might be interested in our free second opinions. Our experts at Normandie Law Firm will reevaluate your case at no charge. Your current attorney might not be giving your case the time necessary to ensure that it is a successful case. We know that many attorneys are only interested in running through as many cases as fast as possible. The attorneys at Normandie Law Firm are not interested in quickly closing your case; we are committed to always giving you a personalized treatment. Schedule a free second opinion and start your legal process with a Normandie attorney.
Normandie Law Firm knows the level of emotional and mental stress that dealing with sexual assault can cause on a victim. We do not want you to stress even more thinking about any legal fees. We offer our clients a Zero-Fee guarantee. You will never have to pay any upfront fees. This includes our free consultations and free second opinions. Our law firm is strictly contingency-based; you will not have to pay for anything until our experienced lawyers win your case. Contact Normandie Law Firm as soon as possible.
OUR ATTORNEYS WILL HELP YOU FILE THE RIGHT LAWSUIT
Lyft Sexual Assault Lawsuit Attorney
Attorney to File a Lawsuit After Massage Therapy Sexual Assault
Attorney to File Lawsuit Against Uber After Driver Road Rage
Lawyer to File Case Against Uber for Injuries After Sudden Stop