Over the past three years, rideshare companies Uber, Sidecar, and Lyft have established a strong foothold in San Diego County, displacing Taxi Cabs and, in many instances, public transportation as a means of travel. The demand for alternative means of transportation has been paralleled by an equal rise in accidents involving rideshare vehicles. Our top law firm in Los Angeles, Normandie Law Firm, is proud to represent passengers, pedestrians, other motorists, and drivers who have suffered serious injuries in such accidents. Our experienced lawyers are here to bring you the compensation you deserve.
Uber and Lyft Exposure to Damages Sustained in Accidents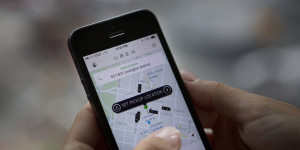 Pursuant to California law, rideshare companies must carry a $1,000,000 insurance policy for accidents where their drivers can be held liable. Additionally, they carry an equal amount of uninsured and underinsured motorist coverage. Uninsured motorist coverage applies when the other vehicle that was involved in the accident and was placed at fault does not have insurance coverage at the time of the accident. Underinsured motorist coverage will apply when the injuries and damages sustained by an individual are in excess of the insurance policy limits of the at fault driver.
Establishing Liability – Wining Your Case and Maximizing Your Results
The vast majority of personal injury cases are predicated on a negligence based cause of action. There are several elements which need to be proven in order to establish liability on the part of the at fault party.
Duty: Did the driver of the vehicle owe a duty to the injured party? In the state of California, drivers and conductors of mass transportation vehicles owe their passengers as well as other motorists on the road the highest duty of care.
Did the driver breach his/her duty of care: Example of a breach of a driver's duty of care can include driving recklessly, high speed, failure to stop at a stop sign, driving to close to the other vehicle in front of you, texting while driving, drowsy driving, and driving under the influence of alcohol.
Causation: Was the breach of the duty of care a cause of the accident which took place?
Injuries: Did the accident resulted actual and discernible injuries? Common injuries in auto accidents include soft tissue injuries, damage to the spinal cord, pinched or damages nerves, facial injuries (including lacerations), broken bones, head injuries including traumatic brain damage and psychological damage including PTSD.
What do I do If I Was in an Accident with an Uber Driven Vehicle?
Some of the steps that should be followed in order to protect your rights following an auto accident with a rideshare vehicle include the following:
Contact the police department and have them file a Traffic Accident Report (TCR).
If injured, seek medical attention as soon as possible. Immediate documentation of your injuries can play a significant factor in the potential value of your case.
Ask witnesses for their information, including their names, phone numbers, and a brief description of what they witnessed.
Do not speak with insurance company individuals regarding your accident. Any statements made can be used to reduce or eliminate your right to recovery. Let a qualified lawyer experienced in Uber accident cases deal with insurance companies.
Contact an experienced attorney who has experience handling Uber accident claims.
Recovery Available for Victims: Individuals harmed in auto accidents are entitled to recovery for all damages sustained, including any medical and health-related expenses, loss of wages, loss of future income capacity, property damage, and emotional distress. In some instances where actions of at fault parties are held to be intentional or reckless in nature, courts can award punitive damages  to victims. Example can include hit-and-run accidents and DUI, or driving under the influence.
A qualified attorney who has experience in Uber accident cases can help bring you the maximum settlement under the law. Punitive damages in particular are a form of compensation that many are not granted; courts see these damages, which are just additional forms of compensation and money, as excessive. Thus, only an accomplished attorney with expertise in Uber accident injury lawsuits will be able to win punitive damages for you.
Attorney Consultation: All legal consultations regarding your case are provided by our expert attorneys free of charge. If you have any further legal questions, feel free to contact our top-rated law group, Normandie Law Firm. You can receive more information on your case, the legal process, and the types of compensation you can earn. All clients are offered zero fee guarantees on their claims, which promise that no out of pocket fees will pay for our sevices. Our fees come from the settlement we win for you, and only when we win your case. If we lose, you don't owe us anything at all.
Reach out to Normandie Law Firm today to speak with one of our skilled attorneys with experience in Uber accident cases.
Further Information:
Uber Passenger Rights When Injured
Steps to Take Following an Uber Accident
What Should I Do Following an Uber or Lyft Rideshare Accident