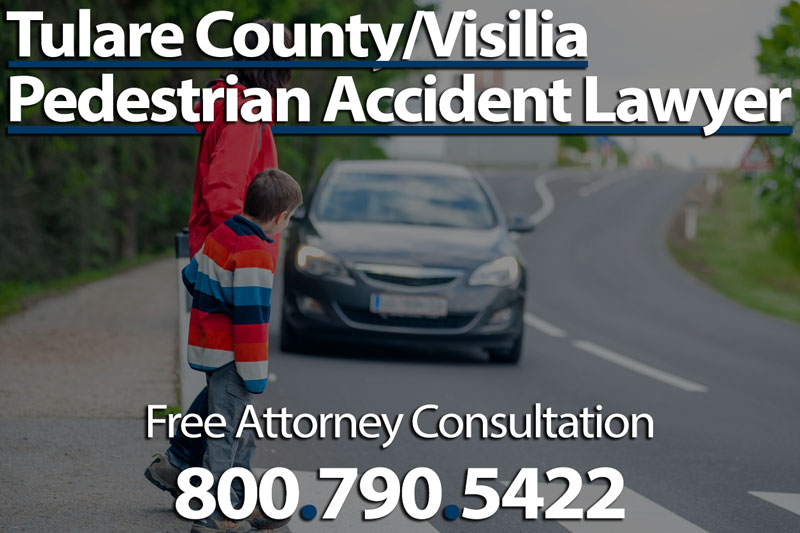 If you have ever been involved in an auto accident, you know that even a small crash can cause severe damages. Very heavy vehicles traveling at even slow speeds can twist metal and dent cars, and passengers can sustain various damages to all parts of their bodies. It is no surprise, therefore, that pedestrians who get hit by cars suffer such intense injuries. The National Highway Transportation Safety Administration has released a series of tips and pamphlets of useful information for both drivers and pedestrians alike to cut down on the amount of accidents that occur involving innocent people walking around. Many times, prospective clients will call us at our Tulare law firm, Normandie Law Firm, with questions about what to do after being struck by a vehicle. Their questions include:
I need a Tulare pedestrian accident lawyer. Who can I call?
Who is the best Pedestrian accident attorney in Tulare?
Where can I find a Tulare attorney with experience in pedestrian accidents?
How Pedestrian Accidents Happen
Pedestrian accidents, more often than not, occur due to the negligence of a driver. In some cases, pedestrians will break the law and jaywalk or will unintelligently dash into the middle of the street, making it hard to avoid hitting them and potentially causing a more serious crash. Most of the time, however, pedestrians are struck when they are crossing the street or entering or exiting their cars. Crosswalks have various laws attached to them, but many drivers ignore them.
For example, a pedestrian should not cross when the sign says not to walk, but the light may already have turned and the intersection is presumed to be safe. A car can easily speed through in an attempt to get past the intersection if the driver is in a rush. Similarly, drivers who are turning do not always watch for pedestrians; the driver must allow the pedestrian to cross, as he has the right of way in that situation. Antsy drivers in a hurry sometimes try to beat pedestrians, and many times, wind up hitting them.
Those who exit their cars are also in some danger depending on the business of the street. Individuals who park their cars need to open their doors into passing traffic, and drivers should be aware that there are pedestrians momentarily occupying a small part of the lane. This is also true on freeways, where breakdowns and accidents may happen and a person must pull over onto the shoulder – drivers must take care not to harm any pedestrians who are fixing their cars or otherwise.
If you have been involved in a pedestrian accident, call one of our lawyers with experience in pedestrian accident cases.
Filing a Claim after a Pedestrian Accident
If a driver has crashed into a pedestrian, the pedestrian can sue for various damages relating to the incident. Immediately following an accident, you should start the legal process – this happens well before you even contact an attorney or an insurance company. It begins with compiling evidence.
First, make sure you are safe. A car can greatly damage a person, even fatally, and it is crucially important that you ensure that you are not severely wounded. If you require medical attention, you can go to the hospital or receive help from the paramedics who will likely arrive at the scene. We recommend always pursuing medical treatment whether you believe you were hurt or not; there are occasionally injuries that show up that would otherwise not be caught, such as hemorrhages or concussions, due to adrenaline. Keep records of these medical procedures and treatments.
Next, gather the necessary information from the incident. The driver responsible for the accident should give you his insurance information and his personal details; this will allow you to contact him in the future when the claim is filed. If any police were present, you can request a copy of the police report. Although police reports are inadmissible in court, they can be used as evidence to present to insurance companies.
After that, take pictures of everything relevant to the accident, including the scene of the incident, the street you were hit on, the car that struck you, your injuries, the people involved, and more. You may also choose to videotape witness testimony or show the aftermath of the crash.
Lastly, seek the help of an expert Tulare County pedestrian accident lawyer. Few people who have been injured in pedestrian accidents will have the will, energy, and capability to fight the insurance company and negotiate a fair settlement. Your goal in the wake of an accident should be recovery, and our lawyers aim to take care of all the leg work for you while you heal up.
An attorney in Tulare can help you with one of the major components of a pedestrian accident lawsuit: proving the negligence of another driver. There are four points of negligence that must be proven, and our lawyers are qualified and experienced in these cases from litigating them for years. The points of negligence are:
You were owed a duty of care. All drivers on the road must do everything in their power to not harm other people, whether they are fellow drivers, motorcyclists, or pedestrians.
The duty of care was breached. This can happen if a driver is negligent by speeding, running a stop sign, texting while driving, driving under the influence of drugs or alcohol, or some other type of careless behavior.
The breach resulted in an accident. By driving recklessly, a driver hit a pedestrian or other vehicle that he otherwise would not have if he were paying attention and driving safely.
The accident led to actual physical harm. If you are not physically harmed in the incident, you will not be able to collect compensation for your medical bills and other expenses.
Talk to a Tulare lawyer for more help.
Injuries in Pedestrian Accidents
Individuals in cars are generally not hurt nearly as badly as pedestrians when a pedestrian accident occurs. This is due to the presence of seat belts, airbags, and cushions that help absorb impact and prevent the passenger from bouncing around, hitting the sides of the car or being flung from the vehicle. Pedestrians, on the other hand, do not have protection; they are completely vulnerable, and getting struck by a car going at any speed can greatly wound you.
Many pedestrians have been injured with:
Broken bones
Fractures
Sprains
Spinal cord damage
Paralysis
Brain damage
Coma
Concussions
Traumatic brain injuries
PTSD
Internal organ damage
Amputated limbs
Crushing injuries
In the worst cases, a pedestrian struck by a car may succumb to his injuries and pass away. In these instances, it is wise for a family member of the victim or the spouse to file a wrongful death claim. Injuries are serious enough, but if a person dies to the negligent actions of another individual, that responsible person should be held entirely liable and have to pay his fair share of compensation to the family.
Types of Pedestrian Injury Compensation
Individuals who have been hit by cars can be compensated for their damages. Our expert lawyers can help you earn:
Medical Expenses: Costs related to surgery, hospitalization, ambulatory transportation, medication, physical therapy, and more. If you require future medical treatment, these costs can be covered as well.
Lost Wages: You will likely need to take time off work in the wake of an accident. During this time, your missed wages can be reimbursed, as well as any future earnings that you will miss for medical procedures or recovery time.
Property Damage: Any belongings you had that were damaged, lost, or broken in the accident can have their monetary values reimbursed.
Pain and Suffering: Noneconomic damages like mental scarring, psychological pain, emotional trauma, anxiety, PTSD, crippling fear, and more can be covered.
Punitive Damages: Additional monetary payments that are handed out in the event that a defendant acted with gross negligence or a deliberate intention to cause harm. These damages are hard to win, however, and only a skilled lawyer will be able to acquire them for your settlement.
Reach out to an attorney at our Tulare pedestrian crash law firm today to get started on earning your compensation for your injuries.
How We Help
Our experienced lawyers in Tulare County are here to make sure you are not deprived of your fair compensation for any damages you sustained from being struck by a car. The responsible driver should be held accountable for your injuries and be made to cover the various expenses arising from them. Our goal is to bring you the maximum settlement available under the law and to ensure your health and safety throughout the case and beyond.
Call us today for a free legal consultation with an expert attorney. You can ask us questions about the legal process and we will tell you what we believe your case is worth. We are more than happy to discuss your case with you before you make a decision. If you select us to represent you, you will also receive a zero fee guarantee – meaning you pay nothing out of pocket for our help. All of our fees will be taken out of the settlement we win for you at the end of the case; if we lose, you don't owe us anything. We believe that you should not be forced to pay for legal representation – the liable party should cover your lawyer fees.
For more information, call a Tulare car accident lawyer at Normandie Law Firm today.