Tree Branch Falling at Daycare in Pasadena 8-29-2017
2-Year-Old Girl in Critical Condition & 2 Toddlers Injured After Tree Branch Falls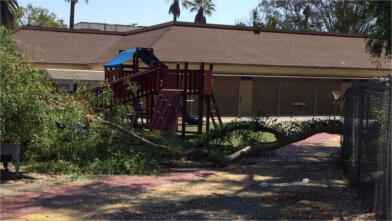 Our law firm is currently investigating the possibility of lawsuits against all defendants in connection with a tree falling incident that occurred in Pasadena on August 29, 2017 at Linda Vista's Children's Center.
A massive branch fell from a tree from great height at a daycare-center in Pasadena, CA. When it landed, it critically wounded a 2-year-old girl and wounded two other toddlers.
The branch fell in the 1200 block of Linda Vista Ave., at Linda Vista's Children's Center. It's a private daycare-type place on city-owned property, Lisa Derderian, member of the Pasadena Fire Department, said.
The three toddlers were playing outside when the branch fell and struck them, including a 2-year-old little girl who was rushed to the hospital in critical condition. The other two toddlers sustained injuries and were transported as well. The two toddlers were seen walking into the medical center, holding hands with their parent or caregiver.
It is still unclear what caused the branch to fall, and the incident is being investigated.
Who Is Responsible for My Injuries If a Tree Falls?
In order to determine who is at fault for fallen tree branch circumstances, we must first look a few factors. In the state of California, property owners are supposed to inspect their trees to ensure they are healthy and do not pose any threat to the public. If a tree owner (the owner of the land) notices that there is something hazardous about a tree (like a rotting branch or breaking trunk) and does nothing to correct the issue and then it results in an injury, the landowner will be liable for the injuries.
Landowners, however, are not responsible for so-called, "acts of God." Sometimes, the forces of nature are powerful enough to break tree branches and knock down trees. Acts like these include earthquakes, massive storms, hurricanes, and other such disasters. For example, if lightning struck your neighbor's tree and it fell on your car, your neighbor is not responsible for the damages.
How Do You Prove Your Case?
In order to show that there was negligence involved in the accident, you must prove the following three aspects in your case:
The tree owner had some duty to ensure that the tree remains healthy and was not hazardous;
The tree owner breached that duty (for example, he never once inspected the tree which fell);
The breach of that duty resulted in your injuries (for instance, if a branch from the tree which was never expected falls on you).
A qualified attorney can help gather the evidence required for your case.
Compensation Available to Victims of Rogue Tree Branches
Our law firm has much experience with these kinds of cases. Our goal is to ensure that your health and well-being is preserved. The best way we can do this for you is to award you the greatest possible compensation which is available to you.
There are generally two kinds of compensation which are available to victims of fallen tree branches: general damages and special damages.
General Damages: These consist of things like pain, suffering, reduction in the quality of life, or inability to perform everyday tasks.
Special Damages: These damages are considered to be economic damages, and reimburse you for monetary expenses relating to your injury. It can include things like medical costs, lost wages, and property damage.
Our attorneys here to ensure that you get the compensation you deserve if a tree falls on you. We understand that tree branches falling on you can be an incredibly traumatic experience and we are here to help you through every step of the way and provide to you quality representation. If such incident has happened to you and you need a tree falling lawyer to represent you, please feel free to contact us law firm. We offer free consultation and the zero-fee guarantee.
Other pages on our website relating to this topic:
Falling tree accident attorney