Toys 'R' Us Bruin Infant Wiggle Ball Recall Lawsuit Info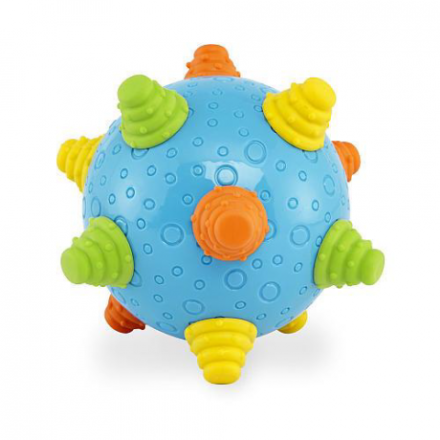 On October 5th, 2017, Toys 'R' Us recalled its Bruin Infant Wiggle Ball toys, stating that the knobs present on the balls could dislodge or break off, posing a choking hazard to infants and toddlers.
The balls themselves are blue, while the knobs are orange, green, and yellow. After some usage, the knobs can fall or break off. In total, there were 6 reports of the knobs breaking. The balls themselves are battery powered and vibrate, wiggle, and emit musical tunes. They are intended for use by young children. 4 of the reports involved those broken knobs finding their way into children's mouths.
To determine whether or not this product is one of the recalled items, look for the Toys 'R' Us name printed on the ball, as well as the model number 5F6342E. The balls were initially made in China, but were imported by and distributed out of Wayne, New Jersey.
In total, nearly 30,000 of the balls were recalled. Toys 'R' Us stated that any affected product could be returned for a full refund. They were sold for $13 from June 2016 through January 2017.
Wiggle Ball Information
The Bruin Infant Wiggle Balls are toys that children can use to play. The toys may be present in homes, daycare centers, schools, pediatric centers, and more; as a result, the amount of exposure to the dangers posed by them is very high. If you purchased a Wiggle Ball, you can return it to prevent your child from sustaining any choking hazards; however, if your child is in the vicinity of a Wiggle Ball, you can deter him or her from playing with it and bring up the hazard to the responsible party. He can then remove the Wiggle Ball from the area; if not, you may elect to go elsewhere or prevent your child from playing altogether.
Even though parents are generally very attentive to their children, sometimes infants can get up to things that put them at risk. It is wise to not let your child play with a Wiggle Ball while he is by himself; you should always be nearby to ensure that no pieces get dislodged or that he puts anything small in his mouth.
Choking Hazards
An infant who chokes on a dislodged knob may perish in the act. Infants and toddlers do not have the awareness of how to avoid those types of situations; they tend to put many objects in their mouths as a result of teething and suckling instincts, and because that is one of the ways toddlers explore the world around them. It is natural to them to discover what objects are for by trying to eat them.
Small objects are generally considered choking hazards – these items may be anything that is 1 to 2 inches large. It is very easy for these objects to get lodged in babies' throats, and parents are those who come into contact with babies very often should make sure they are properly trained in what to do in case a baby starts choking. These steps can be found on any infant care website and include details pertaining to back and chest thrusts, emergency calling, and CPR.
Filing a Product Liability Claim
Product liability claims as they relate to choking hazards are most often filed by parents of young children who suffer injuries after placing small objects in their mouths. Very rarely will an adult file a product liability claim citing a choking hazard unless the product was intended for oral use and had a malfunction (for example, if an oral thermometer broke and the tip lodged in your throat, or if an automatic toothbrush with changeable heads somehow broke and the head caused you to choke). Parents usually purchase toys for their children that have small removable parts, however; sometimes, the products have small parts that break. It is crucial that parents pay extra care to their children when the children are playing.
Because of this tendency for children to put everything in their mouths, companies are required to put warning labels on the packaging of items that have small parts or pose a choking hazard if they break. Children under the age of 3 are those most at risk for choking hazards, and thus, many of these warnings are present on toys and items that are used by these toddlers.
Choking hazard warnings are quite prevalent, however. There are few objects that have removable parts that also lack the proper warning on the label or packaging; as a result, it is difficult to file a claim. Regardless, you may be able to file a claim if the toy did not work as intended. In order for a product liability claim to be filed, one of three conditions must be met:
Design Flaw: While designing the item, the developers may have missed a glaring error and gave the okay to proceed with the creation of the product. This can lead to a slew of problems down the line, including easily broken parts that can lead to injuries.
Manufacturing Defect: While in the manufacturing process, something could have gone wrong with a machine, causing the product to be wrongly made. If the item were handmade, an individual could have mistakenly put it together or applied parts in the wrong manner. Regardless, sometimes there are instances where whole products feature defects on assembly lines, and they need to be recalled.
Failure to Warn: Any object that carries reasonable potential for injury is required to have a warning label on the item itself or on the packaging. Objects that emit flames or heat generally have caution signs that warn of extreme temperatures; toys that have small objects or parts are no different. They often have choking hazard warnings present somewhere.
The absence of warning label, a defect in the manufacturing process, or a design flaw is ample reason for a product liability claim to be filed.
In the case of liability, some jurisdictions invoke strict liability. Merely because an object had no visible defect, was properly made, and contained all the necessary warnings does not excuse it from product liability. The fact that an injury occurred can be used as a sign of a defective product. You can thus sue the manufacturer and distributor for damages.
Compensation for the Injury
If your child were injured in a choking injury from a defective product, your product liability claim can earn you various types of compensation. You may be able to earn:
Medical Expenses: Surgery, hospitalization, medication, ambulance transportation fees, and more can be covered, of both past and future times.
Lost Wages: If you were forced to miss time at work and have your income reduced because of injuries that happened to your child from a small object like a Wiggle Ball, you can be reimbursed. You may have needed to go to the hospital, sit at the medical center, or even see a lawyer. These wages from both past and present can be collected.
Property Damage: If the injury caused any damage to your property, such as by your child flailing around and breaking objects, you can be covered for the dollar value.
Pain and Suffering: You may be able to collect non-economic damages. Sometimes choking injuries can bring a person close to death, and there needs to be some form of compensation present to help start the path to recovery. It may be used on therapy or other similar treatments.
Normandie Can Help
If your child became injured by choking on broken knobs from a Bruin Infant Wiggle Ball, call our law firm today. Our compassionate lawyers have years of experience presiding over product liability claims and we know the best way to bring our clients the compensation they deserve. You have 2 years from the date of the injury to file a claim, but we recommend filing as close to the injury as possible so that all the ample evidence will be present.
FREE LEGAL CONSULTATION AVAILABLE: Call us today for a free legal consultation on your case. You can ask one of our attorneys any questions you want. We will be happy to talk about your claim, the injuries of your child, what you can expect to earn, and the legal process. We also offer a zero fee guarantee to all of our clients – you pay no money for our legal representation. Our fees come from the settlement we win for you. If we don't win, however, we aren't paid at all. This is done to ensure that you suffer absolutely no economic damages by pursuing legal action.
Contact Normandie Law Firm today for more information on the Bruin Infant Wiggle Ball recall.
FURTHER INFORMATION: