Torrance Man Flees Police, Crashes into Power Pole 8-23-2017
Torrance Man Flees Police; Crashes into Pole in Torrance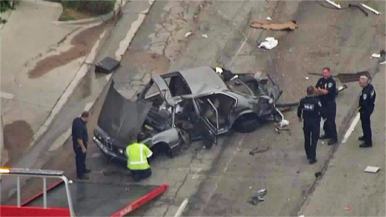 Our law firm is currently investigating an accident that occurred on Wednesday, August 23, 2017.
A fleeing suspect has been hospitalized in critical condition after crashing into a utility pole and fire hydrant on Wednesday.
According to Sgt. Harris of the Torrance Police department, officers initially responded to a domestic disturbance call at a Texas Loosey's restaurant, located on Palos Verdes Boulevard in Torrance. Upon the arrival of the police, the suspect fled the restaurant; he was not followed, but wound up crashing into a pole and hydrant before careening through several fences and yards, finally coming to a halt near Sepulveda Boulevard and Walnut Street.
The suspect, whose identity has not been disclosed, was taken to a nearby hospital and listed in critical condition.
The crash resulted in various amounts of property damage and a build-up of traffic. Sepulveda Boulevard, between Border Avenue and Western Avenue, was closed off to allow police to investigate.
There has been no further information released on what the suspect did to cause the initial disturbance at Texas Loosey's.
Damages for Victims of Negligent Drivers
If you are a victim of a negligent driver, you are entitled to restitution for the damages you sustained as a result of the negligent actions. You do not necessarily have to be a fellow driver to be able to file a personal injury claim against a responsible party – you may be a pedestrian, cyclist, property owner, or passenger. No matter what your standing, you can be compensated for any damages sustained in an accident.
Some of these compensable damages include:
Medical Coverage: If you were struck by a vehicle due to a driver's negligent course of action, you can be reimbursed for all medical bills stemming from the accident. These bills may include ambulance fees, hospitalization costs, surgery, medication, physical therapy, and future medical treatment.
Economic Damages: Property that has been damaged can have its monetary value recovered with the help of a personal injury lawsuit. Items that may have been damaged include your vehicle, your home, any part of your land (like fencing, lawn, trees, and other buildings), personal belongings, and more. While some of these items may be of high sentimental value, their monetary worth can be compensated for.
Lost Income: If a driver's negligence caused you to be unable to go to work and earn a living, you may be able to receive damages for lost wages. Reasons you could suffer lost income include the loss of a vehicle, necessary appointments to fix ruined property, injury, hospitalization, disability, and recovery time. When you are prevented from going to your job, you can earn restitution. Further, you can be compensated for both previous and future lost wages.
Non-economic Damages: For any injuries that cannot be valued, such as mental scarring, fear, anxiety, PTSD, emotional damage, and psychological trauma, you can receive compensation. These conditions usually manifest after the accident has occurred and can be considered additional effects. Compensation can go towards therapy and other healing procedures.
Punitive Damages: If the driver of a vehicle acted with gross negligence and brought about a hefty amount of damages, he can be furthered punished with punitive damages. These damages are meant to tack on additional punishment to the driver. However, it can be hard to win punitive damages, and only a skilled lawyer will be able to bring them in to the settlement.
Our team of attorneys at Normandie Law Firm can help you be compensated for all damages sustained in an accident due to the negligence of another driver. We are relentless in our approach and will aggressively seek fair benefits for you. You deserve to be compensated for your injuries; you were not actively involved in the accident, and you should not be held responsible for your debts. That responsibility should lie solely on the perpetrator of the action.
Call Normandie Law Firm today for a free legal consultation. We will discuss your case and your potential settlement, and you can ask us any questions you want. Our legal representation is given on a contingency basis, meaning you pay no out of pocket expenses for our services: we only get paid in the event we win your case and you earn a settlement.
If you've been injured in a car accident and your property has been damaged, contact Normandie Law Firm for assistance.