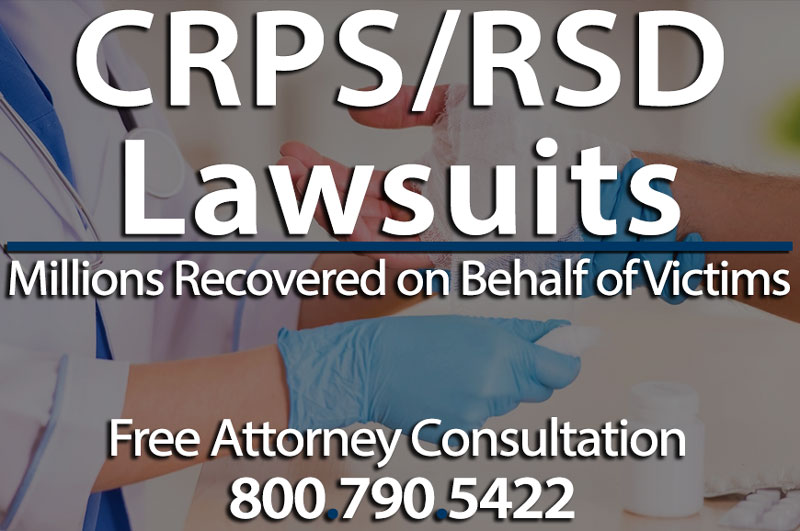 Complex Regional Pain Syndrome or Reflex Sympathetic Dystrophy, otherwise known as CRPS and RSD are some truly devastating conditions. Usually caused by some form of trauma inflicted upon the nerves of an individual, these conditions can arise from a wide variety of injuries, incidents, and accidents. One incident in particular and the focus of this article is CRPS and RSD caused by sheriff officers, security guards, or police officers placing handcuffs too tight around the wrist of a victim. This use of excessive force can cause these truly damaging nervous systems conditions, and if it can be proven that the officer or guard used excessive force and didn't place the handcuffs properly, you may be able to collect monetary compensation for the damages that you have had to endure. At Normandie Law Firm our handcuff injury attorneys can walk you through the often complicated process of filing a lawsuit for handcuff injuries that cause CRPS and RSD. If you have any questions after reading this, article, please feel free to reach out to our law offices for a free consultation by one of our skilled legal associates.
CRPS and RSD
Complex Regional Pain Syndrome (CRPS)  also known as Reflex Sympathetic Dystrophy (RSD) is a  truly devastating injury that can cause a lifetime of trauma, discomfort, and pain. This disorder is characterized by a pain that is constant, extreme, and far more intense than the pain caused by the original injury. CRPS or RSD is a progressive disease of the autonomic nervous symptom and the sympathetic nervous syndrome. Symptoms of CRPS and RSD arise differently depending on the victim and can occur at different phases of the disorder. Some of these common symptoms of CRPS include:
A deep, aching, cold, burning pain
Increased skin sensitivity
Allodynia Associated Pain (pain that comes from the touch of clothing or a shower)
Continual Pain
Hyperalgesia (a heightened sensitivity to pain)
Swelling of the affected area
Abnormal hair or nail growth
Skin Discoloration
Abnormal skin temperature
Limited range of motor function
General muscle weakness (paralysis and dystonia)
CRPS and RSD are usually caused by some extensive physical damage to the nerves. The syndrome can arise in two different forms. Type 1 occurs after an injury inflicts the nerves of the affected limb indirectly. Type 1 is the most common kind of CRPS injury as an estimated 90% of all CRPS cases are of this variant. Type 2 CRPS cases, otherwise known as causalgia, are the least common forms of CRPS injuries. Causalgia or Type 2 injuries occur when there is direct damage to the nerves of an affected limb. There is still very little known about Type 2 CRPS injuries, and proving its existence in a patient can be somewhat difficult.
These nervous system disorders usually occur when an individual is put through some forced trauma. These injuries usually occur after a bone fracture or an amputation; however, they can arise after heart attacks, surgery, infections, and in the case of this article, having a law enforcement officer or security guard fasten handcuffs too tightly. The treatment required for CRPS and RSD injuries can be incredibly extensive, and do very little to cure the syndrome outright. While an early diagnosis can prove to lead to a better outcome of the condition, there is no guarantee that symptoms of CRPS and RSD can be rid of entirely. For this reason, victims who have been diagnosed with CRPS or RSD after having handcuffs not placed properly around their wrists have every right to file a lawsuit against the party responsible. These lawsuits, if successful, can provide victims with adequate monetary compensation to cover for some of the following CRPS treatment methods:
Sympathetic Nerve Block: Victims who have undergone the sympathetic nerve block procedure, have reported temporary relief from pain. However, there is no record of a long-term relief of pain. This procedure involves the injection of an anesthetic next to the spine which directly blocks the misfiring nerves and improves blood flow to the area.
Surgical Sympathectomy: This procedure includes the destruction of the problematic nerves afflicted by CRPS. Some medical experts believe that this form of treatment only makes CRPS symptoms worse, whereas others have reported favorable outcomes.
Spinal Cord Stimulation: This procedure involves the stimulation of the spinal cord, through the injection of electrodes. This treatment provides a tingling sensation to the affected area and can lessen the victim's pain. However, roughly 25% of those who undergo Spinal Cord Stimulation develop equipment problems and may require additional procedures.
Intrathecal Drug Pumps: This method involves the pumping of pain-relieving drugs directly into the spinal fluid. These drugs are usually, opioids, anesthetic agents, clonidine, or baclofen. However, studies of this method have shown that there is not a significant benefit to recover from CRPS.
Filing A Lawsuit Against Law Enforcement and Security Guard Companies
Law enforcement and security guards are expected to use a certain degree of force when apprehending individuals who have either disturbed the peace or broken the law and have proven themselves to be dangerous. However, while these individuals have a right to the use of force, they are expected to understand the proper procedure when handcuffing a suspect. If handcuffs are placed on a person for too long and lead to CRPS, that victim has every right to file a lawsuit against the security guard or law enforcement officer responsible. These lawsuits can be somewhat tricky, as you must be able to prove that the law enforcement officer or security guard's use of excessive force led to your CRPS or RSD injuries. For this reason, it is important that you seek a lawyer to help you sue for being diagnosed with CRPS after having been improperly placed in handcuffs.
Filing a lawsuit against a law enforcement officer is particularly challenging. Sherrifs, highway patrolmen, police officers, or any other kind of government law enforcement agent is expected to use a certain degree of force when apprehending a suspect they believe is either a danger to others or a danger to themselves. Law enforcement officers also act as a part of the U.S government, and as such are a little more challenging to sue. Depending on the state, there is a wide variety of documentation and reporting that needs to be done to file a lawsuit against a police officer. Essentially what you have to show is that the officer's actions were a sign of misconduct, and as such must be able to prove that there is a pattern of this police officer using similarly excessive force with other individuals. For instance, suing a law enforcement officer who has a record clear of any account of excessive force or misconduct can be a trying uphill battle. That is not to say it is impossible, however, with the help of a law firm experienced in hand CRPS cases against police officers you could find a favorable outcome in your case. When filing a suit against a police officer, it is also vital that you follow the following steps in bringing your case to court:
Speak to a civil rights attorney as soon as you can, as they will better understand the complexities that come with suing a police officer or law enforcement officer for the damages caused by excessive force.
Collect as much evidence as possible by taking pictures of the injuries, gathering eyewitness accounts, and holding on to any clothing or any other property that was damaged by police.
Report the incident to the police department, as well as the United States Department of Justice and the United States Attorney General's Office.
Lawsuits filed against security guards and security guard companies are somewhat similar in that you must be able to prove that the security guard used excessive force when apprehending and placing handcuffs on you. As always it is important to have concrete proof of the event. This proof or evidence can take the form of photographs, video footage, eyewitness accounts, and even medical records showing the severity of your injuries.
When filing a lawsuit against a law enforcement officer or security guard, for the use of excessive force you must be able to prove that their negligent actions led to your injuries and that they showed a significant breach of conduct. Both police officers and security guards are trained to respond to a certain threat with a particular degree of force. If this training is breached and said breach of protocol leads to a CRPS hand or wrist injury, you will need to prove that their negligent actions led to your damages. The process of proving negligence for any particular party is bulleted below for your reference:
Duty: The plaintiff (injured or damaged party) must be able to show that the defendant (law enforcement officer or security guard) owed a legal duty to the plaintiff under the particular circumstances of the case.
Breach: The plaintiff must be able to show that the defendant breached said legal duty through specific actions or failure to act appropriately
Causation: The plaintiff must be able to show that the defendant's actions or lack thereof caused the plaintiff's injuries
Damages: The plaintiff must be able to show that they endured some specific damages. This can usually be shown through the presentation of medical records, a loss of wages, or a loss of potential income.
As stated previously, if you have been diagnosed with CRPS as a result of a law enforcement officer or security guard's use of excessive force with handcuffs, you have every right to file a lawsuit against them. However, this process can be incredibly difficult, as CRPS is a challenging disorder to diagnose, and proving that a police officer or security guard used excessive force comes with its obstacles. For this reason, it is in your best interest to seek assistance from an attorney experienced in not only representing CRPS victims but in fighting against law enforcement officers and security guard companies.
How Normandie Law Firm Can Help
Having a skilled and experienced attorney on your side can make the difference between filing a successful claim for monetary compensation, and having you're dismissed from court entirely. Our law firm has years of expertise in fighting for the rights of those injured by security guards and law enforcement. Those who file their case with our Angeles law firm could find some if not all of the following damages compensable to them:
Past and Future Medical Bills
Loss of Wages
Loss of Potential Future Wages
Pain and Suffering
Emotional Distress (depression, anxiety, PTSD, etc…)
Punitive Damages
At Normandie Law Firm our Los Angeles attorneys experienced in CRPS and RSD injury cases can help you fight for your right to monetary compensation. While our attorneys are based in Los Angeles, they also practice in San Diego, Orange County, Riverside, Bakersfield, San Francisco, Fresno, Sacramento and throughout the state of California.
Free Second Opinions
Other attorneys will sign you up to their firm but will disappear once your name is on the paper as they are busy signing up more cases. In these instances, their business is based more on volume and will attempt to sign up as many cases as possible. In turn, they will spend less time on cases resulting in severely reduced settlements. Our firm will not treat you like a number. We will be in communication with you throughout our lawsuit and will treat you like family. So if you already have an attorney don't worry, we'll give you a second review of your case 100% free of charge.
Zero Fee Guarantee-No Upfront Fees Ever
If you contact our law offices today, we can walk you through the complicated process of filing your claim completely free of charge. As a show this commitment to you and your case we offer our clients the benefits of a zero fee guarantee policy. Under our zero fee policy, all clients don't pay for our services until their case is won. If you feel in need of a second opinion, second opinion case reviews are also free under this policy. Please, feel free to give us a call, and we can guide you down the path of receiving proper compensation for your damages.