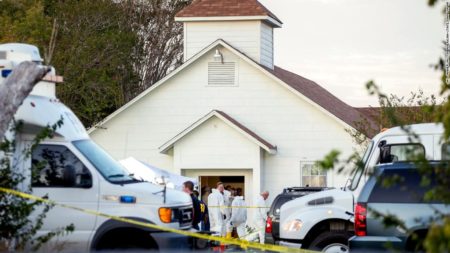 On Sunday, November 5th, an individual by the name Devin Patrick Kelly, entered a First Baptist Church in Sutherland Springs and opened fire upon the church attendants. This violent and tragic act resulted in the death of 26 people, and the devastating injury to so many others. Kelly, a former and dishonorably discharged member of the United States Air Force, was equipped with a rifle and several side arms, all of which he bought legally. Had the Air Force input Kelly's first crimes into the Federal database correctly, Kelly would not have been able to legally purchase the guns that killed 26 people in Sutherland Springs early November of this year. Victims of this heart-breaking incident may be eligible to file a claim for compensation against the Air Force for failing to charge Kelly for his previous actions properly. When filing a lawsuit, especially against a government body, it is always in your best interest that you seek assistance from a skilled attorney. At Normandie Law Firm our attorneys have a wealth of experience in fighting for cases of this nature and will guide you through the often complicated process of building a case, filing a claim, and collecting compensation for the damages. If you have any questions after reading this article, please feel free to reach out to our law offices in Los Angeles, California, for a free consultation by one of our well-versed legal associates.
How The Weapons Ended Up in The Hands of A Criminal
Devin Patrick Kelly, aged 26 years-old, assaulted a First Baptist Church in Sutherland Springs with guns that he purchased legally. Kelly killed 26 churchgoers, and injured several more, before fleeing the premises. Kelly was then confronted by a neighbor armed with an AR-15-style rifle. A gunfight ensued, resulting in Kelly getting shot in the leg and torso. Kelly dropped his rifle and fled the scene in his SUV, with the neighbor in pursuit. Before Kelly could flee town, he shot himself in the head and crashed his car off the road. In any other situation, Kelly shouldn't have been able to obtain these weapons through legal means. According to court-martial records released by the Air Force, Kelly had been accused of hitting, choking and kicking his wife in 2011 and 2012. These records also indicated that Kelly had pointed a gun at her several times, and also assaulted his child, breaking the child's skull in the process. Kelly was later convicted to spend 12 months in a military prison. After being released from prison, Kelly was charged with animal cruelty on suspicion of beating a dog. There were also reports of Kelly being involved in a family dispute in the weeks leading up to the shooting and reportedly sent threatening text messages to his mother-in-law. Since the tragic incident on November 5th, many have asked, how someone with such blatant violent tendencies was able to obtain a weapon in the first place. While it was unknown immediately after the incident, it has been revealed that the United States Air Force failed to input Kelly's charges into the Federal database properly. As a result, Kelly was able to purchase a Rugar AR-556 rifle which adding to the two handguns he was suspected to have already owned. While Kelly was denied permission to carry a gun in Texas, however, Kelly was still able to purchase the guns through legal means. Had the Air Force input Kelly's charges properly into the Federal Database, this tragic incident could have been avoided. Victims of this incident may be able to seek compensation for their damages for the Air Force's negligent actions of failing to input Kelly's record. While it is within every citizen's right to represent themselves in court, a multitude of legal hurdles can arise when pursuing a lawsuit against a government body like the United States Air Force. Fortunately, a skilled attorney can guide you through the process and help you select the best path towards receiving compensation for the damages that this incident caused.
Pursuing Legal Action Against A Government Body
While this case is still developing, victims of this incident have every right to pursue legal action to ensure themselves and their loved ones receive compensation for the damages that they have suffered. The mass shooting in Sutherland Springs, Texas, could have been prevented had the United States, Air Force, adequately admitted the killer's charges into the Federal Database, and as such are partially liable for the damages that they have endured. In most cases, those who have committed past felonies cannot legally purchase a gun, let alone an assault rifle. Unfortunately, victims of accidents or incidents involving a government body can only sue in certain situations. In most cases, government bodies have 'sovereign immunity' meaning that only certain suits can be brought against them. However, that is not to say that it is completely impossible to sue a government body for damages. With the help of a skilled attorney, plenty of patience, and substantial evidence supporting your claim you could find a favorable outcome in your case against a government body. When filing a suit against a government body, be prepared to show evidence that shows that you have followed the following pre-requisites:
The plaintiff must present a written claim to the public agency or government body.
The claim must have been rejected. This rejection letter or a copy of the rejection letter must be submitted with the claim at the time of filing.
The suit must be filed in court no later than six months after the claim was rejected, or within two years (In the state of California) of the incident if no rejection was received by the injured party.
As mentioned above, there is a time limit in which an injured party has to bring their case to court. Also known as the statute of limitations, this time limit usually changes between states. However, since this is a suit filed against a federal government agency, victims have six months from the date of the incident to file their claim. If the claim is denied, the injured party has six months to file their case in a Small Claims Court. If a formal notice of rejection is not received, the injured party has two years from the date of the incident to file. While this process can seem fairly complicated, once the claim is filed, the following legal procedure is the same as the legal procedure followed in any other small claims suit. In regards to this case specifically, it is important to understand and follow the guidelines dictated by the Feres Doctrine. The Feres Doctrine makes it so that people who are injured as a result of military service cannot successfully sue the federal government. However, the Feres Doctrine doesn't keep victims from filing a lawsuit outright. In certain situations where a civilian is injured by the actions of a military service member, the injured party can still be permitted to sue. This is solidified by the Federal Tort Claims Act which permits private parties to sue the United States in a federal court for injurious actions committed by people acting on behalf of the United States. These legal proceedings can be incredibly challenging to understand and follow accordingly, and as such an attorney with expertise in federal tort law could best assist you moving forward.
Once you have followed these steps in filing your claim, you must be able to prove the negligent actions of the government body, or in this case, the Air Force. One of the key aspects in proving negligence has substantial evidence to back up your claim. This evidence can come in the form of formal statements regarding the duties of the Air Force or another public body;  medical records or bills showing the damages caused in detail; or photographs and video footage detailing the event itself and the damages caused. Once you have gathered substantial evidence to support your claim you must make an argument for the following points that are made in nearly every claim of negligence:
Duty: The plaintiff (injured or damaged party) must be able to show that the defendant (the public body) owed a legal duty to the plaintiff under the particular circumstances of the case.
Breach: The plaintiff must be able to show that the defendant breached said legal duty through specific actions or failure to act appropriately
Causation: The plaintiff must be able to prove that the defendant's actions or lack thereof caused the plaintiff's injuries
Damages: The plaintiff must be able to show that they endured some specific damages. This can usually be shown through the presentation of medical records, a loss of wages, or a loss of potential income.
Even once you have been able to prove the negligence of the government body, it is incredibly important that you have skilled and experienced legal representation on your side. Lawsuits against government bodies like the Air Force can be complicated and in some cases, can employ a team of legal experts to dispute your claims. Fortunately, with the help of a skilled attorney, you could better guarantee a favorable outcome for your case.
How Normandie Law Firm Can Help
The shooting in Sutherland Springs Texas would have never happened had the systems put in place by the Air Force and the greater U.S government been followed properly. Unfortunately, this is not the case, and an error in the Air Force's justice system resulted in the deaths of 26 people. If you or a loved one have been made a victim of this tragic mass shooting in Sutherland Springs, Texas, you may be eligible to file a claim for significant monetary compensation. At Normandie Law Firm our experienced attorneys are committed to ensuring that all of our clients receive all of the resources they need to reach a favorable outcome for their lawsuit. If you file a claim through our law firm you could find some, if not all of the following damages compensable to you:
All of you medical and hospitalization costs
All of your future medical care and treatment
A loss of income and loss of future earnings due to long-term recovery or permanent disability due to the accident
Compensable economic damages include loss of property or damaged property.
Compensable non-economic damages such as emotional distress, trauma, PTSD, pain and suffering, and anxiety.
Victims of this tragic incident can contact our law offices to learn more about how to receive compensation for their injuries. While our law firm is based in Los Angeles, our attorneys also practice in Oakland, San Francisco, San Diego, Sacramento, Orange County, Riverside, Fresno, and throughout the state of California.
Free Second Opinions
Other attorneys will sign you up to their firm but will disappear once your name is on the paper as they are busy signing up more cases. In these instances, their business is based more on volume and will attempt to sign up as many cases as possible. In turn, they will spend less time on cases resulting in severely reduced settlements. Our firm will not treat you like a number. We will be in communication with you throughout our lawsuit and will treat you like family. So if you already have an attorney don't worry, we'll give you a second review of your case 100% free of charge.
Zero Fee Guarantee-No Upfront Fees Ever
If you contact our law offices today, we can walk you through the complicated process of filing your claim utterly free of charge. As a show this commitment to you and your case we offer our clients the benefits of a zero fee guarantee policy. Under our zero fee policy, all clients don't pay for our services until their case is won. If you feel in need of a second opinion, second opinion case reviews are also free under this policy. Please, feel free to give us a call, and we can guide you down the path of receiving proper compensation for your damages.