Every year, thousands of individuals, including passengers, pedestrians, bicyclists and other motorists, suffer serious injuries due to accidents caused by the harmful driving of taxicabs. Common serious injuries resulting from accidents involving taxi cab operators include back injury, traumatic brain damage, herniated disc, bone fractures, and facial injuries. Passengers and other victims of personal injury are entitled to compensation under the law.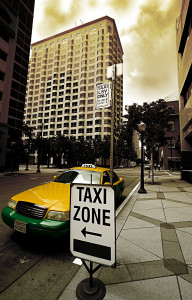 About Our Law Firm: The top-rated Normandie Law Firm has successfully protected the legal rights of passengers injuries due to the negligent or wrongful conduct of Taxi Cab operators and drivers. Our experienced lawyers have represented victims of Taxi accidents across the state of California including San Diego County, Orange County, San Francisco bay area San Bernardino and Los Angeles.
Free Legal Consultation:  Our law firm provides confidential and no-cost case evaluations to individuals who have suffered injuries in taxicab accidents. If you have any further legal questions feel free to contact a top attorney with expertise in taxi cab injury lawsuits toll-free at (800) 790-5422.
Filing a Personal Injury Lawsuit Against Taxicab Company for Injuries Suffered
The vast majority of auto accident cases including taxi accidents are based on a negligence cause of action. There are several elements which need to be presented to the court in order to prove negligent or wrongful acts on the part of the taxi cab driver and operators.
(1) A duty of care exists between the liable party and the injured victim.
(2) The liable party breached its duty of care.
(3) The breach of the duty of care resulted in the accident.
(4) The accident caused significant bodily harm to the victim.
An expert attorney who has experience in taxi cab lawsuits can help you prove these four elements in a court of law
Minimum Insurance Limits for Taxicab Operators in the State of California: Taxi Operators require a commercial insurance policy in order to be able to conduct their operations in the states. They must show proof of insurances with a minimum combined single limit of one million dollars ($1,000,000) for the injury or death of one or more persons in the same accident, and one hundred thousand dollars ($100,000) for injury or destruction of property.
Types of Compensation Available for Victims of Serious Injuries: In the State of California victims of auto accidents are entitled to full compensation for all damages, economic and noneconomic resulting from the negligent acts of the liable party. Types of compensation available in the vast majority of personal injury cases are as follows:
Filing Deadline For Your Case: Victims of personal injury must file a claim within the time limit established by the state's Statute of Limitations. In the state of California, civil injury causes of action must be filed within two years from the date of the accident. Our accomplished attorneys with experience in taxi cab injury cases will make sure all of your documents are filed and your claim is brought to an insurance company well within the statute of limitations.
Experienced Attorney Assistance: Our law firm is proud to have successfully represented many individuals which have suffered devastating injuries in auto accidents across the state. If you have any further legal questions feel free to contact us toll-free.  (800)790-5422 All consultations are confidential and free of charge, and a qualified attorney with experience handling taxi cab injury claims will give you all the information you need to know.