Suspected Hit-and-Run Driver Killed in Crash in Hancock Park While Fleeing Initial Scene 9-6-2017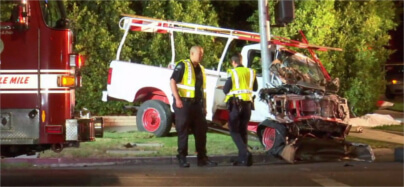 Our law firm is currently investigating an accident that occurred in Los Angeles' Koreatown on September 6, 2017.
The driver of a pickup truck suspected of hitting a pedestrian in Koreatown died after he sped through a red light while fleeing the scene and collided with a SUV early Wednesday morning. According to Los Angeles Police Department (LAPD) Investigator Juan Velasco, the initial collision with a pedestrian occurred near the intersection of South Normandie Avenue and Beverly Boulevard when the driver of the pick up struck a pedestrian.
The pedestrian was a man who is believed to be about 50-years-old. He suffered several minor abrasions and was rushed to a local hospital; he is expected to recover from his injuries.
The driver fled the scene at around 12:45 a.m. on Beverly Boulevard when he ran a red light and crashed into a SUV headed northbound on North Highland Avenue. The driver in the SUV suffered some fractured ribs and was taken to the hospital. The SUV was found wrapped around a tree. The driver of the pickup who has yet to be identified, died at the scene.
A woman who witnessed the collision administered CPR on the initial driver until paramedics arrived at the scene. Another witness, described the collision as, 'like an explosion,' and that the driver of the pick up was ejected from the truck
Local authorities reported several 'empty containers,' were found at the scene of the crash.
According to video footage, both vehicles were totaled.
In the collision, a metal lift spring from the pick up broke off the vehicle and crashed through the window of a nearby home, where it almost struck a child asleep in their crib. The metal spring struck the crib, breaking it, but appeared to bounce away without injuring the child.
About Normandie Law Firm
If you or a loved one has suffered any physical injuries or property damages as a result of the negligent conduct of others behind the wheel, you may be entitled to monetary compensation for all the damages that you have suffered. If you file a claim with Normandie Law Firm you could find some, if not all, of these following expenses compensable:
Any and all medical expenses
Loss of Income
Loss of potential future income
Emotional Damages (anxiety, depression, PTSD, etc…)
Punitive Damages
Victims of this incident or incidents like this one can contact our law offices to learn more about how to receive compensation for their injuries. Our team of attorneys is committed to ensuring every one of our clients has the resources to put up a fair fight for their case. As a show this commitment to you and your case we offer our clients the benefits of a zero fee guarantee policy. Under our zero fee policy, all clients don't pay for our services until their case is won. If you feel in need of a second opinion, second opinion case reviews are also free under this policy. Call our law offices today for a free consultation by one of our skilled attorneys, and we can discuss the incident, your damages, and the path to receiving proper compensation for your damages.