Sue Omega Pacific for Defective Carabiner Due to Risk of Injury or Death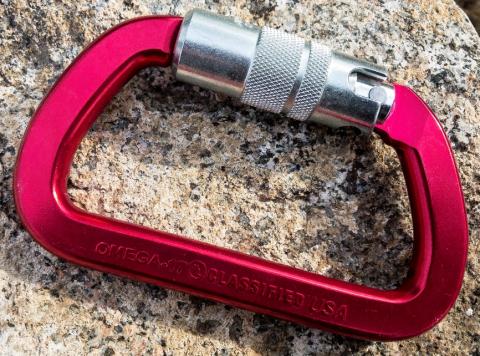 Name of Product: Carabiners
Hazard: The Carabiner can break during use, resulting in a significant risk of injury or even death
Recall Date: November 21, 2017
Recall Number: 18-041
Description: This is a recall for six models of the Omega Pacific G-FIRST series aluminum carabiners. They are usually used to link ropes and harnesses together. "Omega-17 UL Classified USA" is printed on the front and "Meets NFPA 1983 17ED MBS kN 40 G" statement is printed on the back side. The 2-digit code "OD" is embedded on the bottom end of the carabiner spine. They were sold individually in silver, black, and red variants.
Remedy:  Consumers should stop using the recalled carabiners immediately.
Incidents/Injuries: None reported as of yet
Sold At: Arizona Hiking Shack, Atlantic Diving Supply, Austin Canoe & Kayak, Columbus Supply, Dvbe Supply, Evac Systems, General Factor/WD Supply, LafcoOutillage, The Rescue Source, Witmer Associates (Firestone) stores nationwide and online at omega.com from February 2017 through October 2017 for between $31 and $51.
Manufacturer(s): Omega Pacific Inc., of Airway Heights, Wash.
Manufactured In: U.S
Units: About 1,900
How Normandie Law Firm Can Help
If you or a loved one have experienced personal injury as a result of the defective Omega Pacific Carabiners, you may be eligible to file a claim for significant monetary compensation. However, in pursuing compensation, it is best to seek the assistance of a skilled attorney, as large manufacturing companies more than likely have the resources to employ their team of expert lawyers to dispute your claims. When filing your claim it is vital that you follow the steps listed below:
Keep the product even if there is an issued recall. Returning an item for a refund will destroy any evidence you can have to pursue the case.
Whatever you do, do not tamper with the product, or attempt to fix it. Any manipulation of the product could hinder the effectiveness of the evidence.
Seek medical attention as soon as possible, so as to prevent any misconception of a gap in medical treatment
Keep any receipts or documents proving that you were the one that purchased the product
At Normandie Law Firm our skilled attorneys can guide you through the process of building your case, filing your claim, and collecting compensation for your damages. Those who file a claim with our law firm can find some if not all of the following damages compensable to them:
All of you medical and hospitalization costs
All of your future medical care and treatment
A loss of income and loss of future earnings due to long-term recovery or permanent disability due to the accident
Compensable economic damages include loss of property or damaged property.
Compensable non-economic damages include emotional distress, trauma, PTSD resulting from the accident, pain and suffering and anxiety.
Victims of this recall or recalls similar to this one can contact our law offices to learn more about how to receive compensation for their injuries. While our law firm is based in Los Angeles, our attorneys also practice in Oakland, San Francisco, San Diego, Sacramento, Orange County, Riverside, Fresno, and throughout the state of California.
Free Second Opinions
Other attorneys will sign you up to their firm but will disappear once your name is on the paper as they are busy signing up more cases. In these instances, their business is based more on volume and will attempt to sign up as many cases as possible. In turn, they will spend less time on cases resulting in severely reduced settlements. Our firm will not treat you like a number. We will be in communication with you throughout our lawsuit and will treat you like family. So if you already have an attorney don't worry, we'll give you a second review of your case 100% free of charge.
Zero Fee Guarantee-No Upfront Fees Ever
If you contact our law offices today, we can walk you through the complicated process of filing your claim completely free of charge. As a show this commitment to you and your case we offer our clients the benefits of a zero fee guarantee policy. Under our zero fee policy, all clients don't pay for our services until their case is won. If you feel in need of a second opinion, second opinion case reviews are also free under this policy. Please, feel free to give us a call, and we can guide you down the path of receiving proper compensation for your damages.
FURTHER INFORMATION: