Mann Packing Produce Recall for Risk of Listeria Lawsuit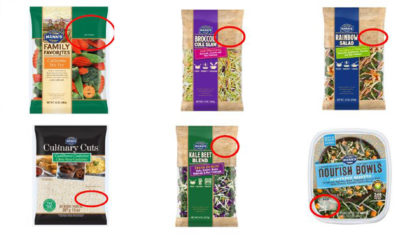 During the week of October 23rd, 2017, Mann Packing, a vegetable supplier in California, issued a voluntary recall of numerous prepackaged produce products that were infected with listeria.
The produce, which included broccoli, cauliflower, and asparagus, was distributed by numerous supermarkets across the United States and Canada. The Canadian Food Inspection Agency randomly sampled some of the products and turned up traces of listeria.
Whole Foods, Walmart, Meijer, Trader Joe's, Albertson's, and Safeway were some of the markets that contained the products. The packages were listed as best used between October 11th and October 20th.
Fortunately, there have been no reported illnesses of listeriosis stemming from the products, but that may change if some of the consumers were not aware of the recall and ate the vegetables.
If you were affected by listeriosis after eating prepackaged vegetables from Mann Packing, contact our Law Firm today to pursue legal action.
What is Listeriosis?
Listeriosis is a type of food poisoning that is commonly contracted after eating vegetables that have been tainted by soil or fertilizer that was contaminated with animal manure. It is a relatively uncommon food poisoning to suffer from; each year, it causes fewer than 2,000 infections and 300 deaths.
Symptoms of listeriosis include flu-like feelings of fever, aching muscles, nausea, vomiting, and diarrhea. You may also suffer the infection in your nervous system, which can cause headaches, stiffness, convulsions, confusion, and loss of coordination.
Notably, the illness primarily affects pregnant women; the symptoms are much milder in them, however, and it may not be readily caught. There is a risk of miscarriage, premature birth, infection, and stillbirth for infants who were affected by the bacteria through exposure from the mother.
In addition to pregnant women, newborn babies, elderly individuals, and people with weakened or compromised immune systems are also susceptible to listeriosis.
Filing a Claim
If you have been affected by Mann Packing's vegetables and suffered listeriosis, you may find it in your best interests to file a product liability claim against the company. Food distributors owe you a duty of care when they sell food; they are distributing products with the implied care that no sicknesses will come about from the food and that it has been adequately cleaned and sanitized.
Food poisoning is tricky in that it can sometimes be misattributed, but a doctor can help you pinpoint the illness. Sustaining the illness is perhaps the most important part of filing a liability claim against Mann Packing – merely having consumed the products is not enough reason to pursue legal action. The food must have been contaminated and that contamination must have made you sick – these are the two main points to prove in a food poisoning lawsuit.
As with all lawsuits, it is crucial to have evidence. Your doctor's notes that you suffered from listeriosis can come in handy, but it is also important that you have the packaging from the vegetables. Without proof that you ate produce from Mann Packing, you cannot file a lawsuit against the company. Many people, however, do not save bags after they have eaten the contents, and the materials may have long since been thrown in the trash.
Although you have 2 years from the date of the injury to file a product liability claim, you may find that it is best to pursue action as quickly as possible. The longer you wait, the more likely it is that your evidence will become lost or damaged and that the jury will see your injury as something inconsequential that happened months before with no long-term effects.
Our attorneys at Normandie Law Firm can help you file a lawsuit against Mann Packing and take care of all legal responsibilities. We will make sure your evidence is adequately gathered and that you are well within the statute of limitations, as well as ensure that the litigation process occurs in a timely manner.
Potential Compensation
A product liability claim related to food poisoning can garner you various types of compensation. Our attorneys can help you win these damages in your settlement.
Medical Bills: If you were hospitalized with listeriosis due to contaminated vegetables packaged by Mann Packing, your medical expenses can be covered. Other medical bills, such as those related to medication and further treatments for the future, can also be covered.
Lost Wages: Food poisoning can put you out of work for some time if it is particularly invasive. You may be able to recover both past and future wages for your job if listeriosis sidelined you.
Pain and Suffering: The emotional damages that accompany a food poisoning illness can be severe, especially for pregnant women who carry additional stress due to their unborn children. It is important that these damages are given out; they include fear, anxiety, mental troubles, psychological scarring, and PTSD.
A skilled attorney at Normandie Law Firm can help you earn the maximum settlement under the law for your listeriosis claim.
Choose Normandie Law Firm
Our team of lawyers at Normandie Law Firm has been practicing law for years. We are an empathetic group that places our clients at the top of our priority list – we want you to be safe, secure, and healthy, and if your livelihood and wellbeing are threatened due to another party's negligence, we want to bring you a settlement you are satisfied with. We will aggressively fight for your rights as a victim and will not stop until you earn restitution.
FREE LEGAL CONSULTATION: Call us today to receive a free legal consultation on your claim. We will give you all the necessary information for pursuing legal action against a business, and if you have any questions, we will answer them. You should be properly aware of what the litigation process includes and what is expected of you as a plaintiff.
Further, we offer you a zero fee guarantee on your claim. This means that you pay no out of pocket expenses for our services through the legal process. Our fees are paid off when we win your case, and the money is taken from the settlement itself. In this way, the responsible party is paying for your legal fees, and your savings are left untouched. If we lose your case, you are off the hook and owe us nothing at all.
Contact Normandie Law Firm for more information on filing a lawsuit against Mann Packing for listeriosis due to contaminated produce.