Sue IKEA for Defective MALM and Other Chests/Dressers Due to Risk of Injury or Death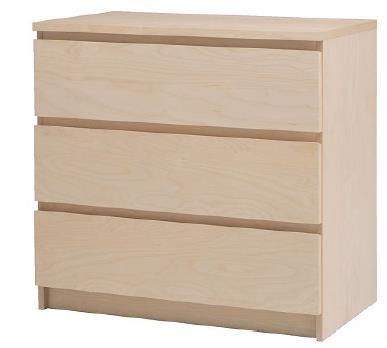 Name of product: Children's and adult chests and dressers
Hazard: The recalled chests and drawers are unstable if they are not anchored to the wall properly into the wall. This can pose a significant tip-over and entrapment hazard which can result in injuries or death to children.
Recall date: November 21, 2017
Recall Number: 18-040
Description: This is a reissuing of a previous recall made involving MALM and other IKEA chests and dressers that don't comply with the requirements of the U.S voluntary industry standard (ASTM F2057-14). The recalled children's and adult chests and dressers include the MALM 3-drawer, 4-drawer, 5-drawer, and three 6-drawer models and other non-MALM models. The recalled children's chests and dressers are taller than 23.5 inches; recalled adult chests and dressers are taller than 29.5 inches.
The MALM chests and dressers are usually constructed out of either particleboard or fiberboard and are white, birch, medium brown, black-brown, white stained oak, oak, pink, turquoise, grey, grey-turquoise, lilac, green, brown stained ash, and black. A 5-digit supplier number, 4-digit date stamp, IKEA logo, country of origin, and 'MALM' are printed on the bottom of the top panel or within the side panel.
Other Chests and Dressers Included in the Recall: In order to see a complete list of other non-MALM chests and dressers included in this recall reissue, follow this link: www.IKEA-USA.com or http://www.ikea.com/ms/en_US/ikea-chest-and-dresser-recall/index.html on IKEA's website.
Recommendations: Consumers of this product should stop using it immediately, and place it in an area that children cannot access.
Incidents/Injuries: So far, IKEA has received 186 reports of tip-over incidents involving the MALM chests and dressers, including 91 reports of injuries to children. In addition, IKEA has received 113 reports of tip-overs with other recalled IKEA chests and dressers, including 53 reports of injuries to children. There have been eight reports of child tip-over related deaths with the recalled chests and dressers, the most recent being a reported death in May 2017 which involved a 2-year-old boy in Buena Park, California. The boy became trapped beneath an unanchored MALM 3-drawer chest that tipped over. Other deaths caused by the MALM dressers or chests reported previously include:
An incident in February 2016 a 22-month-old boy from Apple Valley, Minnesota died after a MALM 6-drawer chest fell on top of him
In June 2014 A 23-month-old boy from West Chester, Pa. died after an unanchored MALM 6-drawer chest tipped over fatally pinning him against his bed.
An incident in September 2011 A 2-year-old boy from Woodbridge, Va. Died after an unanchored MALM 3-drawer chest tipped over and trapped him between the dresser drawers.
In July 1989 A 20-month-old girl from Mt. Vernon, Va. Died after an unanchored GUTE 4-drawer chest tipped over and pinned her against the footboard of a youth bed.
In March 2002: A 2-and-a-half-year-old boy from Cranford, N.J. died after an unanchored RAKKE 5-drawer chest tipped over and fatally pinned him to the floor.
Sold At: IKEA stores nationwide and online at www.IKEA.com from January 2002 through June 2016 for between $70 and $200. Other chests and dressers subject to this recall were sold between approximately 1985 and June 2016.
Importer(s): IKEA Supply AG, of Switzerland (May 2009-present) and predecessors to IKEA Supply AG (1985-May 2009)
Manufactured In: Various countries
Note: Dangerous tip-over incidents can occur when young kids climb on furniture in order to access TVs, toys, remotes or other desired items. The solution to this problem is to anchor TVs and other furniture in the home.
Units: About 17.3 million (Based on updated information from IKEA, the number U.S. units has been revised downward from June 2016).
How Normandie Law Firm Can Help
If you or a loved one have experienced personal injury as a result of the defective IKEA MALM Dresser, you may be eligible to file a claim for significant monetary compensation. However, in pursuing compensation, it is best to seek the assistance of a skilled attorney, as large manufacturing companies more than likely have the resources to employ their team of expert lawyers to dispute your claims. When filing your claim it is vital that you follow the steps listed below:
Keep the product even if there is an issued recall. Returning an item for a refund will destroy any evidence you can have to pursue the case.
Whatever you do, do not tamper with the product, or attempt to fix it. Any manipulation of the product could hinder the effectiveness of the evidence.
Seek medical attention as soon as possible, so as to prevent any misconception of a gap in medical treatment
Keep any receipts or documents proving that you were the one that purchased the product
At Normandie Law Firm our skilled attorneys can guide you through the process of building your case, filing your claim, and collecting compensation for your damages. Those who file a claim with our law firm can find some if not all of the following damages compensable to them:
All of you medical and hospitalization costs
All of your future medical care and treatment
A loss of income and loss of future earnings due to long-term recovery or permanent disability due to the accident
Compensable economic damages include loss of property or damaged property.
Compensable non-economic damages include emotional distress, trauma, PTSD resulting from the accident, pain and suffering and anxiety.
Victims of this recall or recalls similar to this one can contact our law offices to learn more about how to receive compensation for their injuries. While our law firm is based in Los Angeles, our attorneys also practice in Oakland, San Francisco, San Diego, Sacramento, Orange County, Riverside, Fresno, and throughout the state of California.
Free Second Opinions
Other attorneys will sign you up to their firm but will disappear once your name is on the paper as they are busy signing up more cases. In these instances, their business is based more on volume and will attempt to sign up as many cases as possible. In turn, they will spend less time on cases resulting in severely reduced settlements. Our firm will not treat you like a number. We will be in communication with you throughout our lawsuit and will treat you like family. So if you already have an attorney don't worry, we'll give you a second review of your case 100% free of charge.
Zero Fee Guarantee-No Upfront Fees Ever
If you contact our law offices today, we can walk you through the complicated process of filing your claim completely free of charge. As a show this commitment to you and your case we offer our clients the benefits of a zero fee guarantee policy. Under our zero fee policy, all clients don't pay for our services until their case is won. If you feel in need of a second opinion, second opinion case reviews are also free under this policy. Please, feel free to give us a call, and we can guide you down the path of receiving proper compensation for your damages.
FURTHER INFORMATION: