Sue BSH Home Appliances for Defective Fire Hazard Dishwashers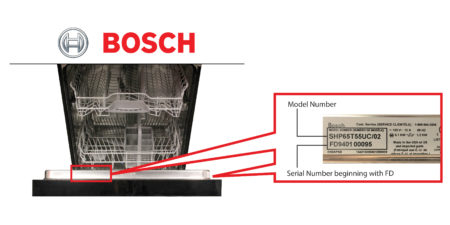 Name: Bosch, Gaggenau, Jenn-Air and Thermador brand dishwashers
Hazard: The dishwasher power cord can overheat and catch fire
Remedy: Repair
Recall Date: October 20, 2017
Recall Number: 18-013
Description: This is an expansion of a recall that involves Bosch, Gaggenau, Jenn-Air and Thermador brand dishwashers sold in stainless steel, black, white and custom panel. The model and serial numbers are printed on the inside of the dishwasher, and is located either on the top of the dishwasher inner door panel, or on the side of the dishwasher panel.
Remedy (Detailed): Those who purchased this product should stop using it immediately as continued use could lead to significant bodily injury. You can contact BSH Home Appliances for a free inspection and repair
Incidents/Injuries: A total of five reports of overheating power cords causing fires have been made to BSH Home Appliances. The incidents have resulted in property damage, however, no injuries have yet been reported
Sold At: Department stores, appliance and specialty retailers, authorized builder distributors, and home improvement stores nationwide and online from January 2013, through May 2015 between $850 and $2,600
Importer(s): BSH Home Appliances Corporation, of Irvine, California
Manufactured In: Germany and U.S
Units: About 408,000 (61,000 in Canada) and 149,000 additional units were recalled in October 2015.
Personal Injury Caused By Defective Products
While no reports of injury have been made to the CPSC (Consumer Product Safety Commission), it is likely that the manufacturing companies have received reports of injuries that have not yet been evaluated by the CPSC. Those who have experienced personal injury, as a result, this product have every right to file a lawsuit against the company responsible for the defect. The fire hazard that the Bosch, Gaggenau, Jenn-Air, and Thermador brand dishwashers cause can result in some truly damaging burn injuries. Burn injuries are often caused by adverse exposure to a thermal source. However, they can also be inflicted by exposure to harsh chemicals, radiation, and electrical currents. Burn injuries can occur in four of the following degrees:
First-Degree Burns: Typically the mildest, first-degree burns can be often treated with a bit of cold water and burn cream. They often only involve damage of the first layer of skin and are characterized by a slight reddening of the skin. In some, more severe cases, however, it is wise to seek medical treatment for the burn to heal properly.
Second-Degree Burns: Second-Degree burns involve damage to the upper layer of skin, as well as the layer of skin beneath. These type of burns cause the skin to blister and become red and sore. Blisters can pop open, giving the burn a wet and glossy appearance. It is essential to keep the area clean and appropriately bandaged to prevent infection. Most second-degree burns heal within two to three weeks, and in more severe cases may require medical attention.
Third-Degree Burns: Often referred to as a full thickness burn, this form of burn destroys the outer and inner layer of skin. Third-degree burns are characterized by a charring and browning of the skin. If you experience a third degree burn medical attention should be sought immediately.
Fourth-Degree Burns: Fourth-degree burns damage not just the outer and inner layer of skin but also damage deeper tissues like the muscle, tendons, and even bone. These burns are characterized by a black appearance, and in some cases result in a removal of the affected region of the body. Treatment of this burn varies on the severity and location, but all fourth-degree burns should be followed with intensive and immediate medical care.
The burn damages caused by a fire-hazard from the Bosch, Gaggenau, Jenn-Air Thermador dishwasher, can result in some fairly significant monetary damages as well. To put it simply, hospitalization is expensive, and when its needed to treat severe burn injuries can result in a mountain of medical debt that can be difficult to tackle alone. For this reason, it is your right as an injured consumer to pursue legal action against the company responsible for the product defect that caused your damages.
Under product liability law, companies are expected to keep defective products out of the hands of consumers. This law also allows for consumers injured by products to pursue legal action against the company liable for their damages. The process of filing a personal injury lawsuit for a product defect can be tricky as in most cases there are some companies involved in the manufacturing of a product. Determining where the damaging product defect occurred can play a crucial role in the outcome of your case. Listed below are three common areas in a production line where a product defect can occur:
Design Defects: These are the defects that can occur before the product is sent to the assembly line. The defects that occur in this stage of production are faults that make the product inherently dangerous. In most cases, these defects can lead to full-scale product recalls, and the company which organized the design of the product could be held liable for the damages.
Manufacturing Defects: These defects typically occur on the assembly line of the product. They can range from minor mistakes along the manufacturing chain to reoccurring mistakes that can result in wide-spread recalls. In these instances, the manufacturing company could be deemed responsible for the damages.
Marketing Defects: These defects occur during the marketing of a specific product. These defects include things like improper labeling, insufficient instructions, or inadequate safety warnings.
Once you have effectively been able to place liability on the company responsible for the product defect, you must be able to prove the negligence of the company in question. The process of proving negligence is somewhat difficult as it requires adequate evidence that the defect caused your injuries and the application of this evidence towards your claim of negligence. Sufficient evidence can include: photographs of the defective product and your injuries, video footage of the product causing the injury or the product's defect, and even medical records that show the damages that you have suffered. This evidence is then used to prove the following components of a claim of negligence:
Duty: The plaintiff (injured or damaged party) must be able to show that the defendant (manufacturing company) owed a legal duty to the plaintiff under the particular circumstances of the case.
Breach: The plaintiff must be able to show that the defendant breached said legal duty through specific actions or failing to act appropriately
Causation: The plaintiff must be able to show that the defendant's actions or lack thereof caused the plaintiff's injuries
Damages: The plaintiff must be able to show that they endured some specific damages. This can usually be shown through the presentation of medical records, a loss of wages, or a loss of potential income.
While everyone has the right to represent themselves in court, the best way to guarantee a positive outcome for your case is through the hiring of a skilled lawyer to fight for you and your case. Having the right attorney by your side can make the difference between filing a successful claim of compensation and having your case dismissed from court entirely.
How Normandie Law Firm Can Help
If you or a loved one have experienced personal injury as a result of the defective Bosch, Gaggenau, Jenn-Air, and Thermador brand dishwashers, you may be eligible to file a claim for significant monetary compensation. However, in pursuing compensation, it is best to seek the assistance of a skilled attorney, as large manufacturing companies more than likely have the resources to employ their team of expert lawyers to dispute your claims. At Normandie Law Firm our skilled attorneys can guide you through the process of building your case, filing your claim, and collecting compensation for your damages. Those who file a claim with our law firm can find some if not all of the following damages compensable to them:
All of you medical and hospitalization costs
All of your future medical care and treatment
A loss of income and loss of future earnings due to long-term recovery or permanent disability due to the accident
Compensable economic damages include loss of property or damaged property.
Compensable non-economic damages include emotional distress, trauma, PTSD resulting from the accident, pain and suffering and anxiety.
Victims of this recall or recalls similar to this one can contact our law offices to learn more about how to receive compensation for their injuries. Our team of product liability attorneys is committed to ensuring that our clients receive proper representation for their claims. As a display of our commitment, every one of our clients will receive the benefits of our zero fee guarantee policy. Under this zero fee policy, all you don't pay for our services until we follow through with our promise and win your case.  If you feel in need of a second opinion, second opinion case reviews are also free under this policy. So, give us a call, and let us fight your case, so you don't have to.
FURTHER INFORMATION: