Street Racers Multiple-Vehicle Crash in Woodland Hills 7-25-2017 Lawsuit
Street Racers Cause Multiple-Vehicle Crash in Woodland Hills July 25, 2017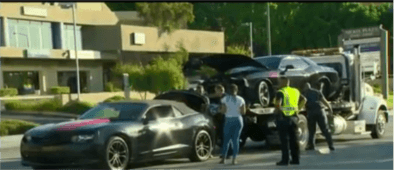 Our law firm is currently investigating the possibility of lawsuits for a recent accident in Woodland Hills. If you have any questions after reading this article or if you would like a lawyer to review your case free of charge, please contact our law offices.
A pair of vehicles that were allegedly street racing caused a 6-car crash in Woodland Hills Tuesday afternoon at around 4 p.m.
The crash occurred on Ventura Boulevard and Premiere Hills Drive; witnesses say that the two black vehicles were speeding down the road, traveling between 80 and 100 mph. The cars narrowly avoided parked and turning cars before slamming into other vehicles, causing a chain reaction of accidents and forcing authorities to block off two lanes on Ventura Boulevard to investigate the different crash sites.
Police said that, in the wake of the accident, there were no serious injuries; the drivers of all vehicles were treated at the scene of the accident with no individuals needing to be transported to the hospital.
Do You Need Representation?
If you have been injured in a multiple-vehicle automobile accident, you may be entitled to compensation from the responsible parties.
Our law firm is willing to negotiate with the defendant's insurance agency and bring you offers that cover your expenses, whether those expenses are for medical treatment or lost or damaged property.
In a car accident lawsuit, insurance agencies usually try to reach a settlement instead of going to court, as it saves time and money; however, these settlements are generally the lowest value possible. We make sure that any settlement you may accept is a fair offer and can adequately cover your damages, including compensation for:
Medical treatment for any injuries sustained in the crash
Automobile repairs
Lost wages resulting from an inability to get to work if your car is unavailable
Pain and suffering
In the event that we and the insurance agency do not agree on a settlement, we are willing to take the case to court and present all of your evidence. We will get police statements, depositions, and eyewitness reports and prove that you have been subjected to suffering as a direct result of your accident – and that you need ample restitution because of it.
All of our clients receive free legal consultations with one of our attorneys to discuss their claims. We feel that you should be given all of the information you deserve in order to make an educated decision on your lawsuit.
Contact us today to speak with a professional multiple-vehicle car accident attorney.