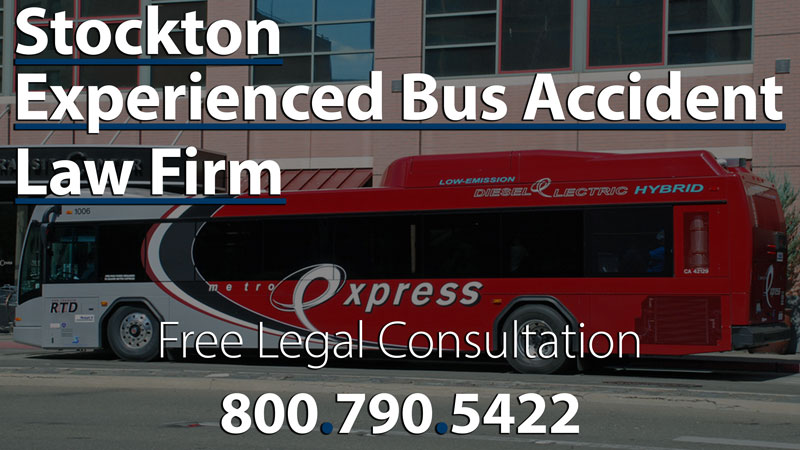 Stockton is the 13th largest city in the state of California and the 63rd largest city in the country. Stockton is located in a transportation hot-spot in the Central Valley. The city is accessible from nearly anywhere and provides access to many other locations. The San Joaquin Regional Transit District (RTD) is the official public transportation in Stockton, California. The RTD offers the community thirty-six different routes to get from one location to the other. The RTD provides buses focused on interregional commuters; the buses go to Sacramento, the Bay Area, and key stations. The RTD is not the only bus company around. Other bus companies include Delta Charter Bus, Greyhound, First Student Inc., and Boomerang Tours.
In comparison to other means of transportation, bus transportation is considered to be safe. There can be more than 6.3 million motorized vehicle accidents in a year. More than 32,000 of these crashes were fatal; only slightly more than 250 accidents involved a bus. Of the remaining 6 million crashed, only a small percentage involved a bus. Yearly, there are almost 300 bus accident fatalities; about 50 of these fatalities are bus passengers. This means that a great number of bus accident fatalities are non-passengers—bicyclists, pedestrians, and other drivers.
Although bus accidents are not all that common, they do happen enough for the community to be concerned about bus safety. Here are a few of these incidents:
In May 2017, a truck rear-ended a stopped school bus. Four of the student passengers in the bus were injured.
In May 2017, a commuter bus and a small car collided leaving the driver of the car dead.
In April 2017, an RTD bus hit a bicyclist; the victim did not suffer life-threatening injuries.
If a passenger is injured, can he or she file an injury lawsuit against the bus driver or the bus company? If you hit your head against the seat after a sudden stop, you can suffer from a head injury that can, if untreated, develop to a traumatic brain injury; would you have a case to sue? In the rest of this article, we will address both of these questions, along with the following two questions:
Can I sue if I was injured as a passenger during a sudden stop?
Can I sue if I was injured during a sudden start?
If you were injured in bus accident in Stockton, you might need immediate legal representation. You need to be represented by an attorney experienced in cases against bus companies and bus drivers. Bus drivers and bus companies are common carriers; and therefore, they have a responsibility to both passengers and non-passengers. If they do not fulfill this responsibility, passengers and non-passengers alike need to hire an experienced attorney. A qualified attorney with expertise in bus accident injury lawsuits can help you receive fair compensation for your injuries. Call our experienced lawyers at the top-rated Normandie Law Firm today for more assistance.
Buses as Common Carriers
Buses, trains, airplanes, taxis, and ships—when they are used to transport passengers in exchange for a fee—are considered to be common carriers. Common carriers are regulated by both state and federal laws which mandate common carriers to do everything possible to ensure passenger safety. Common carriers must exercise the utmost care and diligence to keep passengers safe. Common carriers must do all of the following:
Ensure the vehicle is safe for operation.
Accommodate passengers as needed.
Respect all passengers.
Be attentive to all passengers.
Protect passengers from passenger-passenger aggression.
Operate the vehicle properly and cautiously.
These duties to the passengers also extend to non-passengers. Although the passengers receive the highest level of care, non-passengers should be granted the care necessary to ensure that buses are not a danger to their wellbeing. If the common carriers do not fulfill their duties to passengers and non-passengers, they might be proven negligent.
There are four elements of negligence: duty, breach, cause, and harm. An expert attorney who has experience in bus accident cases should help you identify whether negligence can be proven in your case.
Common Injuries of Bus Accidents in Stockton
Bus accident injuries can be similar to all other motorized vehicle injuries.  Non-passengers—other drivers, bicyclists, and pedestrians—can sustain very serious injuries simply because of the size of the bus. Bus passengers can also sustain very serious injuries. Buses do not require passengers to wear seatbelts, or even be seated at all. When buses reach full capacity, there are often many passengers standing in the aisle holding on the safety bars or safety straps. So what is the danger? Because passengers are not constrained in buses, a sudden start or sudden stop can make passengers lounge forward in their seats or lose their balance and fall if they were standing. Passengers can become injured at any time during their ride. If passengers are entering the bus and the bus suddenly starts before taking a seat or holding on to a safety bar, the sudden start can cause the passenger to fall. Likewise, if passengers were already on the bus and were holding on to safety bars and straps and the bus suddenly stops, passengers can fall. No matter the cause, injuries can occur. Like previously mentioned, bus accident injuries are common to all other vehicular accident injuries. The injuries are listed below:
Head injuries and traumatic brain injuries
Broken hips, fractured and sprained bones
Back and neck injuries
Whiplash
Some of the injuries listed above will require medical attention. If injuries are severe, it is possible that victims require constant medical attention and long-term treatment. If that is the case, the injuries can cause a high amount of medical expenses. Some injuries can even be severe enough to cause death. If your loved one died in a Stockton bus accident, talk to a Stockton law firm with experience in bus accident cases for information about filing a wrongful death claim. For any other injury, you must talk to an accomplished attorney with experience handling bus accident injury cases. Bus companies have a duty to ensure that you will be safe while you are traveling from one place to another; do not hesitate in filing a lawsuit if they breach their duty of care to you.
Normandie Law Firm—We Are Here to Help
Normandie Law Firm is a top personal injury law firm, dedicated to ensuring clients are rightfully compensated for their injuries. If you need a bus accident attorney in Stockton, Normandie Law Firm is the firm for you. Normandie Law Firm's Stockton injury attorneys have handled countless personal injury cases. We have the experience necessary to represent you. It does not matter if the bus was going too fast and the passenger fell, or if a passenger slipped and fell on the bus. If a passenger was injured because of the bus driver or bus company's breach of the duty of care to the passenger, we will represent you and provide you with a qualified lawyer experienced in bus accident cases in Stockton. Our law firm has the expertise in bus accident cases against the bus company necessary to win your case.
Normandie Law Firm puts clients first. We will always do everything possible to ensure that our clients have a positive legal experience. What do we do to start a client's legal experience on the right note? We offer free consultations. You can talk to one of our Stockton lawyers at no cost. Our lawyers and our entire legal team are here for you. During your free consultation, you can ask all the questions you have about your case. We will answer all of your questions and address any other concerns. We will always do everything possible to ensure your understanding of the case and of the legal process you are about to commence. We will give your case all of the time necessary to ensure that we do not overlook any key pieces of information. Additionally, we provide free second opinions to people who have already hired an attorney. Why is a second opinion necessary? Some attorneys rush through cases because they want to increase their numbers. Because of this, they might neglect vital information surrounding your case. Do not let the incompetence of your current attorney hinder the outcome of your case. Schedule a free second opinion with Normandie Law Firm and let us get your case back on the right track.
Normandie Law Firm is proud to offer all clients a Zero-Fee guarantee. You will never have to worry about having to pay any upfront fees.  Our law firm is strictly based on contingency; you will not have to pay us anything until our attorneys win your case. Contact Normandie Law Firm now for a free consultation or free second opinion with one of our skilled attorneys with experience in bus accident cases.
OUR ATTORNEYS CAN HELP YOU FILE THE RIGHT LAWSUIT IN STOCKTON, CA
Stockton Uber Passenger Accident Attorney
Stockton Medical Malpractice Attorney
Stockton Medical Malpractice Attorney to Sue Doctor/Hospital