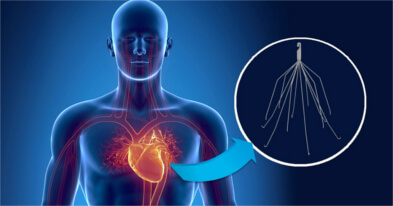 If you or a loved one has suffered from the damaging effects of an Inferior Vena Cava (IVC) Filter, you may be eligible for significant monetary compensation. Introduced in 2005 IVC filters have, according to the Food & Drug Administration (FDA), received a multitude of reports involving issues such as fragmenting and migration. These IVC filter complications are extremely serious and are considered life-threatening. Damages from these complications may be compensable through the filing of an IVC Filter Migration or fragmentation lawsuit. At the top-rated Normandie Law Firm, our team of highly qualified attorneys can guide you through the process of filing a claim. If you have any questions after reading this article, please feel free to contact our law offices. A skilled attorney who has experience in IVC filter cases will take your call.
Inferior Vena Cava Filter
Introduced in 2005, the Inferior Vena Cava Filter was developed to prevent pulmonary embolism in patients who suffered from the risks of a blood clot breaking free and traveling down into the lungs. Unfortunately, the FDA has reported multiple complications that have hindered the assistive qualities of this pulmonary device. In some cases, these filters perforated the walls of the inferior vena cava, migrated out of position or fractured, which caused debris to travel into the heart or lungs. This debris could potentially cause an embolism, stroke, or other related complications.
Between the device's introduction in 2005 and 2010, the FDA reported more than 921 incidents wherein the IVC filter caused complications, those being:
35% involved IVC Filter Migration (328 reports)
15% involved IVC Filter Detachment of Device Components (146 reports)
7.5% involved IVC Filter Perforation (70 reports)
6% involved IVC Filter fractures (56 reports)
If you or a loved one to suspect that they may be suffering from the symptoms of an IVC filter to migration, perforation, or fracture, you should seek immediate medical attention and contact your primary care physician. If this were the result of a doctor's error, contact an experienced attorney for more assistance. Symptoms of IVC filter placement issues include:
Chest Pain
Hypotension
Heart Rhythm Problems
Neck Pain
Confusion
Lightheadedness
Nausea
Shortness of Breath
Those with IVC filter issues, if left untreated can lead to some of the following severe health complications:
Hemorrhaging or Internal Bleeding
Pulmonary Embolism
Stroke
Disruption of the heart caused by excess fluid
Hole in the heart or Lungs
Open Heart Surgery
Wrongful Death
The FDA has sounded the alarm on IVC filter complications since August 2010. Experts in this field of medicine have raised concern that the devices are being overused, with patients receiving none of the benefits an IVC filter may offer. The serious symptoms of IVC filters may be prevented if the devices are removed once the risk of blood clotting has passed. However, due to manufacturers failing to provide adequate warnings, IVC filters have been left in place long after the threat has dissipated, potentially increasing the odds of health complications. The FDA issued a warning in May 2014 recommending doctors to remove IVD filters one to two months after the risk of pulmonary embolism has passed.
If you or a loved one has suffered from the dangers of an IVC filter, and have been treated by a healthcare professional, our accomplished attorneys with experience in IVC filter cases at Normandie Law Firm can assist in determining whether you are entitled to financial compensation.
Filing A Lawsuit & The Statute of Limitations
Lawsuits for an IVC filter migration would in almost all cases be filed against the manufacturer of your particular device. In the event that you or a loved one suffers from the damages of an IVC filter fragmentation or migration, the developer of that device can be held liable for those damages endured. These compensable damages may include some if not all of the following items:
Medical expenses
Loss of Wages
Loss of Future Income
Loss of Employment
Pain and Suffering
All IVC filter migration lawsuits would fall under the same rules and regulations that any other product liability lawsuit would fall under. Product liability lawsuits are lawsuits that can be filed against a product manufacturer, product assembly team, or product retailer. Companies are expected to ensure that consumers are not hurt by defective or faulty products, and this is especially true when it comes to medicinal products.
In order to file a successful lawsuit, it is crucial to have a skilled attorney on retainer. A skilled attorney can mean the difference between receiving significant financial compensation and failing to receive any compensation at all for your damages. With the help of an expert lawyer who has experience handling IVC filter claims, you can also more easily navigate the complexities that come with filing a lawsuit against any large healthcare company.
One of those complexities vital to the viability of a case are the Statute of Limitation Laws. Statutes of Limitation Laws are essentially the laws that govern the time in which an individual can bring a case forward to court. These laws differ from state to state and affect every type of case differently. For instance, if you were to file a product liability lawsuit in the state of California, the statute of limitations for that same suit in the state of Nebraska are going to be completely different. For the sake of this article specifically, we will be discussing the statute of limitations for a product liability lawsuit in the state of California. If you have questions about the statute of limitations for a different case, or how the laws work in a different state, our attorneys can help walk you through the process.
The statute of limitations for product liability in California is two years from the date when the injury is or should have been discovered. In the event that you attempt to file a product liability lawsuit after the required time, the judge will more than likely reject your case, regardless of how solid your claims are. One of our accomplished and experienced lawyers can assist you in navigating this process and ensure that you do not breach the statute of limitations that govern your particular case.
About Normandie Law Firm
Understanding the statute of limitations can make or break your case. It can mean the difference between a substantial claim of monetary compensation and having your case thrown out by a judge. At Normandie Law firm, our team of top attorneys is well-practiced in fighting product liability lawsuits for their clients. Contact a lawyer experienced in IVC filter cases today, and join some of our many clients who benefit from our zero fee guarantee policy. Under this policy, you do not have to pay for our services until we follow through on our promise and win your case. As a further commitment to you, our policy also guarantees free second case reviews. Reach out to us today, and we can guide you through the process of filing your claim and earning the resources owed to you for a speedy recovery. An attorney with expertise in IVC filter injury lawsuits will be available to discuss your case with you.
FURTHER INFORMATION:
Average Case Value: IVC Filter Issue