Statute of Limitations for Slip and Fall Accident Lawsuits in California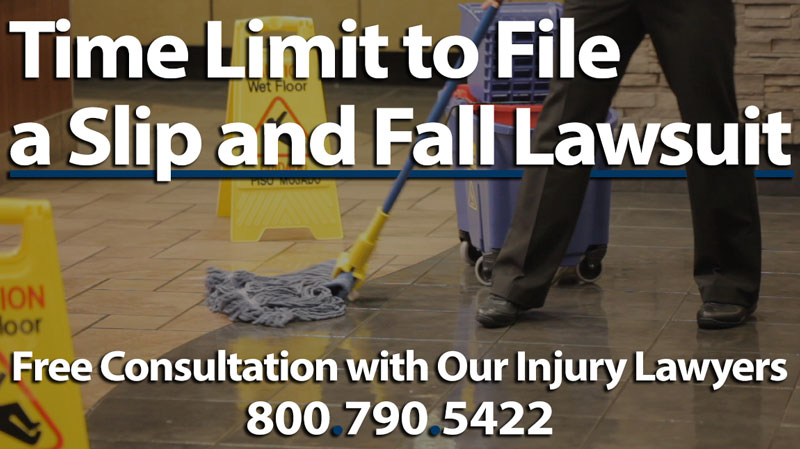 Slip and fall accidents are quite common on a day-to-day basis. They can happen in any establishment, whether a restaurant, grocery store, or bar, or they can happen in public on icy roads or damaged sidewalks. These incidents can result in various injuries, such as broken bones, fractures, concussions, and more. In the wake of these accidents, it is important to seek out an accomplished lawyer with experience handling slip and fall claims to help you receive a fair settlement for your damages.
Victims of harm caused by the actions or inactions of others are entitled to compensation for all damages sustained, including medical bills, rehabilitation costs, lost wages and salaries for the inability to work, and emotional distress. Lawsuits for recovery of damages must be filed within the deadline set forth in the statute of limitation laws of the state and/or jurisdiction where the accident took place. Failure to file within the time limit for slip and fall and trip and fall lawsuits in California will result in the elimination of your right to financial recovery for losses incurred. For this reason, it is important to consult with an experienced attorney at the one of the top legal groups in Los Angeles, Normandie Law Firm, to determine if you are still within your rights to file a lawsuit.
California Law Statute of Limitations for Slip and Fall Accident and Injury Cases
The statute of limitations as it pertains to the law is the amount of time during which you can file a lawsuit. The statutes vary depending on the incident and entity you are attempting to sue, and there are many nuances that exist that you should be made aware of. You can learn more about these details by consulting with an expert attorney who has experience in slip and fall cases.
One of the reasons the statute of limitations was introduced was to ensure that claims are filed in a speedy fashion. If a plaintiff wants to sit on a claim for years, there is the opportunity that all accompanying evidence will be gone by the time he files his lawsuit. For example, in a slip and fall case, if a man were to wait four years before filing a lawsuit against a business, other eyewitnesses there may have left or become unavailable. There may be a large number of people who misremember the event or who do not recall it happening at all. Any hard evidence may be gone, such as cracked sidewalks or photographs of the accident scene. It becomes more trouble than it is worth to litigate claims that occurred years previous. Additionally, it keeps a certain amount of integrity in the law. Without a statute of limitations, individuals could sue anyone for any past wrongdoings, and they would be well within their rights to do so, as well as have a chance of winning the case. A statute of limitations forces plaintiffs to deal with claims immediately as opposed to waiting for a good opportunity.
The deadline to file a trip and fall lawsuit in California is TWO years from the date of the accident to file a personal injury claim in the court of law. This personal injury claim can only be filed if the plaintiff received some kind of damages in the incident; those who do not exhibit injuries or lasting damages are less likely to succeed in their claims.
Claims Against The Government – Slip and Falls in Government Buildings
A claim against government entities must first go through an administrative hearing. Any claim must be filed with an administrative agency overseeing injuries caused by government agencies within 6 MONTHS (120 days) from the date of the accident. This often comes as a surprise to our clients, who believe that the statute of limitations was the same amount regardless of the entity. This drastic difference to 6 months from 2 years is a big part of the reason that many people miss out on filing these claims.
If and when the government administrative board rejects or denies a claim, that individual will have TWO years from the date of the accident to file a claim in civil California courts. Thus, the claim can be treated as normal. It is important to note that the two-year statute does not get retroactively assigned; that is, if a government agency denies a claim a year after the accident took place in which you slipped and fell, you would have two years from the date of the returned verdict, not from the date of the original incident.
Exceptions to Statute of Limitations – Tolling of a Statute
California courts allowing for certain exceptions to the deadline to file a slip and fall lawsuit in California. The tolling of a statute of limitations can be issued in certain specific circumstances detailed below.
Physical Incapacitation of the Individual: This occurs when the victim is unable to file a claim; he may be in a coma or too injured to give testimony or information about the accident. The victim will be able to file a lawsuit without worrying about the statute of limitations upon being physically capable of doing so.
Mental incapacitation of the individual: Similar to physical incapacitation, this occurs when the victim is suffering from some kind of mental disorder, emotional injury, or psychological issue that does not allow him to properly think, function, and provide a reliable account of the incident.
The harm to the individual did not manifest itself until after the statute had run: A delayed injury can be devastating; for example, if a slip and fall results in a fracture that eventually leads to a blood clot 3 years down the line, the individual will still be able to sue for damages relating to the blood clot. The original fall was what caused the fracture, which led to the clot forming.
Statute of Limitation for Lawsuits Filed By Minors: Individuals under the age of 18 (minors) will have TWO YEARS from the date of their 18th birthday to file a personal injury claim with the court of law. This is one of the most common exceptions to the statute of limitations. However, it should be known that minors can have legal adults file claims on their behalves; this will prevent the claim from being filed again in the future, however.
Departure from the State: If the defendant leaves the state for any amount of time, the statute of limitations is suspended until he returns. Therefore, if a defendant leaves the state and does not return until 4 years after a slip and fall accident occurs, the victim can still file a lawsuit and will be able to do so for the following 2 years.
Time of War: In the event that the country goes to war, here is a temporary suspension of the statute of limitations. This is done due to the fact that the parties may sign up for service, or because the country may be under attack.
Slip and Fall Litigation Team Here to Help: To learn more about slip and fall accidents, injury litigation, and your rights under the law to pursue compensation for your injuries, feel free to contact our top-rated law offices. You can learn more about the California SOL for slip and fall accident cases, as well as what can be done to prove your claim. A qualified lawyer with experience in slip and fall accident cases will be available to take your call. All legal consultations are totally free of charge and are given in confidence. You are invited to ask any questions you want, and one of our attorneys will give you all the information you need to know.
Further, our firm operates under a zero fee guarantee – you are not required to pay us any money out of pocket for our legal services. Our fees come from the settlement we earn for you in your case; therefore, we only get paid if we win, and the defendant is the one paying for your legal fees. If we do not win your case, you don't owe us a penny, and we eat the costs ourselves.
Contact Normandie Law Firm today for more information on the statute of limitations of slip and fall cases in the state of California.
Further Information: