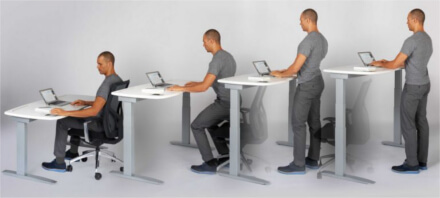 Standing desks can be incredibly helpful for those who work the day-to-day nine-to-five job. They offer a variety in work space, as well as offer a helpful dynamic of sitting and standing as to avoid the chronic injuries that can arise from hours upon hours of sitting down. However, mistakes can happen and in certain situations, a standup desk can be left with a truly damaging malfunction. If you or a loved one has been injured as a result of a standup desk malfunction injury, you may be eligible to file a claim for monetary compensation. At one of the top firms in Los Angeles, Normandie Law Firm, our accomplished product liability lawyers can assist you in building your case, and eventually file your lawsuit against the manufacturer or company responsible. If you have any questions after reading this article, please feel free to contact our top-rated law offices for a free consultation. An expert attorney who has experience handling standing desk injury claims will be able to take your call.
Standup Desks: The Product & The Benefits
Standing desks are a healthy adjustable alternative to the common stationary desks that have been used for centuries. Standup desks vary from simple desktop stands to fully adjustable electronic desks that allow users to find the perfect height for them. Listed below are some of the common types of standup desks that you could encounter at the workplace or place of business.
Height Adjustable Desk
Desktop Attachments
Stand Only Desks
Sitting-only desks have been associated with a number oflong-termm health problems, ranging from heart disease to colon cancer. Standup desks offer a unique solution the problems that arise when sitting for too long. Listed below are some of the benefits associated with standup desks:
Lower risk of weight gain and Obesity
Lower Blood Sugar Levels
Lower Risk of Heart Disease
Reduce Back Pain
Help Improve General Mood and Energy Levels
May Boost Productivity
May Help in Overall Health
Standing desks offer a truly unique alternative to the common sitting desk. However, like all products, mistakes can occur during the period of production. Sometimes these 'product defects' can be minor hiccups that cause little harm and affect a minor portion of the whole production line. However, there are also instances wherein a product defect can cause severe injury and result in lifelong damages for those who are forced to suffer them. When victims suffer injury from defective standing desks, or any other defective product for that matter, they have every right to pursue legal action against the party responsible for their injuries. An accomplished attorney who has expertise in standing desk injury lawsuits can help you file a claim.
Filing A Lawsuit: Product Liability Laws
When a product defect causes harm to a consumer, said consumer has every right to pursue legal action against the at-fault party to ensure compensation for their damages. Known as product liability laws, these statutes allow for consumers to more easily pursue legal action against the company responsible for a defective product. They also ensure that companies do not allow for defective products to end up in the hands of consumers. However, regardless of the laws or not, defects happen, and one way or another these defective products may end up in the hands of consumers. Further information can be found by talking with an experienced attorney. A product defect can occur at any stage during it's journey from design floor to retail store, but listed below are the three areas where a product defect is more likely to occur:
Design Defects: These defects are typically present before the product even makes it to the manufacturing floor. A design defect is a inherent flaw in a product which deems it unsafe for consumer use. In most cases, a design defect will result in large scale recalls as they are more likely to affect a wide number of products.
Manufacturing Defects: These defects occur during the product's assembly. In this case, the company which organized the manufacturing of the product would be deemed liable for the damages.
Marketing Defects: These are defects that occur in the way the product is marketed to the public. This can include defects like: improper labeling, insufficient instructions, or inadequate safety warnings.
Regardless of where and when the defect occurred, it is incredibly important that victims of standup desk product defects consult proper legal assistance. A skilled attorney who has experience in product liability cases can make the difference between filing a successful claim for compensation and having your case dismissed from court entirely.
Regardless, you should make sure that you do not send the product back, or that your job does not get rid of the desk. It will need to be used as evidence for your claim. Make sure that you:
(1) DO NOT return the item to the manufacturer ot receive a refund; that will destroy all evidence you have to pursue the case.
(2) DO NOT tamper with the product or try to fix it.
(3) Seek immediate medical attention with a doctor so that there is no gap in medical treatment.
(4) Hold on to any receipts or documentation of purchase.
Filing a Lawsuit: Proving Negligence
Every personal injury lawsuit requires that the victim is able to prove the negligence of the party they are accusing of being at-fault. Proving negligence is incredibly vital to the success of any lawsuit. If a victim is unable to prove negligence, it is more than likely that he will find his case dismissed from court entirely. In order to effectively prove negligence you must be able to show evidence of the following key components of a negligence claim:
Duty: The plaintiff (injured or damaged party) must be able to show that the defendant (cruise ship staff or company) owed a legal duty to the plaintiff under the circumstances.
Breach: The plaintiff must be able to show that the defendant breached that legal duty through a specific action or failing to act.
Causation: The plaintiff must be able to show that the defendant's actions or lack there of caused the plaintiff's injuries
Damages: The plaintiff must show that they endured specific damages. This can usually be demonstrated through the presentation of medical bills, medical records, a loss of wages, or a loss of potential income.
Depending on the circumstances of your case, the way in which you prove negligence may differ; however, these components will always remain the same. A experienced lawyer is also incredibly useful in proving negligence as they can help you navigate through the subtle nuances a claim of negligence may often require. Furthermore, manufacturing companies are more than likely going to have the resources to employ a whole host of attorneys willing to dispute your claim. For this reason, it is imperative that you seek the assistance of one of our qualified attorneys with experience in standing desk injury cases.
How Normandie Law Firm Can Help
If you or a loved one has suffered a personal injury as the result of defective standup desk or any other defective product, you may be entitled to file a claim for compensation. At Normandie Law Firm, our experienced lawyers can assist you in building your case and filing a lawsuit against the party responsible for your damages. To show this commitment to you and your case, we offer our clients the benefits of a zero fee guarantee policy. Under our zero fee policy, all clients don't pay for our services until their cases are won. If you feel in need of a second opinion, second opinion case reviews are also free under this policy. Call now for a free consultation by a lawyer experienced in standing desk injury cases, and we can guide you down the path of receiving proper compensation for your damages.