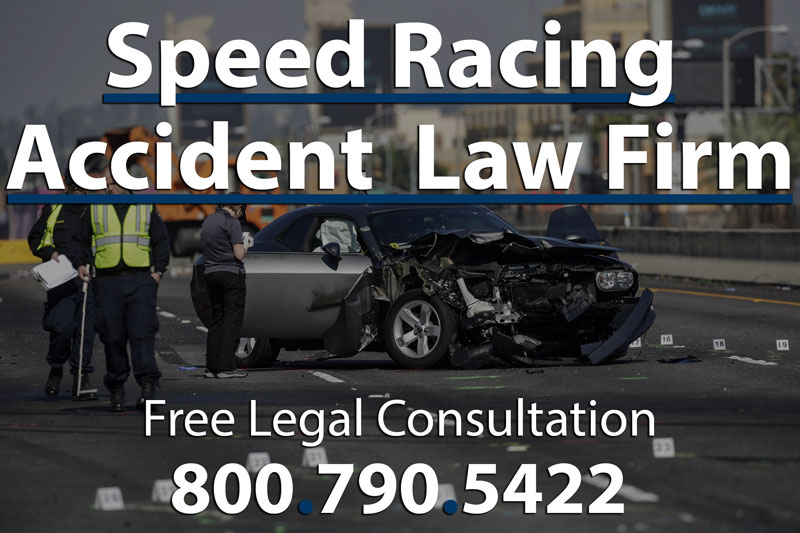 Car accidents occur every single day, often due to the negligence of one or more drivers. However, few people go out with the intention to drive carelessly; they often obey most laws and do their due diligence to protect other drivers on the road. Those who participate in street racing, however, knowingly break the law and place others around them in danger. Street racing can lead to devastating consequences for both the individuals racing and for innocent bystanders who cannot escape quickly enough. Our attorneys at Normandie Law Firm are here to represent victims of street racing accidents and will stop at nothing to bring you a fair settlement for your injuries. Those who were racing and who caused the accident should be held accountable for their actions and made to cover your expenses. Clients who are hurt in these incidents often come to us with questions about how best to proceed. Examples of these questions include:
Where can I find a street racing accident attorney?
How do I file a street racing accident lawsuit?
I need a street racing car crash lawyer in Los Angeles. Who can I call?
Street Racing Information
Street racing is simply defined: individuals will race cars that have usually been modified in some way down residential streets and highways for prizes in the form of cash or other cars. These races are exceedingly dangerous for all involved parties, as there are very rarely times when the roads are completely empty. The drivers often ignore basic laws of the road and increase the potential for accidents all around. Participants are usually young people who may be involved in a reckless lifestyle, and they may even drive inebriated or intoxicated in some way.
Naturally, street racing is illegal. For a first offense of street racing, punishment can be severe as serving up to 90 days in jail, having the vehicle impounded for up to 30 days, and needing to pay the costs of towing and storing the vehicle at the impound lot. If the individual cannot make this payment, the car may be sold to cover the costs.
If an accident occurs while street racing, the responsible drivers can face numerous different types of criminal charges, including reckless endangerment and reckless driving, manslaughter (in the attempt of a wrongful death), driving while intoxicated (if under the influence of a substance), and more. They can have their licenses suspended, pay heavy fines, and face jail time.
Individuals who have been harmed because of these accidents, however, can also choose to pursue civil claims against the racers.
Injuries from Street Racing Accidents
Street racing accidents can cause debilitating injuries to other people on the road, more so than regular car accidents can. Regular car crashes usually occur at normal speeds and with driving that doesn't put a ton of individuals at risk. Slight speeding and distracted driving can end lives, of course, but those drivers are not traveling 30 mph over the limit and weaving in and out of traffic or narrowly avoiding collisions left and right.
Some of the injuries caused by street racing accidents include:
Traumatic brain injuries
Concussions
Broken bones, fractures, sprains, and strains
Internal bleeding and internal organ damage
Amputated limbs and digits
Spinal cord damage
Neck and back injuries
Nerve damage
Blood loss
Lacerations and deep wounds
Coma
Paralysis
Death
These injuries range from minor to fatal, and the expenses that can rack up from any of them can be enormous. You should not be expected to cover your own damages if you were injured in a street racing accident that occurred due to the negligent behavior of another driver or pair of drivers.
In many cases, the individuals who are injured are not those who are driving. It is instead the people who desperately try to avoid the oncoming cars or who swerve out of the way if they feel they are in danger. This can lead to pile-ups, crashes, sideswipes, rear ends, getting run off the road, and losing control of the car. With the help of an attorney with experience in street racing accidents, you can file a lawsuit to collect compensation for your damages.
Compensation from a Street Racing Accident
Victims of street racing accidents may suffer severe injuries in the crashes. These people are generally innocent bystanders and were not involved in the race itself. The injuries they sustain could permanently alter their lives, and as such, our experienced law firm is here to make sure fair restitution is doled out.
Individuals can receive compensation in the forms of:
Covered medical expenses, including costs of surgery, hospitalization, medication, ambulatory transportation, and physical therapy. Additionally, if there is a need for future medical treatments, these procedures can be covered as well.
Lost wages, which would stem from being unable to work while healing or due to the injuries. You can be reimbursed for these missed earnings from both the past and the future if you need additional time off to recover.
Property damage, which includes reimbursement of any of your belongings and property that suffered in the accident. Your vehicle and personal items within the vehicle can be compensated for if they were broken or lost.
Pain and suffering, or emotional damages that stemmed from the accident. These damages include emotional scarring, psychological pain, mental trauma, PTSD, fear, anxiety, and more.
Punitive damages, which are only able to be won by a competent lawyer due to how difficult they are to acquire. These damages are handed out in the event of gross negligence or intent to cause harm, and are additional forms of monetary compensation.
To earn compensation for your injuries, consult with a Los Angeles street racing accident attorney.
Normandie Law Firm: Here to Help
Our team of experienced lawyers at the top-rated Normandie Law Firm is here to help you receive a worthwhile settlement for your injuries stemming from a street racing accident. You should not be held accountable for the damages if you were not responsible – the drivers participating in the illegal activity should be made to cover your expenses and then some. Our attorneys will aggressively fight with the opposing insurance agencies to make sure you receive a settlement you are satisfied with. Our goal is to keep you safe and to bring you compensation.
Call us today for a free legal consultation with an accomplished lawyer. You can ask any questions you want about the legal process and we will give you pertinent information required to filing a lawsuit against the responsible drivers. Don't be afraid to ask us whatever is on your mind – it is in your best interest to get as many details as possible. We believe our clients should all be knowledgeable about their cases and the law before making legal decisions.
By choosing us to represent you, you will receive a zero fee guarantee on your claim. This means that you will not have to pay any money out of pocket for our services – our fees are paid only if we win your case, and the money comes out of the settlement we earn for you. If we lose, you do not owe us a dime.
Contact Normandie Law Firm today if you are in need of a Los Angeles lawyer to help with your street racing accident lawsuit.