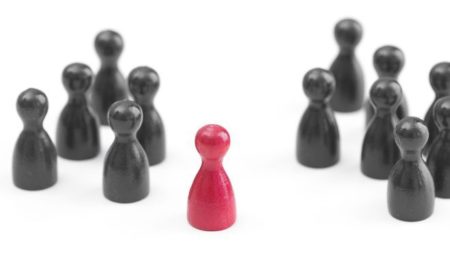 In a city as diverse as Los Angeles, it unfortunate is common to hear about workplace discrimination. What is workplace discrimination? Workplace discrimination is when someone is treated unfavorably based on personal characteristics. Discrimination can be based on race, color, religion, sex, national origin, age, disability, sexual orientation, and retaliation.
If you have been the victim of discrimination based on any of the previously mentioned personal characteristics, you need to talk to an experienced attorney. Do you prefer communicating in another language—like Spanish? Do not worry; you can meet with a qualified Spanish speaking lawyer experienced in workplace discrimination cases in Los Angeles.
An expert Los Angeles attorney with experience handling workplace discrimination claims that speaks Spanish will be able to explain some laws that are in place to protect employees from workplace discrimination. Contact one of our experienced lawyers at the top-rated Normandie Law Firm for more information. In the next few sections, we will discuss some of the protections available to employees.
The Civil Rights Act of 1964—Title VII
Title VII of the Civil Rights Act of 1964 prohibits any employment discrimination based on race, color, religion, sex, and national origin. Generally, Title VII applies to employers with fifteen or more employees—this includes federal, state, and local governments. Title VII also extends to both public and private colleges and universities, labor organizations, and employment agencies.
If you would like to take legal action against your employer, you can do so via Title VII and the Equal Employment Opportunity Commission (EEOC). The EEOC is the federal agency in charge of handling and enforcing anti-discrimination laws. You must begin the process as soon as possible. The EEOC only allows you 180 days from the last incident to file a complaint. To file a complaint with the EEOC, you must visit their website. You have the option to file the charge online, in person, or by mail. The most efficient way to file a charge is online; however, you can use the option that is most appropriate for you. After you submit your complaint, the EEOC will investigate the claim and either dismiss the claim or file a lawsuit against the employer. If the EEOC dismisses or is unable to settle the claim, you will receive a right-to-sue letter. Once you have received your right-to-sue letter, you can contact your work discrimination attorney that speaks Spanish and begin the process of filing a job discrimination lawsuit.
If you do not wish to go through the EEOC, you can simply request a right-to-sue letter. The EEOC will not investigate your claim, and you will be able to pursue your own lawsuit along with a skilled Spanish-speaking attorney.
California Department of Fair Employment and Housing
The California Department of Fair Employment and Housing (DFEH) is the state agency responsible for enforcing laws against workplace discrimination. The Fair Employment and Housing Act (FEHA) applies to employers, labor organizations, and employment agencies—both public and private. The FEHA makes it illegal for employers to discriminate against employees because of a protected category—race, color, national origin, religion, age, disability, gender, sexual orientation, gender identity, medical conditions, genetic information, marital status, and military status.
Filing a complaint with the DFEH is similar to filing a complaint with the EEOC. You must submit a pre-complaint inquiry form within one year of the last incident. Within 60 days of submitting your claim, an investigator will call you go over the details of your complaint. After a few steps—like attempting a voluntary resolution—the DFEH will attempt mediation. If that fails, the DFEH might file its own lawsuit.
Like previously mentioned, if you do not wish to go through the DFEH to file your claim, you can file your own lawsuit. You must also file a complaint to receive a right-to-sue notice. This will allow you to pursue your own lawsuit with a Spanish speaking discrimination law firm. An accomplished attorney with expertise in workplace discrimination injury lawsuits will be able to assist you.
Compensation Available
Depending on your specific situation, the outcome of your case can vary. If you were unlawfully fired, you might be eligible to receive back pay and front pay—the pay you lost and the pay you will lose. It is possible to be compensated for the emotional distress caused by the workplace discrimination. You might also be reinstated in your past position or offered a promotion. The company might go through some policy changes and might require all staff to go through training to prevent future incidents from happening. To get a more comprehensive breakdown of the compensation that you might be eligible to receive, make sure you contact an experienced attorney in Los Angeles who speaks Spanish.
We Speak Spanish in Normandie Law Firm
Los Angeles, California, is one of the most diverse cities in the nation. The city of Los Angeles accounts for a population of almost four million, a big part of the county's population of more than ten million. Los Angeles is the home to the following races and origins:
White
Black and African American
Asian
Native Hawaiian and Other Pacific Islander
Hispanic or Latino
In fact, because the city is so diverse, it is likely that many people do not speak English, or simply prefer another language as their primary language. In Los Angeles, there are more than 185 different languages spoken at home. Additionally, more than half of the population does not speak English at home; Spanish has become one of the most prominent languages in the city.
Normandie Law Firm, one of the top law firms in Los Angeles, acknowledges the diversity in our city. Therefore, our legal staff is dedicated to providing clients with Spanish speaking Los Angeles attorneys with experience in workplace discrimination cases. If you need a Spanish speaking racial discrimination attorney in Los Angeles, we are here for you. We will fight alongside you against any type of discrimination—color, religion, sex, national origin, age, disability, sexual orientation, and racial discrimination. Our Spanish speaking attorneys with experience in workplace discrimination will do everything possible to ensure your case is successful. Normandie Law Firm is a Spanish law firm interested only in protecting your rights in the workplace. Employers must treat all employees with the dignity and respect they deserve. Do not let your employer get away with mistreating you and not giving you the same opportunities and benefits as other employees. Let Normandie Law Firm make things right. You need a Spanish speaking attorney who has experience in workplace discrimination lawsuits who can sue your employer for discrimination.
Normandie Law Firm is fully dedicated to clients. Besides speaking Spanish, our law firm offers free consultations and free second opinions. Call Normandie Law Firm now to set up a free consultation. Someone who speaks Spanish will help you from the moment you call to the moment you step into the office for your consultation. Our attorneys speak Spanish and are ready to relay you all the information you need to begin your legal process. We will answer all of your questions and all of your concerns in the language of your choice. Besides free consultations, we also offer free second opinions. Why would you need a second opinion? If you find that you need any clarification and are looking for information anywhere other than with your attorney, you might be missing key information. Maybe your attorney cannot speak Spanish and requires an interpreter to speak to you—that might result in information getting lost in translation. Additionally, it is possible that your current attorney simply rushed through your case. This might have resulted in your attorney overlooking or neglecting important pieces of information. Ultimately, that might affect the outcome of your case. Do you want the incompetence of your current attorney to dictate the outcome of your case? You probably do not want that. Contact Normandie Law Firm today to talk to an attorney who speaks Spanish. We will assure you that someone who can speak Spanish will help you throughout the whole legal process.
At Normandie Law Firm, we know how much mental and emotional distress being discriminated in the workplace can cause. You might have also experienced some stress while searching for a Spanish speaking law firm. Look no further, Normandie Law Firm is what you have been looking for. We offer our clients a Zero-Free guarantee. That means you will never have to worry about having to pay any upfront fees. Additionally, our law firm is strictly based on contingency; you will not have to pay anything until our trusted Spanish speaking lawyers win your case. Contact Normandie Law Firm as soon as possible. We are ready to help you in Spanish.