Southern California Papaya Salmonella Outbreak Lawsuit Attorney
Salmonella Outbreak Kills 1, Sickens 13 in Southern California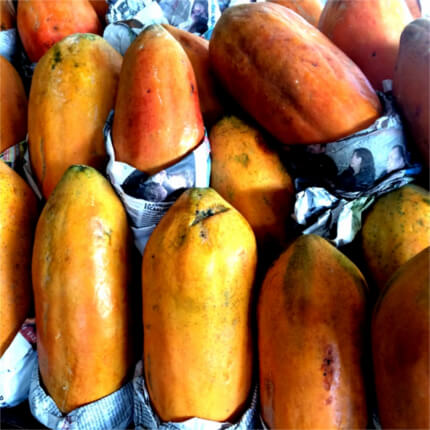 Bravo Produce Inc., a San Ysidro based company, issued a recall this past Sunday, September 10, pertaining to fruits that have been shipped out from the Mexican state of Colima. The fruits were Maradol papayas, grown by Productores y Exportadores de Carica Papaya de Tecomán y Costa Alegre, that were imported from a packer in Tijuana, Frutas Selectas de Tijuana, and were infected with salmonella.
The Food and Drug Administration has investigated the circumstances of the recall. One person died from the exposure to salmonella and 13 others were left ill. The affected victims were not all located in California, either. The papayas were sold over a three week period from August 10th to August 29th.
It is recommended to throw away any papayas that were purchased in the area if you are unaware where they were grown. Further, you may have the opportunity to join a papaya salmonella poisoning class action lawsuit.
Salmonella Information
Salmonella is an intestinal infection that is most often carried on raw or uncooked dairy products and meats. The products were contaminated by the feces of an animal, thus leading to salmonella spreading; it can even contaminate fruits and vegetables and other food products.
When salmonella sets in, symptoms can appear anywhere from a few hours to a few days later. The most common symptoms are abdominal cramps and stomach pains, diarrhea, vomiting, headache, and a high fever of over 100 degrees Fahrenheit. As a result of these occurrences, you may become heavily dehydrated and require an IV. Fortunately, the majority of salmonella infections go away on their own after 3 to 7 days; there are, however, rarer cases where it persists and can cause death. Regardless, you should pursue a Papaya salmonella poisoning lawsuit.
It should be noted that salmonella can prove to be even more dangerous if it afflicts young children and the elderly due to their less developed (in children) or weaker (in older folks) immune systems. They may even come down with the rarer form of salmonella that can lead to typhoid fever. The symptoms of typhoid are much more severe, and include swollen organs, delirium, a high fever, bloody nose, coughing, and intense abdominal pains.
Legal Action
Salmonella poisoning lawsuits are predicated on three factors, and the violation of each is what allows a claim to be filed: strict liability, which states that the products that have been sold are not supposed to cause any harm to the consumer; negligence, which means that sellers of the food product at every level are supposed to ensure safety and care of the food according to reasonable standards; and breach of warranty, which is supposed to ensure that the food is fit to eat and is void of any infections or contaminations.
Because the food source may have been cleaned since the batch was sold, it can be difficult to pinpoint where the infection stemmed from. Ideally, you will pursue legal action as swiftly as possible when you feel the effects of salmonella coming on. That way, a competent papaya salmonella attorney will be able to correctly identify the responsible party and enact a lawsuit against them.
These claims will essentially fall under the umbrella of product liability cases. As a result, you can sue multiple parties involved with the production of the papaya, such as the grower, the distributor, the transporter, and the seller. If your salmonella poisoning affected you severely enough that you were kept out of work for some time or were in need of medical treatment, the responsible party can reimburse you.
You are entitled to compensation for medical expenses (hospitalization, medication, antibiotics, physical therapy, and any other treatments as the weeks go on) and lost wages (missing days at work to receive medical treatment or due to sickness can be reimbursed, as well as any future days that will also be taken due to ongoing doctor's appointments or treatments). Although you have the opportunity to pursue damages to property and punitive damages, these are more difficult to argue for in a papaya salmonella class action lawsuit. However, if you believe you have a case for either of these damages, talk to one of our attorneys and we will help you get a better understanding.
Why Pick Normandie Law Firm?
Normandie Law Firm is here to help you receive compensation for your salmonella affliction. Our Los Angeles law firm is willing to file a papaya salmonella lawsuit on your behalf to bring you the restitution you deserve. Our primary goal is the health and safety of our clients, and we want t preserve their wellbeing in any way we can – getting them settlements that will take care of their economic troubles in the wake of a salmonella infection is but one way we can help.
We do not only offer our services to those located in the Los Angeles area. We can take cases from the entire USA, and our Los Angeles attorneys will be happy to represent you no matter what part of the country you reside in. Contaminated food can spread across many states, and thus, much legal action will be required. As such, national representation is available on these cases, and we promise that all of our clients will be treated equally and with fairness.
Call us today to speak to a papaya salmonella poisoning attorney. You will be given a free legal consultation about your possible case and what our options moving forward – whether we will pursue a class action lawsuit or an individual claim, what we hope to recover for you, and more. We also encourage you to be open with us and ask any questions you like, as we emphasize the fact that our clients should be well informed about their cases and the legal process behind them.
Further, we take on all cases with a zero fee guarantee – we do not take any fees from you unless we win your case, and those fees come from the settlement itself. You do not pay any out of pocket expenses for our legal representation, and if we lose, you are not required to shell out a dime. We believe that all people should be given legal representation even if they cannot afford it.
To learn more about salmonella poisoning and what you can to do pursue legal action, contact Normandie Law Firm today.