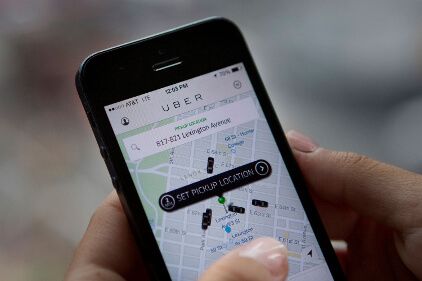 The mobile-application-based rideshare industry has boomed in the last couple of years. Before these services were available, many people might have struggled with transportation. However, companies like Uber and Lyft have made it possible for those without reliable means of transportation to simply pull out their smartphone, request a ride, and get wherever they need to go. These ride-sharing companies are undeniably convenient, but some might argue that they are not 100% safe.
Uber and Lyft pride themselves in the level of safety they provide through their mobile applications. Uber and Lyft developed an in-app rating system that allows both drivers and passengers to rate each other. At the end of the ride, drivers and passengers can publish their feelings about their ridesharing experience. Drivers are required to maintain a rate close to 5-stars to be allowed to keep driving for the companies. Is that enough of a safety feature to ensure no crimes are committed? Uber and Lyft also thoroughly check driver's backgrounds. Anyone with a violent crime on their record cannot be considered to become a driver. However, since many sexual crimes go unreported, are these background checks enough to keep passengers safe?
Regardless of the safety measures that rideshare companies practice to ensure that passengers are not victimized during a ride, sexual crimes continue to occur. Uber and Lyft crimes usually involve drivers taking unsuspecting passengers off the route of their ride to somewhere remote. The drivers usually lock their victim's in their cars and proceed to assault them.
Like many other people who have been sexually victimized, the victims of these Uber and Lyft drivers usually do not speak up because they fear that they might be hurt further. Victims might not understand how to begin the legal process against their attackers. Or, victims might not know that legal claims can be time-sensitive.
The purpose of this article is to explain the concept of statutes of limitation in regards to sexual assault and harassment committed by rideshare drivers onto passengers. For more information, reach out to a qualified attorney who has experience in rideshare sexual assault cases. An experienced attorney at the top-rated Normandie Law Firm will be able to help you file a claim.
California Statute of Limitations
What is a statute of limitations? Statutes of limitation are time limits placed so that an individual can file a lawsuit. A common statute of limitation is two years; so, most causes of actions allow victims two years to file their lawsuit. What is a cause of action? A cause of action is the reason behind a lawsuit, for example, fraud or negligence. The statute of limitation of each case depends on its specific cause of action. There are some exceptions to the statute of limitations. Depending on the circumstances, the statute of limitations can be momentarily paused. If you feel you are eligible for an exception to the statute of limitations, talk to one of our accomplished attorneys with experience in sexual assault cases. Below is a quick description of some of the exceptions to the statute of limitations:
Plaintiff was underage when the incident occurred—if the plaintiff was a minor at the time of the incident, the statute of limitations does not start running until the plaintiff either turns 18 years-old or is legally emancipated. Although it is possible for parents and legal guardians to sue on behalf of a minor, this exception allows plaintiffs to personally pursue legal actions if parents or guardians failed to pursue legal action previously.
Defendant was out of the state—if the defendant leaves the state at any time during the state of limitations, the total amount of time of absence from the state will be added to the end of the statute of limitations.
Plaintiff was mentally incompetent—if the plaintiff was mentally incompetent during the incident, then the statute of limitations is and will remain paused until the mental incompetence passes.
Plaintiff died—if the plaintiff died before the statute of limitations was over, the claim could still be filed within that original timeframe. If the plaintiff died close to the end of the statute of limitations, the claim could be filed within six months of the plaintiff's death.
Defendant died—if the defendant died, the claim must be filed within one year of his or her death.
Our law firm usually receives the following questions from Uber and Lyft victims of sexual crimes:
How much time do I have to sue Uber for sexual assault?
How much time do I have to sue Lyft for sexual harassment?
What is the time deadline to file a sexual assault lawsuit against Lyft?
What is the statute of limitations in California to sue Uber for rape?
Before answering these questions, we must distinguish sexual harassment from sexual assault.
Sexual Harassment and Sexual Assault
Sexual harassment and sexual assault are both very serious crimes. No victim of either of these crimes should ever keep quiet about his or her situation. So, what is the difference between sexual harassment and sexual assault? Sexual harassment is a term that refers to sexual misconduct that occurs in the workplace. Although it is common to occur in the workplace, sexual harassment is not exclusive to the victim's workplace. Sexual harassment is characterized by unwanted and inappropriate touching, sexual comments, and sexual gestures. The touching in sexual harassment does not have to be sexual; it can be rubbing of the shoulders or the back. The importance of the touching is the fact that it is unwanted. Sexual assault is more physically aggressive. It includes attempted rape, rape, forced sodomy, fondling, and any form of unwanted touching. Both sexual harassment and sexual assault can leave the victim emotionally, mentally, and physically harmed. If you have been a victim of sexual harassment or sexual assault, you must contact a skilled lawyer experienced in sexual assault cases.
So, now that we know the difference between sexual assault and sexual harassment, what are the statutes of limitations? In California, sexual assault claims were required to be filed within ten years of rape or by the time the victim turned 28 years old—if the crime occurred when the victim was underage. However, new California law removed this time limit. That means there is no statute of limitations to file a claim for sexual assault by an Uber driver, sexual assault by a Lyft driver, or any other type of assault. Victims of these crimes can come forward whenever they feel mentally and emotionally prepared to confront their attackers. Now, what is the stature of limitations to sue for sexual harassment by an Uber driver or by a Lyft driver? Sexual harassment is treated differently. Since neither sexual harassment nor sexual assault is legal causes of actions, people looking to sue for sexual assault by a Lyft driver of sue for sexual assault and battery against Uber will have to explore a few different causes of actions. The causes of action and their appropriate statute of limitation appear below:
Assault and battery (1 year)
False imprisonment (1 year)
Intentional infliction of emotional distress (2 years)
Although sexual assault claims are no longer subjected to the statute of limitations, sexual harassment claims are. Therefore, a person interested in filing a lawsuit for sexual harassment must file the claim within the appropriate deadlines listed above. So, if you are interested in finding out the California statute of limitations for a sexual harassment lawsuit against Uber, use the statute of limitations established for the cause of action you will be claiming. An expert attorney with experience handling sexual assailt claims can tell you more details.
Normandie Law Firm
Normandie Law Firm is a top personal injury law firm, focused on helping our clients exercise their legal rights. Our experienced Los Angeles attorneys can help you sue an Uber driver for unwanted touching. Do not let fear hold you back from taking legal action. With the help of our legal team, your case will be successful. Normandie Law Firm provides the best sexual harassment lawyers in Los Angeles. Contact us today to schedule a free consultation with our experienced lawyers.
Normandie Law Firm is proud to offer our clients free consultations. You just need to call and schedule an appointment, and you will be on your way towards exercising your legal rights. We also offer free second opinions to people who already have an attorney with another firm. You might have realized that your current attorney does not give you or your case the time and attention necessary to have a successful case. Remember, the competency of the attorney handling your case is essential to the outcome of the lawsuit. You need an attorney that genuinely wants to handle your case. The attorneys at Normandie Law Firm are committed to always giving you personalized treatment.
Normandie Law Firm offers clients a Zero-Fee guarantee. This means that you will never be expected to pay any upfront fees. Additionally, since our law firm is strictly based on contingency, you will not have to pay anything unless our trusted lawyers win your case. Call us now for your free consultation with an attorney with expertise in sexual assault injury lawsuits.