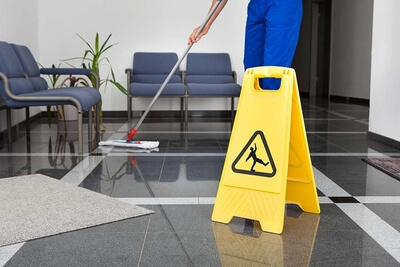 Not only is a slip and fall accident painful, but it can also lead to injury. Slip and falls are the second most common reason for visits to the emergency room in California. Every year, more than 8 million individuals suffer injuries due to slip and fall and trip and fall accidents. Many incidents are the result of the negligent or wrongful conduct of others. Under California law, victims who have suffered harm due to the negligent conduct of property owners, managers, and store employees are entitled to recovery for all damages sustained, including hospital bills, lost time at work, future medical care, and emotional distress. Our expert Los Angeles slip and fall attorneys are proud to represent individuals who seek financial recovery for their injuries. Below you will find important lawsuit information regarding trip and fall accidents and injuries, and avenues for compensation. If you have any further questions after reading this article, feel free to contact our top law offices. All consultations and case reviews are entirely free and provided by our experienced lawyers with experience handling slip and fall claims.
Rights of Individuals Who Enter Private Property of Others:  The duty owed by a property owner is predicated on the status of the injured party at the time of the accident.
Duty owed to a trespasser – A person who does not have a right to enter the property of another, has not been invited, and is not on the property for a non-commercial purpose.  Generally, there is no duty owed by a property owner to a trespasser.  The only exception is when the property owner knows that his property is being trespassed frequently; in those instances, the owner has a duty to warn trespassers of all artificial and concealed defects which can pose a harm to individuals who enter.
Duty owed to a licensee – A person who enters lawfully or enters a property for a non-commercial purpose. For example, a friend that comes to a house for a party.
Duty owed to an invitee – A person who lawfully enters a property for a commercial purpose like shopping or purchasing a good or service. An invitee is owed the highest duty of care. Property owners must properly warn an invitee of all known or knowable risks associated with the property or must exercise reasonable care to protect their health and safety. Even if someone enters a store or shopping center not intending to buy anything, they are still owed the same duty as an actual shopper. Therefore, if you went to the store to use the bathroom, and you tripped on something and fell, you can still sue the store, even if you were not there to buy anything.
A skilled attorney with expertise in slip and fall injury lawsuits can explain further.
Slip and Fall Accidents on Government-Owned Property: Victims who have suffered injuries on government-owned or government-run property maintain their rights to seek compensation. However, there are certain statutory limitations which have to be met. Government claims must first go through an administrative claims process. Victims have 6 months from the date of the injury to file an administrative claim with the public entity. Once there is a rejection of the claim by an administrative agency, the victim will have 6 months from the date of the rejection to file a government claim. With the assistance of a qualified lawyer experienced in slip and fall cases, you can make sure you do not miss any deadlines in filing your claim.
Slip and Fall Accidents in the Workplace – Filing a Workers Compensation Claim: Victims who suffer injuries at their place of work have the right to seek out recovery via workers compensation benefits only.
When the accident is caused by a third party: In many cases, the cause of the accident which takes place at work is an individual or an entity that is not your employer. In those circumstances, victims will have what is referred to as a bifurcated claim, allowing them the right to pursue both a workplace compensation claim and a personal injury claim. Please contact our top-rated Los Angeles attorneys with experience in slip and fall cases for more information.
Statute of Limitations – Deadline for Filing a Lawsuit in Civil Court:  Statute of Limitations refers to the timing deadline an individual has to file a personal injury lawsuit in the court of law. The timing deadline for a specific case is determined by the jurisdiction where the accident took place. In the state of California, a victim of personal injury has two years from the date of the incident to file a civil claim for monetary recovery in a state court.
Tolling the Statute of Limitations: In certain circumstances, victims of personal injury will be able to file a claim despite the fact that the two-year statute of limitations had passed. A list of some of those circumstances where the tolling of a statute can be awarded by California state courts is provided below.
Mental incapacity of the Victim: California courts have determined that if an individual has been deemed "insane" or mentally incompetent at the time of the incident or as a result of the wrongful actions of the defendant, the statute will be tolled. The definition of incompetent under California law is a person who is unable to care for his or her "property or transacting business or understanding the nature or effects of his acts."
Physical incapacitation of the Victim.
Incarceration of the Victim: Imprisonment will toll the statute until a victim's statute of limitations until release from prison or for two years, whichever comes first.
Minor Statute of the Victims: In the state of California, individuals have two years from the date of their 18th birthday to file a civil claim in the court of law. Minors who have been emancipated from their parents have two years from the date of their emancipation to file a claim for personal injury in a civil court in California.
Felony Conviction of the Defendant:  Victims have one year from the date of the felony conviction to file a civil claim for damages recovery, even if the two-year statute of limitations has passed.
State of War – barring the victim's access to court.
Further information: For further information on statutes of limitations for slip and fall accident claims, feel free to contact our top law offices to speak to an attorney who has experience in slip and fall cases.
Common Injuries Associated with Slip and Fall Accidents: There are numerous injuries which can take place as a result of a slip and fall accident. A list of the most common injuries is provided below.
Back and neck injuries including spinal cord damage.
Hand and wrist fractures.
Damage to the shoulders including torn rotator cuff and dislocation.
Cracked ribs.
Hip fractures and dislocation.
Knee damage – torn ACL, MLC and meniscus.
Ankle and foot injuries.
Traumatic brain injury.
Facial injuries including broken nose, damage to the jaw, broken teeth.
Steps You Need to Take Following a Slip and Fall or Trip and Fall Accident: There are several important steps you should follow after a slip and fall or trip and fall accident in order to preserve your right to financial recovery for any damages sustained. A list of those steps is provided below.
If injured, immediately seek medical attention: Have staff or security personnel contact local paramedics to transport you to the emergency room.
Gather evidence: Take pictures of the wet surface or the item you tripped on.
Keep Evidence: Do not wash or throw away any clothing or damaged items. Keep them locked and sealed in an airtight plastic wrap or containers.
If there are any witnesses, ask for their contact information, including names and phone numbers.
File an incident report with the store or building where the incident took place.
If contacted by an insurance adjuster or any other representative of the at-fault party, do not speak with them regarding the facts of the case and your injuries. Ask for the claim number attached to the incident.
Seek legal help: Contact an accomplished personal injury attorney. Legal guidance will allow you to achieve the maximum recovery available.
Recovery for Victims – Potential Value of a Slip and Fall Injury Case: Victims of harm are entitled to financial recovery for all losses sustained due to the negligent or wrongful conduct of others. The potential value of a slip and fall case is predicated on several significant factors, some of which are explained below.
The diagnosis of the injuries that you suffered. For example a broken femur is likely going to have a higher potential value in comparison to soft tissue damage.
The medical and rehabilitation costs associated with the injuries suffered.
Future medical and health related costs associated with the injuries suffered.
Amount of wages and salary lost.
Calculation of future loss of wages due to long-term disability.
Level of pain and suffering associated with the loss.
Availability for punitive damages compensation.
Loss of consortium recovery – The spouse of a loved one who has suffered injuries is entitled to receive financial recovery for the loss of their spouse's physical and emotional intimacy due to the accident suffered.
Costs of Hiring an Attorney:  The chief concern of many injured victims is the potentially high cost of hiring an attorney. In order to alleviate such concerns, our law firm has made the decision to represent victims of personal injury strictly on a contingency fee basis. The means that our clients will not have to pay a single penny out of pocket for any costs of legal fees until there is a financially successful resolution of their case. We also have put in place a ZERO FEE GUARANTEE meaning that if for whatever reason we are not able to provide you with monetary compensation in your case, you will not owe us anything.
Free Legal Consultation Available for Victims of Injury: Our experienced lawyers are able to provide no-cost case reviews for any individual who has suffered injury due to the actions of others.  If you have any further legal questions or if you wish to pursue a claim for recovery contact our law offices today.