Self Driving Uber Vehicle Involved in 3-Car Accident in Tempe | 9-8-2017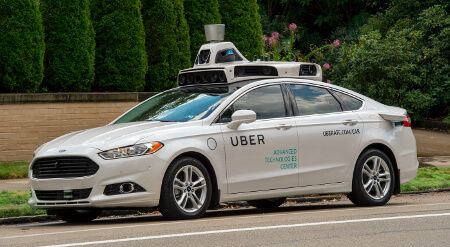 According to authorities from Tempe, Arizona, a Uber self-driving car was involved in a multi-vehicle accident that injured one person. Tempe Police spokesman Ron Elcock reported that the accident occurred around 1 p.m. on Friday near Apache Boulevard and Terrace Road. It was reported that a different vehicle left the scene and was located shortly after the accident. An unidentified victim was taken to a local hospital with non-life-threatening injuries, but their medical status is still unknown. This isn't the first accident involving a Uber self-driving vehicle in Tempe. In March a Uber SUV was hit by another car making a left turn. No one was seriously injured as a result of the accident, and the company temporarily grounded after as to conduct a thorough investigation.
How Normandie Law Firm Can Help
If you or a loved one has suffered any physical injuries or property damages as a result of a self-driving app-based ride share car accident, you may be entitled to monetary compensation for all the damages that you have suffered. If you file a claim with Normandie Law Firm you could find some, if not all, of these following expenses compensable:
Any and all medical expenses
Loss of Income
Loss of potential future income
Emotional Damages (anxiety, depression, PTSD, etc…)
Punitive Damages
Victims of this incident or incidents like this one can contact our law offices to learn more about how to receive compensation for their injuries. Our team of Uber accident attorneys is committed to ensuring every one of our clients has the resources to put up a fair fight for their case.
FREE CONSULTATION: As a show this commitment to you and your case we offer our clients the benefits of a zero fee guarantee policy. Under our zero fee policy, all clients don't pay for our services until their case is won. If you feel in need of a second opinion, second opinion case reviews are also free under this policy. Call our law offices today for a free consultation by one of our skilled attorneys, and we can discuss the incident, your damages, and the path to receiving proper compensation for your damages.
Related Articles: 
OUR ATTORNEYS WILL HELP YOU FILE YOUR CASE AGAINST UBER/LYFT