Scaffolding accidents are some of the most serious types of construction accidents. Generally, this is because of the degree of injuries which can occur as a result of the fall. This is even more amplified when you have an individual who is relatively elevated at the time of the accident. Additionally, when you are at a construction site elevated at above 20 feet, a free fall can cause devastating bodily injuries. If you or your loved one has been injured in a construction or scaffolding accident we would like to hear from you. You can speak to an expert attorney who has experience in scaffolding accidents.
Defective Scaffolding Accidents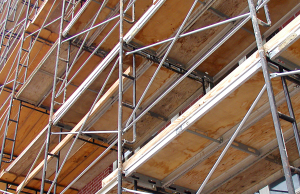 Defective scaffolding setups can be the cause of the injury. When the 3rd party setup company is involved in the construction of the scaffolding, they can be liable for the injuries sustained. Scaffolding setups must be performed carefully and involve many engineering concepts; if these principles are not followed, the scaffolding can fall apart.
In such cases where you have an improper setup, you can pursue multiple claims. First, you can pursue a claim against the property owner under a premises liability claim. Second, you can pursue a worker's compensation claim discussed below. Third, you can pursue a claim against the company involved in the setup. Generally speaking, you would want to consider the third option for maximum recovery. However, this will require significant investigation.
Finally, you can pursue a product defect claim. This is a different type of case which will require multiple levels of investigation. First, you will need to identify whether the scaffolding boards and pipes were defective. Generally, this will require a stress test to make sure that they are not. Second, you will need to determine whether a qualified party conducted the setup. It is important to remember that if the set up was NOT done correctly, then it would NOT be considered a product liability claim. Rather it would be considered a general liability claim.
Each of these elements requires proper and thorough investigation. Feel free to call our office for a free consultation with a qualified lawyer experienced in scaffolding accident cases.
Workers Comp or Personal Injury
Should you pursue a worker's compensation claim? This is not such a straightforward answer. If you were involved in an injury at work, your sole and exclusive remedy is often times a worker's compensation claim. However, these types of cases have limitations, and if you can demonstrate that a 3rd party was responsible, then you can split up the claim.
It is important to note that you cannot collect on both types of cases. In other words, you cannot collect money from worker's compensation and a third party. Additionally, a worker's compensation settlement is limited, as mentioned before. Generally, a worker's compensation claim will limit you to medical bills and the loss of your ability to work. You will not be able to recover for your pain and suffering, which is often a significant portion of any loss of earnings.
An experienced attorney with experience handling scaffolding accident claims will be able to tell you more about what you stand to gain from both types of claims.
Common Injuries
What are some common injuries after a scaffolding accident? Depending on the degree of the fall and other various issues they can be serious. Common injuries include the following:
Traumatic brain injuries with various deficits;
Loss of hearing;
Eye sight loss;
Fractured hip bone;
Pelvic damage and or fracture;
Orbital fracture or other ocular injuries;
Serious nerve damage
This is not an exhaustive list. A more complete list of injuries can be determined after you speak with your doctor. If you have suffered any of these injuries, whether while at work or otherwise, you may be able to sue for legal compensation. An accomplished attorney with expertise in scaffolding accident injury lawsuits can help you move forward with a claim.
Selecting Normandie
Normandie Law Firm, one of the top-rated legal groups in Los Angeles, has a top team of attorneys with experience in scaffolding accident cases. Our lawyers are here to help you receive fair compensation for your damages. We believe that all of our clients are entitled to fair restitution if they were hurt as a result of another party's negligence. Call our accomplished firm today to have a free consultation with one of our experienced lawyers.
We also offer a zero fee guarantee on your case. This means you pay no out of pocket expenses for our legal services; our fees are paid if we win your case, and they are taken from the settlement itself. If we lose, you owe us nothing.
Contact Normandie Law Firm for a consultation with a skilled attorney with expertise in scaffolding accident injury lawsuits