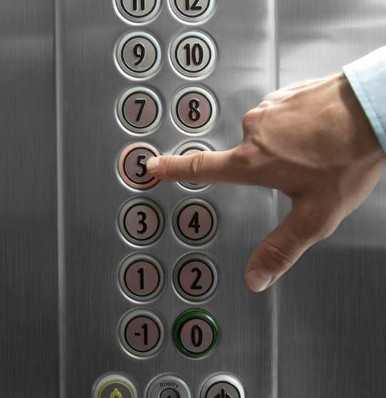 Elevator injuries are more common than many believe. According to the U.S Bureau of Labor Statistics and the Consumer Product Safety Commission, roughly 17,000 people are injured, and 30 people are killed every year in elevator accidents. Victims who suffer from the injuries of elevator accidents are sometimes unaware that they can sue the hotel, mall, or property owner for the damages they've sustained. In fact, if you or a loved one has suffered from an elevator accident you can file an elevator accident injury lawsuit. However, the key to any successful lawsuit is a skilled attorney. At Normandie Law Firm, our experienced San Diego elevator accident attorneys can assist you in the process of filing your claim, making your case, and collect compensation. Contact our law offices today and receive a free consultation.
Elevator Accidents
Being trapped in an elevator or being injured by an elevator can be a terrifying and traumatizing experience. Those who suffer from elevator injuries are subject to a wide range of injuries, some of them are even life threatening. Elevator injuries can occur at malls, hotels, shopping centers, or any other building that requires an elevator for transport to higher or lower levels. There are five main kinds of elevators that exist, and they vary in size and capacity.
Passenger: Passenger elevators are typically the most common type of elevator. They are often driven by either hydraulics or tractions. Hydraulic passenger elevators offer a maximum travel height of 50 feet. Meanwhile, traction-driven elevators can surpass the 50 height maximum when installed in medium and high rise buildings.
Freight: Freight elevators are typically more durable than an average elevator and can carry heavy loads. Their primary purpose is to lift general freight, carry motor vehicles, and load industrial trucks.
LULA: LULA, or Limited Use/Limited Application elevators, are used only by a small number of people on a light, as-needed basis. They are designed to fit within the small spaces of a building.
Home: Home elevators are used at an individual's home, and are installed for optimum convenience and accessibility. Home elevators are most often utilized by people with limited mobility.
Personnel: Personnel elevators are used by maintenance, mechanical, or operations personnel in spaces like power plants, dams, and underground facilities.
If you have been trapped or injured in any of these kinds of elevators, you may file a lawsuit and claim compensation for the damages. Mistakes happen, however, some mistakes occur at the fault of a secondary party. If these mistakes are as the result of this secondary party a lawsuit can be filed against them. However, if the mistake was unavoidable then you risk having your case thrown out of court. Listed below are some of the common mistakes, malfunctions, or defects that can occur in elevators:
Faulty doors, which can cause an open shaft. This shaft puts passengers at the risk of falling
Faulty wiring, or an elevator control malfunction
Pulley system malfunction, or a mechanical breakdown or defect that causes the elevator to drop rapidly within the shaft
Asphyxiation from being trapped inside the elevator for too long
Incomplete repairs, maintenance, or inspections
Unbalanced leveling and failure of lining up the elevator correctly with the floor
Wiring malfunctions or entrapment due to the heat from fire or water from emergency sprinklers or hoses
These elevator malfunctions or any similar elevator malfunction can result in serious injury and even death. Depending on the cause of the injury itself, more than one party can be deemed responsible for compensation of the damages. For example, if the elevator accident was caused by a defective wiring system that was flawed at installation, the company who manufactured the wiring system could be held liable for damages under a product liability lawsuit. However, if the accident occurred as the result of poor maintenance procedures by the property owner, the property owners and possibly the maintenance team could be held liable for the damages. Regardless of the specific aspects of your case, seeking experienced legal consultation is vital to earning the compensation you deserve for your damages. Call our law offices today and our San Diego, elevator injury attorneys can discuss the incident, the damages, the aftermath, and the best path to winning your case and making a speedy recovery.
Filing A Lawsuit and Proving Negligence
In order to file a elevator accident lawsuit, or any other personal injury lawsuit against a business for that matter, you must be able to prove whether or not your accident occurred due to the owner's negligence. In regards to this specific article, you must be able to prove the negligence of the elevator maintenance crew, the owner, or the building manager, you must be able to provide evidence for each of the following:
Duty: You must be able to show that the property owner owed a legal duty to you under the circumstances. In this case, the duty to ensure safe elevator transit for building visitors.
Breach: You must be able to show that the property owner breached their legal duty by acting or failing to act in a particular way
Causation: You must be able to prove that the owner's actions (or lack thereof) caused your injuries
Damages: You must be able to show that you were harmed or injured as a result of the owner's actions (or inactions). This is typically done through the presentation of medical bills and evidence of a loss of wages
If it is determined that the injury occurred as the result of defective elevator components, then you can file a lawsuit against the component manufacturer through a product liability lawsuit. Product liability lawsuits operate under Product Liability Laws. These laws, hope to ensure that defective products do not reach the hands of consumers. These laws also make it easier for consumers to file lawsuits against large manufacturing companies who may have the resources to hire a whole host of skilled attorneys to dispute a consumer's claim. For this reason, employing your own well-practiced attorney is vital to filing a successful claim.
Whether the accident was caused by the fault of a manufacturer or by that of a property owner, it is in your best interest to immediately contact authorities and a lawyer in order to preserve the evidence at the scene. Once the appropriate parties have been contacted, you should attempt to perform an detailed inspection of the elevator, the elevator components, and the elevator control room. If the accident resulted in death, it is likely that you will need to consult expert advice in order to thoroughly investigate the scene. These experts can include individuals like, elevator engineers, elevator safety experts, professional building management experts, or a fire rescue and evacuation expert. Once the proper guidance is consulted, your lawsuit should be thoroughly examined by a skilled attorney in order to determine the most viable path to pursuing legal action.
How Normandie Law Firm Can Help – Free Consultation and Zero Fee Guarantee
If you or a loved one has been injured as the result of an elevator accident, you may be entitled to significant monetary compensation for all the damages you have suffered. At Normandie Law Firm our skilled San Diego elevator accident attorneys can walk you through the process of building your case, filing your claim and earning compensation. Our law firm practices in all of California including San Diego, Orange County, Bakersfield, Modesto, Fresno, San Francisco, San Jose, Oakland, Oxnard, Riverside, Los Angeles, San Bernardino and throughout the state of California. As a further display of our commitment to you and your case, our firm operates under a strict zero fee guarantee policy. With this policy, you don't have to pay anything until we win your case. This policy also ensures free second case reviews for all of our clients.