Saber Grill and LP Regulators Fire and Burn Hazard Recall Info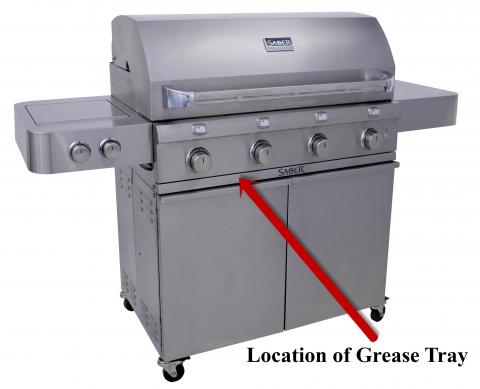 Name of Product: Gas grills and liquid propane (LP) regulators
Hazard: The grills' LP regulator can allow gas to flow at a higher pressure than intended, which can cause a gas leak and flame burst from the burner knobs, posing fire and burn hazards to consumers.
Remedy: Repair
Recall Date: September 26, 2017
Recall Number: 17-233
Description: This is a recall of the Model RA329 LP regulators with the date code in the range of 1120 to 1344 which where:
Sold with certain SABER LP grills, warranty part kits, and natural gas to LP conversion kits;
Installed as warranty or service parts in certain other SABER LP grills; or
Installed in SABER natural gas grills and burners if they have been converted to use LP instead of natural gas.
The model number of the grill is located on a rating label located on the underside of the grease tray. The regulator date code is stamped on the regulator adjacent to the gas tank connection, and the regulator model number is on the center of the regulator.
Remedy: Consumers should stop using this product immediately and contact Saber for a free repair kit with installation instructions.
Incidents/Injuries: Saber Grills has received 35 reports of regulators malfunctioning, including three reports of signed arms and two reports of burned or singed hair.
Sold At: Specialty outdoor living stores throughout the country, including Family Leisure, Fortunoff Backyard Store and Watson's, and through authorized websites and catalogs including: Bed, Bath & Beyond and Frontgate, from September 2011 to May 2017 for between $800 and $2,000. The price of the LP conversion kit ranges from $90 to $105. The warranty parts were also sold as service parts between $50 and $110.
Importer(s): Saber Grills LLC of Columbus Ga.
Manufactured In: China
Units: About 18,800 and 2,900 warranty parts and conversion kits (in addition 7,700 grills and 500 warranty parts and conversion kits were sold in Canada)
How Normandie Law Firm Can Help
If you have purchased this product we recommend that you send a report to receive a full refund of your purchase. We also recommend that you act immediately as this product can cause serious bodily injury. If you or a loved one has already suffered damages as the result of this product then you may be eligible to file a product liability lawsuit and collect proper monetary compensation. If you file a claim with us you could find some, if not all, of these following expenses compensable:
All of you medical and hospitalization costs
All of your future medical care and treatment
A loss of income and loss of future earnings due to long-term recovery or permanent disability due to the accident
Compensable economic damages include loss of property or damaged property.
Compensable non-economic damages include emotional distress, trauma, PTSD resulting from the accident, pain and suffering and anxiety.
Victims of this recall or recalls similar to this one can contact our law offices to learn more about how to receive compensation for their injuries. Our team of product liability attorneys is committed to ensuring that our clients receive proper representation for their claims.
FREE LEGAL CONSULTATION: As a display of our commitment, every one of our clients will receive the benefits of our zero fee guarantee policy. Under this zero fee policy, all you don't pay for our services until we follow through with our promise and win your case.  If you feel in need of a second opinion, second opinion case reviews are also free under this policy. So, give us a call, and let us fight your case, so you don't have to.
FURTHER INFORMATION: