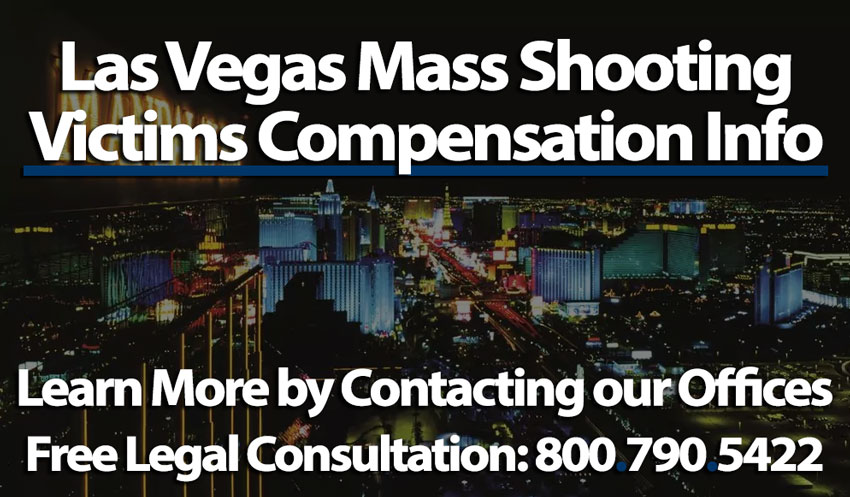 After Stephen Paddock opened fire for nearly 10 minutes on a crowd of over 20,000 people attending the Route 91 country music festival, talks of lawsuits began to surface. Over 500 people were injured while nearly 60 were killed as the shooter rained bullets down from the 32nd floor of the nearby Mandalay Bay casino. A major issue was the layout of the concert venue itself – the Route 91 festival is an open-air venue, meaning it is an outdoors location with no overhead protection. Concertgoers entered and exited the venue through one pathway, while the entire area was fenced off. Though this was done to prevent those without tickets from attending, it proved to be a safety hazard. The lack of emergency exits forced people to have no quick escape once the shooting started. As a result, many people were boxed in and turned into sitting ducks; Paddock did not have to hit running targets, but aim for those pockets where people huddled together near the fences. Some were lifted over by Samaritans, while others remained where they were. We at Normandie Law Firm believe concert organizers were at least partially responsible for injuries in the Stephen Paddock Las Vegas shooting; the injured victims deserve some form of compensation from the festival. A Las Vegas law firm can help. We are investigating the liability of the festival and we expect our clients to come to us with questions such as:
Are Route 91 concert promoters liable for the shooting in Las Vegas on the Las Vegas Strip?
Is Route 91 festival venue responsible for the shooting at the Route 91 concert?
How can I join a Las Vegas strip Mass Shooting Class Action Lawsuit against Route 91 festival?
Who can I contact about a Las Vegas strip Shooting Class Action Lawsuit against Route 91 concert?
When do I need to contact a wrongful death lawyer if I was affected by the Las Vegas mass shooting?
If you contact our law firm, we will assign the perfect wrongful death lawyer to your case and they will explain all of your rights and next steps you can take to ensure maximum compensation.
Theory of Liability
Ultimately, the most amount of responsibility lies on Paddock for carrying out such a terrible shooting. However, because his crime was able to be carried out without any problems or arousing any suspicion, the other entities can be looked at with some degree of liability. For instance, some injured victims may look to sue the Mandalay Bay resort for their lack of security. The choice to sue the resort can come about because of the ease with which Paddock transported the weapons to his room and installed the security cameras that would alert him to police presence. You may also choose to sue the hotel because of how negligent staff were; they did not check on Paddock, clean his room, or contact him in any way while he was present.
When it comes to the Route 91 festival, however, there is an opportunity to sue based on liability as well. A lawsuit against Route 91 concert venue for the shooting done by Stephen Paddock can address the fact that the crowd was fenced in with no escape routes. This is a very problematic situation in the case of an emergency.
For example, if there were a shooter inside the lot, there would be no way to reliably leave. Concertgoers would be forced to barrel for the single exit, which was placed far from the stage itself. Having only one exit also creates a bottleneck situation; many people will try to squeeze past each other in moments of panic, and as a result, the crowd will become stuck, leaving themselves as easy targets for a gunman. Additionally, the fence that was put up to keep the patrons inside prevented a scattered escape. Some were able to hop the fence, but others, such as the elderly, wounded, or otherwise incapable, could not do so as easily, and required the assistance of others.
Having a fence around the property without sufficient emergency exits or additional ways to leave could have contributed to injuries and deaths. A wrongful death attorney can help include you in a wrongful death class action lawsuit against the festival venue and organizers.
Personal Injury Claims and Class Action Lawsuits
Because of the partial liability of the Route 91 festival in regards to the shooting, injured victims can file personal injury claims against the concert. Many people will already be looking to sue the estate of Paddock, but those funds will surely run out, and his insurance and personal capital will not be enough to cover the various expenses of the hundreds of affected individuals.
As a result, you can enlist the help of an attorney for Las Vegas mass shooting lawsuit who will help you get compensation from the festival itself. You have up to 2 years to file a personal injury claim against the festival, but we recommend filing it sooner rather than later. This injury claim can cover any damages you sustained while the shooting was going on, whether it came from the bullets themselves, trampling, environmental damage, falls, security, and more. An attorney for Las Vegas strip shooting injuries will make sure you are adequately represented in court and will fight for your rights as a victim.
Further, you may choose to join a Route 91 concert mass shoot class action lawsuit. A class-action lawsuit consists of a group of individuals enacting legal action against one entity. This type of lawsuit is beneficial in that it has a higher chance of succeeding due to the amount of plaintiffs supporting it with heaps of evidence.
If one of your loved ones were fatally wounded in the Mandalay Bay shooting, you may opt to file a Route 91 music festival wrongful death lawsuit with the help of a wrongful death lawyer. This type of lawsuit can also be filed as either a private claim or a class action lawsuit alongside the families of the many other victims.
We at Normandie Law Firm believe you have the right to sue the concert venue for its role in the shooting, as they were at least somewhat liable for the deaths in Las Vegas during the Route 91 concert.
Potential Compensation
If you choose to pursue a personal injury lawsuit against the Route 91 festival, you can earn various types of compensation, including:
Medical Expenses – surgery, hospitalization, medication, physical therapy, future expenses.
Lost Wages – any income you lost as a result of the injury or recovery process, of both past and present form.
Property Damage – any belongings you had at the time of the shooting that were damaged, broken, or lost can be compensated for.
Pain and Suffering – emotional damage, psychological damage, fear, anxiety, PTS, and mental scarring.
By pursuing a wrongful death lawsuit, you are also able to sue for loss of consortium, therapy, and funeral expenses.
Normandie's Role
Normandie Law Firm is here to help victims of the Las Vegas shooting get the compensation they deserve from the responsible parties. Whether you want to file a personal injury claim or a wrongful death lawsuit against the hotel or you want to sue the promoters for their part in the shooting, we are available and proud to take on your case.
Our primary concern is the health and safety of our clients, and we want to make sure that you receive the necessary funds to heal and recover as best you can in the wake of this tragedy. If you have a lost a loved one, you should not have any added stress relating to finances plaguing your life. The grieving process is long and difficult, and we want to help alleviate it in any way we can.
Call us today to receive a free legal consultation on your case. We will tell you what we believe you can earn and help you decide which type of lawsuit you should file. Our team of attorneys is available around the clock to assist you and answer your questions.
We also offer a zero fee guarantee on all claims we take on. You will not pay anything out of pocket for our legal services – we only take payment if we win your case, and the payment comes from the settlement we earn for you. You are guaranteed to suffer no economic loss by hiring legal representation.
Contact Normandie Law Firm today if you are in need of a law firm for Las Vegas mass shooting deaths or personal injuries.
FURTHER INFORMATION:
Is Mandalay Bay Hotel liable for the Stephen Paddock shooting in Las Vegas?
Mandalay Bay Hotel Resort Liability for Stephen Paddock Las Vegas Shooting
Las Vegas Mandalay Bay Liability for Wrongful Death and Injury to Victims