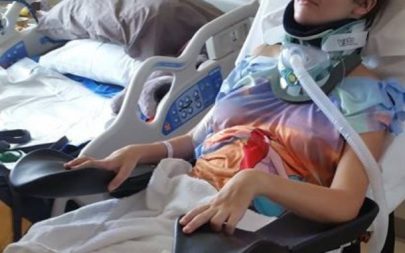 Quadriplegia is an adversely life-changing, and devastating condition that can arise from any number of accidents or injuries. Those who suffer from quadriplegia at birth more than likely have either adjusted to the severe hindrance in mobility, although for individuals who experience quadriplegia as a result of an accident, can face a mountain of challenges in regaining even partial mobility. Fortunately, if you or a loved one has suffered from quadriplegia as a result of an accident caused by the negligence or misconduct of another you have every right to file a lawsuit for the damages quadriplegia has caused. Although when filing a lawsuit it is always in your best interest that you seek legal assistance from an attorney experienced in quadriplegia injury accidents. At Normandie Law Firm our Los Angeles quadriplegia injury attorneys can guide you through the often complicated and challenging process of building a case, filing a claim, and collecting compensation for the damages that you have had to experience. If you have any questions after reading this article, please feel free to reach out to our law offices for a free consultation from one of our skilled legal associates.
What is Quadriplegia?
Quadriplegia is defined as the paralysis of all four limbs of an individual. Also known as tetraplegia, this condition has a wide variety of causes ranging from nerve damage to amputations. When it occurs as result of nerve damage, it involves some spinal cord injury above the first thoracic vertebra or within the cervical sections of the spine. These damages can result in varying degrees of paralysis in the four limbs, meaning the legs and the arms. How intensive the quadriplegia is, depends on the injury that caused it. Quadriplegia can range from a loss of mobility in the arms of legs to incredibly severe situations wherein the victim has trouble breathing on their own. There are two forms of quadriplegia, complete quadriplegia and incomplete quadriplegia. Complete quadriplegia refers to a total lack of sensory and motor function in the extremities below the neck. This form of quadriplegia arises from severe injury to the spine and can be incredibly challenging to recover from. Incomplete quadriplegia means that the spinal cord's ability to send messages between the brain and the extremities is not entirely lost. Victims of incomplete quadriplegia usually experience some form of sensation, and victims have a limited range of mobility below the level of the injury. Cases of incomplete quadriplegia can lead to a kind of phantom limb syndrome, where is the sensation of a limb still attached and functioning; however, the victim cannot use the affected limb. In these cases, there is some chance of further recovery. However, it requires extensive medical treatment, and expert physical therapy to rehabilitate incomplete quadriplegic victims.
As mentioned prior, quadriplegia can be caused by a wide variety of accidents. When filing a lawsuit for the damages caused by these accidents or injuries, it is important to understand what exactly led to the damages suffered. Defining the direct cause of your quadriplegia can make the difference between collecting adequate compensation for your damages and having your case dismissed from court. Listed below are some of the accidents that can lead to a diagnosis of quadriplegia:
Car Accidents
Motorcycle Accidents
Truck Accidents
Construction Accidents
Sporting Accidents
Bicycle Accidents
Accidents Caused By Defective Products
Slip and Fall Accidents
In this article, we will cover these various accidents and how they can inflict severe spinal cord damage or amputations which can lead to quadriplegia.
Automobile Accidents (Car, Motorcycle, Truck and other vehicles)
The force behind automobile accidents can result in any number of injuries from minor bumps and bruises to injuries as severe as quadriplegia. These damages can arise whether you are in a 4-door sedan, a motorcycle, or in a freight truck. However, it is important to note that these collisions are far more dangerous for those on motorcycles and when they involve trucks. Unlike most motor vehicles, motorcycles lack adequate protection from these collisions. Motorcycle drivers and their passengers are left exposed to the full impact these accidents can cause, and as such, they are at increased risk of suffering devastating spinal cord damage which can lead to quadriplegia. Trucks also pose an increased risk of auto accidents as when fully loaded can vastly outweigh that of any common passenger car. As such when these vehicles crash, they can inflict a greater force upon those they collide with, or the objects that they may collide into. Depending on the state which your accident occurs, victims of automobile accidents can often collect compensation from health and auto insurance companies. However, it is still important to seek assistance from an attorney experienced in handling quadriplegic injuries. This is particularly true if the accident was caused by the negligence or misconduct of another driver, or if the driver at fault does not have adequate car insurance. With the help of a skilled auto accident attorney experienced in handling cases of quadriplegia, you could find adequate recovery for the damages that you experienced.
Slip and Fall Accidents
Slip and fall accidents can also cause quadriplegia albeit rarely. A high degree of force is required for quadriplegia to occur, and in most cases, such level of force isn't present in slip and fall accidents. However, these accidents can still lead to victims being diagnosed with quadriplegia. When slip and fall accidents occur as a result of a hazard on premises, the owner of said premises may be held liable for the damages under premises liability law. Whether your slip and fall accident occurs at a general store, shopping mall, restaurant, office building, or hospital, the owner of the property and their staff are expected to provide a reasonably safe environment for patrons and visitors. When filing a lawsuit against a property owner, it is important that you can prove that the property owner was liable for the damages. Under premises liability, victims of slip and fall victims have to prove that the following was present in their case:
There was a hazardous condition or potentially dangerous condition on the property, like a wet or damaged floor, which presented an unreasonable risk of harm.
The property owner should have been aware of the dangerous condition
The property owner failed to either warn guests of a reasonable condition and did not take reasonable action to remedy the issue.
The hazardous condition resulted in the injury of a tenant or patron.
As always, you should have adequate evidence to support your claims. This evidence can take the form of photographic evidence of the hazard, video footage of the hazard, eyewitness accounts, and even medical records that show the damages that you sustained as a result of the accident.
Construction Site Accidents & Other Work Accidents
If an accident occurs at work and results in the victim being diagnosed as a person with quadriplegia, they more than likely can collect compensation through their worker's compensation benefits. Under federal law, all employers are expected to provide workers compensation insurance to cover their damages in the event of a truly damaging accident. For instance, if an object falls on you at your workplace and it results in you being diagnosed with quadriplegia, you could collect compensation for your medical expenses, and any loss of wages you suffered through these workers compensation benefits. Unfortunately, you can only file a lawsuit against your employer if they fail to provide adequate workers compensation for your injuries, or it is proven they directly intended to cause you harm.
The case is somewhat different for quadriplegia victims that work on construction sites. Unlike typical workers, construction workers have a right to seek assistance from an experienced lawyer to help them sue the construction site manager, the contractor, and even the manufacturer of a faulty product that may have led to their injuries. As stated before, it is always in your best interest that you seek legal representation from a lawyer experienced in fighting for quadriplegic victims.
Accidents Caused By Defective Products
Defective products can also result in causing quadriplegia. However, under product liability law, product manufacturers are expected to keep defective products out of the hands of their consumers. Unfortunately, mistakes happen, and when a consumer receives a defective product and is left quadriplegic by it, they have every right to file a lawsuit against the manufacturing company for their quadriplegia. However, when filing a lawsuit against a company, it is important that you understand where the defect occurred in the production line. In most cases, some companies are involved in the manufacturing of a product, and as such a defect could have occurred anywhere on that production line. Being able to place liability on a company effectively can make the difference between reaching a favorable outcome for your case and having your case dismissed entirely. Listed below are the three common areas where a product defect occurs, and a description of what these defects can look like:
Design Defects: These are the defects that can occur before the product is sent to the assembly line. The defects that occur in this stage of production are faults that make the product inherently dangerous. In most cases, these defects can lead to full-scale product recalls, and the company which organized the design of the product could be held liable for the damages.
Manufacturing Defects: These defects typically occur on the assembly line of the product. They can range from minor mistakes along the manufacturing chain to reoccurring errors that can result in substantial recalls. In these instances, the manufacturing company could be deemed responsible for the damages.
Marketing Defects: These defects occur during the marketing of a specific product. These defects include things like improper labeling, insufficient instructions, or inadequate safety warnings.
Regardless if you were left quadriplegic as a result of a car accident or a defective product, you have a right to adequate compensation for your damages. The treatment and physical therapy that quadriplegia requires can be incredibly expensive, and you shouldn't have to face these expenses alone. With the help of a skilled attorney, you could find all of your damages paid for through the pursuit of a lawsuit for your quadriplegia.
How Normandie Law Firm Can Help
The damages caused by quadriplegia go far beyond the physical trauma of having lost full mobility. Quadriplegia can lead to significant pain and suffering and financial damages as well. Fortunately, you do not have to face this burden alone. If you or a loved one have suffered from quadriplegia as a result of the misconduct or negligence of another, you may be eligible to file a claim for significant monetary compensation. At Normandie Law Firm our experienced Los Angeles quadriplegia injury attorneys can help you sue the party responsible. If you file a claim with our law firm you could find some, if not all of the following damages compensable:
Past and Future Medical Expenses
Loss of Income
Loss of potential future income
Emotional Damages (anxiety, depression, PTSD, etc…)
Punitive Damages
Being left quadriplegic from a traumatic accident can be incredibly damaging, and there is no reason you should face a company or property owner alone. Fortunately, our quadriplegia injury attorneys in Los Angeles can help you sue those responsible for the damages. Our attorneys practice in major cities across the United States and are committed to ensuring all of our clients receive all the assistance they need to receive a positive outcome for their case.
Free Second Opinions
Other attorneys will sign you up to their firm but will disappear once your name is on the paper as they are busy signing up more cases. In these instances, their business is based more on volume and will attempt to sign up as many cases as possible. In turn, they will spend less time on cases resulting in severely reduced settlements. Our firm will not treat you like a number. We will be in communication with you throughout our lawsuit and will treat you like family. So if you already have an attorney don't worry, we'll give you a second review of your case 100% free of charge.
Zero Fee Guarantee-No Upfront Fees Ever
If you contact our law offices today, we can walk you through the complicated process of filing your claim completely free of charge. As a show this commitment to you and your case we offer our clients the benefits of a zero fee guarantee policy. Under our zero fee policy, all clients don't pay for our services until their case is won. If you feel in need of a second opinion, second opinion case reviews are also free under this policy. Please, feel free to give us a call, and we can guide you down the path of receiving proper compensation for your damages.