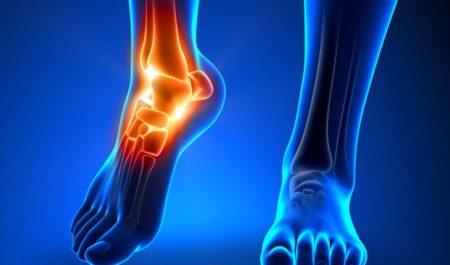 Many times, car accident injuries heal up after a few weeks or months and allow you to return to normal. Some damages, however, have residual effects or additional complications that make recovery particularly difficult. An ankle injury may not seem too bad; after all, we have all had an ankle sprain at some point in our lives. A broken or fractured ankle is much more painful, but these wounds heal. There is the chance, however, that you can develop a more debilitating injury after ankle damage in the form of CRPS. CRPS, which stands for Complex Regional Pain Syndrome, is also known as Reflex Sympathetic Dystrophy, or RSD; it is a condition that flares up and affects the nerves near the site of the ankle injury, but is not believed to be wholly related. An auto accident that leads to CRPS in the ankles can be used as grounds for a personal injury claim and earn you various types of compensation for your damages. Our experienced lawyers at the top-rated Normandie Law Firm know that CRPS is a frustrating and painful disorder to have, and if you are afflicted with it due to the negligence of another, you deserve restitution. Our clients routinely call us with questions about the condition and how to pursue legal action. Some of these questions include:
What Los Angeles law firm has the best CRPS lawyers?
Where can I find RSD lawyers in Los Angeles?
Can I sue if I got CRPS in my ankle after a car accident?
Identifying CRPS after a Car Accident
When you are involved in a car accident, you have the potential to be injured in multiple ways. Your feet and legs are especially vulnerable due to how much can collapse around them – the steering wheel can bend down and crush your legs, while the door may twist and trap your feet between the panel and the chassis. CRPS will often show up after severe injuries like fractures, crushing damages, and amputations, but it can also appear after minor injuries like sprains. Thus, if your ankle was injured after a car accident, you may be at risk for CRPS.
CRPS in the ankles can be identified by recognizing that the pain you feel is not proportional to the injury you received. It is normal to feel a stinging sensation or a swollen pain when you have a sprain, break, or fracture; it is not normal, however, for a burning pain to linger around the site of the injury and travel to other limbs and extremities. Pain after these injuries is supposed to decrease after a few days, and the longer it persists, the likelier it is that you have developed CRPS from an ankle injury.
Other CRPS symptoms in the ankles include swelling and inflammation, severe pain away from the location of the injury, stiffness, muscle spasms, alteration in both the color and texture of the skin, and a heightened and painful sensitivity to touch and temperature. If you need a recommendation for a skilled doctor, consult with one of our qualified attorneys with experience handling CRPS injury claims.
What is CRPS?
CRPS is a type of degenerative condition that affects the nerves. It is not necessarily nerve damage in the typical sense, but it is brought on by a malfunction in the peripheral nervous system. The ganglions send unnecessary pain signals to the brain and the body attempts to fight the pain in any way it can, leading to all of the painful symptoms and reactions.
CRPS is progressive, meaning it worsens over time. It can create feelings similar to arthritis in the ankles. If left untreated, CRPS can lead to immobility of the ankles, a drastic reduction in the range of motion, muscular atrophy (a condition in which the muscle essentially withers away), and paralysis. Although CRPS usually stays in the limb that was initially injured, there have been reported cases of it traveling elsewhere and affecting other parts of the body.
Because of how many different conditions share some of the symptoms of CRPS, it can be very difficult for doctors and health care professionals to diagnose it. You may have to see a number of doctors before a consensus is reached, and in that time, your condition could have worsened and may not be able to be brought under control. In this case, you may only be able to receive compensation; call an expert attorney who has experience in CRPS injury cases for more help.
Treating CRPS
You may have developed CRPS after a motorcycle accident or developed CRPS after a truck accident, or simply acquired it after a car accident. Whichever the reason, you should seek medical treatment that will help you keep the condition under wraps and do everything you can to not worsen it. Attorneys with experience in CRPS lawsuits can help point you in the right direction for proper medical treatment if you cannot locate any doctors who are providing you with adequate care. Of course, it is very important to note that there is no actual cure for CRPS. Most of the treatments are centered on pain management and reducing the physical damage that can come about from it.
Your doctor may advise you take medication such as:
Over the counter pain relief, such as ibuprofen, naproxen, and aspirin. These drugs can be bought at any drug store for cheap prices and do not require a doctor's prescription. They are household items and come in handy with stopping inflammation. They are also able to relieve some minor pains, but nothing too severe.
Stronger pain relievers. Sometimes, over the counter medication is not enough to curtail the pain from CRPS. Your doctor may write you a true prescription for painkillers like Vicodin or Oxycontin. It can be very risky to take these drugs, however, as they have a very high risk of dependency.
Bone-loss medication. These drugs can stop bone-loss from occurring and may delay the effects of any atrophy.
Intravenous ketamine. Ketamine that is injected intravenously can be enough to alleviate lots of pain due to its strong anesthetic properties.
Corticosteroids: These steroids reduce inflammation and can help you maintain mobility and your range of motion in your back.
If your doctor does not want to prescribe you medication, he may request that you try alternate forms of treatment, such as physical therapy and topic analgesics. These treatments are meant to reduce pain, help the body return to alignment, and increase mobility. The further along your condition has progressed, however, the more likely it is that you will not be given these treatments and will instead be asked the take the medication.
Filing a Lawsuit for Complex Regional Pain Syndrome from an Ankle Injury
If you were injured in a car accident and you sustained an ankle injury that birthed CRPS, you may be able to receive compensation from the responsible party.
Individuals wishing to file a personal injury claim must be able to prove four main points of negligence. These points are as follows:
The defendant owed the plaintiff a duty of care. That is, while driving, the defendant (as well as all other drivers on the road) must do their parts to not harm anyone else or place other drivers or pedestrians in paths of danger.
The defendant breached that duty of care. A breach of duty occurs when the defendant places others in danger, whether by driving recklessly, speeding, running red lights, or texting and driving.
The breach of duty led to an accident. If a person's refusal to yield to right of way laws caused an accident at an intersection, for instance, that is a clear indication that this third point was fulfilled.
The accident caused actual injuries. In the case of CRPS and ankle injuries, you can claim that the accident did, in fact, cause the ankle injury that resulted in CRPS developing. If there were no injuries, a claim cannot be filed. You can, however, file a claim if an accident worsened a pre-existing condition.
If all of these points of negligence are fulfilled, your personal injury claim is ready to be filed. You should make sure to have ample evidence and doctor's notes to back up your claim. Our accomplished attorneys with experience in CRPS cases can help you assemble all of the necessary documents and take your case before the insurance company or the court. We will help you earn:
Covered medical expenses, including surgery costs, hospitalization, medication, physical therapy, and any future treatments that are necessary.
Lost wages, which may come about from time spent away from work due to an injury or from time spent away from work in the future due to recovery time or additional procedures.
Property damage, which includes repair costs for your vehicle and replacement costs of anything you owned that was broken or lost in the accident.
Pain and suffering, or emotional damages. These damages reflect stress placed on the mind and psychological state; they include fear, anxiety, mental scarring, and PTSD.
Punitive damages, which are given out to punish the defendant for his gross negligence or intention to cause harm. These damages are often viewed as excessive, as they are purely additional monetary gains, and only an attorney with expertise in CRPS can win them.
Normandie's Assistance
Our team of top attorneys at Normandie Law Firm is here to help you get the fairest compensation for your CRPS ankle injury. We know that the condition is extremely painful and we are willing to do everything we can to bring you proper restitution. Our attorneys are empathetic when it comes to clients and aggressive when it comes to insurance agencies. This balance is what helps us win cases and bring out clients settlements they are satisfied with.
FREE LEGAL CONSULTATION AVAILABLE TO YOU: Call us today for a free legal consultation on your case with an experienced attorney. You are invited to ask any questions you want and we will answer them accordingly. Our attorneys are available around the clock. Further, if you select us for legal representation, you are given a zero fee guarantee on your claim. You will not owe us any money out of pocket – all of our fees come from the settlement itself after we've won your case. If we lose, we take no payment at all. Your financial security is important to us, and preserving it is second only to our desire to make sure you are healthy and provided for after an injury as severe as CRPS.
Reach out to Normandie Law Firm today to speak to a lawyer experienced in CRPS injury cases in Los Angeles.