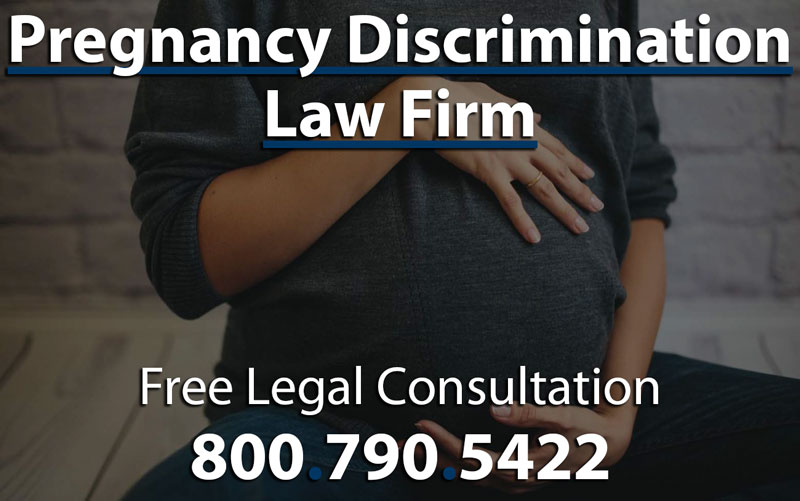 Have you experienced mistreatment at work because of your pregnancy? Are you unsure of your legal rights as a worker in California? Our attorneys at Normandie Law Firm with expertise in anti-discrimination law can guide you through the process. Being discriminated against at work can lead to some truly damaging consequences. Often those who are discriminated against are unaware of their rights as workers and will endure continued mistreatment or be pressured to leave their job spoiling their chances of earning unemployment benefits. Fortunately, victims who experience pregnancy discrimination can sue their employer for their actions and behavior. With the help of one of our skilled attorneys, we can walk you through the often complicated process of building a case, filing a claim, and reaching a settlement that, covers all of the damages that you have suffered. If you have any questions after reading this article, please feel free to reach out to our law offices for a free consultation from one of our many top-rated legal advisors.
Discrimination in Los Angeles
Discrimination is often defined as the mistreatment of an individual based on their race, skin color, cultural background, religious background, age, personal characteristics, or in this case: pregnancy. Discrimination can occur in the workplace in the form of receiving unfair treatment, being harassed, or being terminated. If you were fired for being pregnant or experienced a hostile work environment for being pregnant, you might be able to sue your employer for firing you or mistreating you due to your pregnancy. There are many strict state and federal laws that prohibit discrimination in the workplace. If an employer discriminates against their employees, they are directly breaking these laws and can face the full legal consequences as a result.
Pregnancy discrimination is characterized as a form of sex discrimination and is focused on women who are pregnant. Pregnancy discrimination can happen at any point in the employment process from the initial interview to being wrongfully fired from your job for being pregnant. In most cases, victims who experience pregnancy discrimination at work find one or all of the following aspects are present in their case:
If you were demoted because of your pregnancy
If your hours were reduced because of your pregnancy
If you were fired because of your pregnancy or;
If your pay was cut because of your pregnancy.
Even though pregnancy discrimination is prohibited by state and federal law, many employers still have been known to show behavior or perform actions that discriminate against their employees based on their pregnancy. Pregnancy discrimination can result in significant financial damages for a woman with child and can add significant emotional and mental stress which can directly affect the health of the child. For this reason, victims who experience pregnancy discrimination at work have every right to sue their employer for discrimination. However, the process of suing an employer for wrongful termination after being fired for being pregnant, or for harassment at work as a result of discrimination can be an incredibly complicated process. Some criteria must first be met before bringing your case to court, and any misstep along the way can result in your case being dismissed from court. For this reason, it is highly recommended that you seek legal representation from an attorney with experience in pregnancy discrimination claims. Having the right attorney by your side can make all the difference in the outcome of your case and can ensure you reach the settlement you deserve your damages. If you or a loved one experienced pregnancy discrimination in Los Angeles or the greater State of California, one of our Los Angeles attorneys can help you file a lawsuit against your employer.
The Process of Filing A Lawsuit For Pregnancy Discrimination
As stated prior, suing an employer for pregnancy discrimination can be a complicated process. While the process is complicated, it is far from impossible. With the help of an experienced pregnancy discrimination law firm, you could reach a positive resolution to your case, and find a settlement that covers all of your damages. One of the most crucial parts of any pregnancy discrimination case is being able to gather supporting evidence. In most pregnancy discrimination cases, there are two forms of evidence that you could use to support your claims. First and foremost, are the classic items of evidence, such as:
Text messages between you and your employer
Phone calls between you and your employer
Eyewitness Accounts
Testimonies from other employees who experienced similar discrimination
Circumstantial evidence can also make the difference in your case. Circumstantial evidence is often considered evidence that falls more on reasonable doubt and inference than anything else and shows the actions and motive of a defendant. Some forms of circumstantial evidence can include the following:
Being terminated in a way that broke typical termination policy.
Being terminated at or around the same time that you are to begin your scheduled pregnancy leave.
Being terminated for reasons that either don't make sense or seem ill-fitting of your performance thus far.
Being mistreated when compared to the treatment of other non-pregnant coworkers.
Evidence showing your employer mistreated other pregnant women in the past.
As stated previously there are certain steps that pregnancy discrimination victims must follow to ensure the best possible outcome for a case. In most cases, victims of pregnancy discrimination don't have to take their case to court, as they reach a satisfactory settlement beforehand by following these crucial steps. If you reach out to our Los Angeles pregnancy discrimination law firm, one of our attorneys may recommend that you take note of the following process to ensure a positive outcome to your case:
Contact an HR Representative: The first thing you should do is report every incident of abuse to your company's Human Resources department. These departments are put in place to fight for the rights of their employees and resolve issues of this nature. Often, cases will be resolved at this point as a result of the actions of an HR representative. By reporting your incidents, you not only document the harassment, but you can also show a jury that you exhausted all options of solution before relying on legal action.
Collect Any and All Evidence: If your HR department fails to remedy the issue, you may need to file a report with either a state or federal anti-discrimination agency. Before you do so, you should gather any and all evidence you need to support your claims. This evidence can include things like photographs, video footage, or audio recordings of incidents of harassment; text messages, phone calls, emails, or other points of contact shared between you and your employer or; eyewitness testimonies from co-workers, customers, or even family members that back up your claims. At this point, you should consult a workplace bullying and abuse attorney in Modesto if you haven't already.
File a Report With an Anti-Discrimination Agency: Before you can file a lawsuit against your employer, you must file a report with either the federally run Equal Employment Opportunity Commission (EEOC) or a state-run agency. These agencies will review your case, and either give you the approval to sue or reject your right to sue an employer. During this period, it is highly recommended that you keep a low-profile at work as you do not want to give your employer any evidence to later dispute your claims in court.
Move to Court or Resolve: If the anti-discrimination agency approved your case, you and your attorney would receive a 'right-to-sue,' letter, giving you the go-ahead to take your case to court. However, at this point, many cases settle as companies would rather settle a case than expend the exuberant legal fees to fight the case in court. It is up to you whether you want to take your case to court or not, and before making a choice, it is highly recommended that you reach out to your Spanish speaking lawyer for advice on the best course of action.
Regardless of what route you decide to take in resolving your pregnancy discrimination case, it is highly recommended that you receive legal representation and guidance from an attorney well-versed in the subject of anti-discriminatory law. With the right attorney by your side, you could earn the settlement you deserve your damages.
How Employee Justice Legal Team Can Help
Being discriminated against because of your pregnancy can be a traumatic experience, and can not only damage you emotionally but financially as well. Things like wrongful termination, a reduction in pay, and not being hired for a job because of your pregnancy can all result in significant monetary damages which can be especially harmful to expecting mothers. Fortunately, with the help of an experienced and skilled law firm, you can earn the compensation you deserve. This compensation can come in the form of hefty severance packages, or even emotional distress settlement payouts. At Normandie Law Firm, our Los Angeles pregnancy discrimination lawyers can help guide you through the process of earning compensation for your damages and fighting for your rights as a worker. Victims of pregnancy discrimination can contact our law offices to learn more about how to receive compensation for their injuries. While our law firm is based near Los Angeles, our attorneys also practice in Oakland, San Francisco, San Diego, Sacramento, Los Angeles, Riverside, Fresno, and throughout the state of California.
Free Second Opinions
Other attorneys will sign you up for their firm but will disappear once your name is on the paper as they are busy signing up more cases. In these instances, their business is based more on volume and will attempt to sign up as many cases as possible. In turn, they will spend less time on cases resulting in severely reduced settlements. Our firm will not treat you like a number. We will be in communication with you throughout our lawsuit and will treat you like family. So if you already have an attorney don't worry, we'll give you a second review of your case 100% free of charge.
Zero Fee Guarantee-No Upfront Fees Ever
If you contact our law offices today, we can walk you through the complicated process of filing your claim completely free of charge. As a show this commitment to you and your case we offer our clients the benefits of a zero fee guarantee policy. Under our zero fee policy, all clients don't pay for our services until their case is won. If you feel in need of a second opinion, second opinion case reviews are also free under this policy. Please, feel free to give us a call, and we can guide you down the path of receiving proper compensation for your damages.