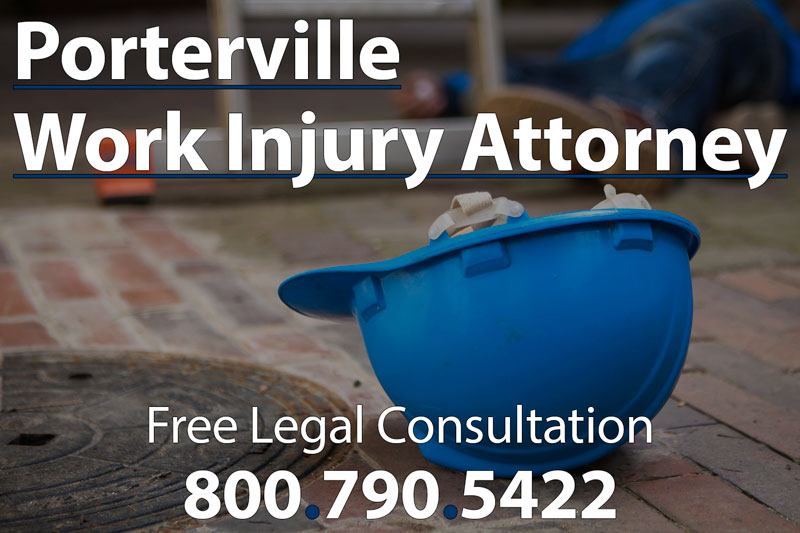 In many instances, employees who have been injured at work opt to not pursue any compensation for their damages. They often elect to work through their injuries because the reduction in wages may be a hardship that they cannot endure. Workers compensation benefits should be pursued regardless – if you do not take the necessary time to heal from your injury, you risk getting hurt again in the future. There are numerous benefits to filing for worker's comp, and our experienced lawyers at our Porterville law firm, Normandie Law Firm, can give you more information on what you can receive moving forward. It is crucial for employees to understand their rights and potential benefits if they were hurt while working. Our clients often call us with questions about filing a work accident lawsuit and what to do to receive worker's compensation benefits. Some examples of these questions include:
Where can I find a Porterville work injury attorney?
Who is the best Porterville lawyer for work injury lawsuits?
I need an attorney in Porterville for a work accident claim. Who can I call?
Worker's Compensation Requirements in California
In the state of California, worker's compensation benefits can be collected by any employee who sustained an injury while at work, irrespective of his role in the accident. This is due to California being a no-fault state; essentially just being present at work is enough to receive compensation. If you have been injured at work, you should acquaint yourself with the necessary details regarding worker's comp. Ideally, you would have been presented all of this information and understood it upon being hired, but we know that not all employers make it easy for employees to access this info.
Before you even sustained an injury, you should have been able to read pamphlets or posters regarding worker's compensation. These notices should have been present at your workplace in a visible area that can be accessed by employees; locked in a drawer or in a room that is kept locked and off the main premises does not count as visible and accessible.
Your employer must have worker's compensation benefits available to you or the employer must be self-insured. If your employer does not, legal action can be taken. For other information on what is required with respect to worker's compensation, contact one of our experienced Porterville lawyers today.
Common Work Accidents and Injuries
We often see many of the same types of work accidents and injuries take place at the workplace. This is due to the prominence of people in these positions as well as the fragility of certain body parts. In general, we see slip and fall injuries very often, which can lead to broken bones, fractures, sprains, lacerations, concussions, back problems, and more. These damages can prevent you from returning to work for some time if they are particularly severe. What is especially problematic about these types of accidents is that they are not limited to any one profession. Any person can slip and fall at his job, whether that includes falling down the stairs, tripping over merchandise, slipping on a wet floor in the office foyer, or a similar incident.
There are some specific types of injuries that occur more often in some jobs than in others. For instance, manual laborers often suffer more musculoskeletal problems resulting from long hours of lifting and physical work. They may come with more disc problems, neck issues, overexertion injuries, and more, as well as be injured by machinery and equipment. On the other hand, individuals who work at a computer station all day generally have more lower back problems, stiffness, nerve damage, and repetitive strain injuries.
In both cases, the job duties that these individuals have to partake in often contribute to the injuries. Using heavy machinery can be dangerous, but so can sitting in one position for extended periods of time. Regardless of your job and the injuries that stem from it, you deserve to be compensated for your damages.
Our California work accident attorneys can help you earn your fair compensation if you were injured at your job.
Steps to Filing for Worker's Compensation
After your injury, you will need to pursue medical treatment and alert your employer to the fact that you were hurt on the job. You can alert your employer within 30 days of the accident occurring; if you wait any longer, you likely won't be able to file a claim for worker's compensation, barring certain exceptions. Your employer would be able to authorize up to $10,000 in medical treatment for you and provide you with all the various forms, documents, and receipts for a claim. These documents must be moved to their respective recipients within one day with each successive document; many of these responsibilities lie on your employer, and if he does not complete these tasks in a timely manner, you may be able to take legal action.
A doctor from your employer's medical network will conduct an examination of you (if you opted to have your own physician, you may go see him). Your disability or impairment rating will be measured, as well as your ability to work through your injury and after it. There will be recommended courses of action and medical treatment.
Next, you should start the recovery process, whether that includes undergoing medical procedures or resting at home. During this time, your doctor may declare that you can work reduced hours or with certain restrictions. These job restrictions can set you up to receive disability benefits For example, if you suffered back damage, you may not be required to do any heavy lifting for fear of aggravating the injury or delaying the healing process. Your employer is required to adhere to these work restrictions and reasonable accommodations as long as they do not stretch the boundaries of what is acceptable. Keep in mind that if you are not given any work duties while injured, you are not legally required to work, and your employer cannot fire you for being injured.
If your injury does not ever go away, or if you cannot heal to the point where you can perform your job duties the same way as before, you may be able to receive permanent disability. Disability of both temporary and permanent varieties allows you to collect wages for a certain amount of time after you were hurt, but at a reduced rate (generally two-thirds of your previous earnings).
Talk to a Porterville attorney with experience in work accidents for more information on filing a worker's compensation claim.
Potential Compensation for Work Injury Victims
In addition to disability benefits, your worker's compensation claim can bring you coverage for medical bills from your injury (including surgery, hospitalization, medication, physical therapy, and coverage for future treatments) and lost wages (from both the past and future). You should be aware that you cannot sue your employer for noneconomic damages (or pain and suffering, which would include PTSD, fear, anxiety, mental scarring, and psychological issues). You can, however, file an additional claim against a third party for any damages that were accrued in your injury, and these claims can exist and be litigated at the same time.
An attorney in Porterville who has experience in work injury cases can help you earn the fairest compensation for your claim. Talk to a work injury lawyer at the Normandie Law Firm today.
Our Assistance
Our Porterville work injury law firm, Normandie Law Firm, has a number of experienced lawyers who are willing to help you work through your worker's compensation claim. Our goal is to make sure you are adequately taken care of in the event of a work injury, and we promise to do everything we can to bring you the compensation you deserve. Our aggressive attorneys will pursue your settlement and not stop until you are satisfied with the outcome.
Call us today to speak with a work accident attorney in Porterville and to receive a free legal consultation about your case. All consultations are completely confidential. We invite you to ask us anything that's on your mind and we will discuss it with you, whether it's your claim, your injury, the laws behind worker's compensation, and more. We pride ourselves on giving you the required knowledge you need to make an informed decision about filing a claim.
Further, if you hire our Porterville work accident attorneys, you are given a zero fee guarantee on your case. This means that you pay no out of pocket expenses for our services. Our fees are taken from the settlement we earn for you if we win, and if we lose, you owe us nothing at all. This ensures that your own private savings are never used for your legal needs.
Contact Normandie Law Firm to be connected with a work accident lawyer in Porterville.