Police officer killed 8-5-2017 605 Freeway in Cerritos
Off-Duty Sheriff's Deputy Struck and Killed on the Shoulder of the Road After Vehicle Broke Down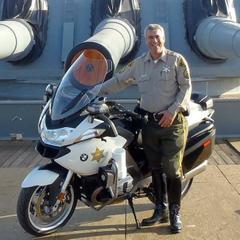 Our law firm is currently investigating the possibility of personal injury and wrongful death lawsuits against all responsible parties for an accident that occurred August 5, 2017 in Cerritos, California.
A 29-year veteran of the Los Angeles County Sheriff's Department was struck and killed on Saturday, August 5, 2017, by a vehicle after he pulled over on the shoulder of the road on the 605 Freeway in Cerritos, authorities said.
Deputy Michael Haak, a father of three, was driving northbound when he presumably experienced vehicle troubles around 2:40 p.m. that Saturday.
Haak pulled to the shoulder and exited his vehicles on the side of traffic when he was hit by a car which was driving in the right-most lane. The other driver, a 54-year-old man from Buena Park, fully cooperated with California Highway Patrol investigators. They reported that he was not under the influence of any substances, according to the sheriff's news release.
The Normandie Law Firm
Car accidents can be among the most traumatic experiences that we can be involved in. The large majority of Americans drive every single day and we expose ourselves to the risk of accidents. We at the Normandie Law Firm understand that the consequences of car accidents can be incredibly detrimental. While the majority of car accidents don't even leave a dent on either car, there are still many car accidents which result in bodily injury and disability, which can lead to even further complications like, for example, loss of wages.
Additionally, a car accident can result in property damage which can be expensive to replace. The Normandie Law Firm is your car accident law firm to ensure that you get the necessary damages to which you are entitled.
Damages Available to You
When you get into a car accident, you are entitled to certain "damages," or compensation, which can help pay for the harm that resulted from the accident. There are a multitude of damages you can receive after being a victim of a car accident. Here are some of the damages you may be entitled to after an accident:
Bodily Injury – If the injuries you sustained due to a car accident required immediate medical attention, you may be entitled to receive compensation for the medical expenses associated with your injury.
Change in Lifestyle – Car accident injuries may result in permanent disability which will lead to a change in lifestyle. For example, if you require a wheelchair to get around, you can receive compensation for the purchase of said wheelchair.
Lost Wages – You may have been forced to miss work because of the injuries you received. You can get compensated for the hours you missed at your regular rate of pay.
Property Damage – If your property was damaged as a result of the car accident, you can receive the necessary payout to repair or replace the damaged property.
Free Consultation and Zero Fee Guarantee
The Normandie Law Firm is here to ensure that you get the maximum amount of damages for our claim. We offer free consultations and a zero-fee guarantee, so there is no financial risk on your part. Call us today to see what we can do for you.