Pico Union Hit-and-Run with Bicyclist 8-15-2017
LAPD Looking for Pico-Union Hit-and-Run Driver Who Left Bicyclist Severely Injured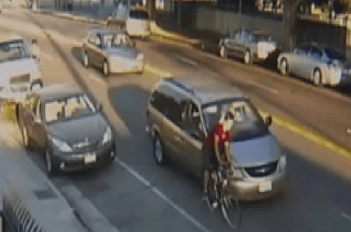 Our law firm is currently investigating the possibility of lawsuits against all responsible parties for an accident that occurred August 15, 2017. Information from the news:
LAPD authorities are on the hunt for the driver of a tan minivan which struck a bicyclist 6:50 p.m on Tuesday August 15, 2017 along Venice Boulevard on Magnolia Avenue. According to police, the cyclist was riding westward on Venice Boulevard when the minivan crashed into his bike. The cyclist was thrown into a parked car then fell to the ground. Another nearby cyclist rushed to help the injured man who was unresponsive. The driver of the tan minivan continued driving after striking the cyclist. Authorities were called, and the injured cyclist was rushed to the hospital with severe head injuries. His identity has yet to be released. However, LAPD Officer Mike Lopez reported on Monday that he was still in critical condition.
The minivan, later identified to be a gold Chrysler, was captured in a 2-second surveillance video released by the LAPD. Authorities have offered up a reward of up to $50,000 for anyone who provides information leading to the driver's arrest and conviction.
About Normandie Law Firm
If you or a loved one has suffered any physical injuries or property damages as a result of the negligent conduct of others behind the wheel, you may be entitled to monetary compensation for all the damages that you have suffered. If you file a claim with Normandie Law Firm you could find some, if not all, of these following expenses compensable:
Any and all medical expenses
Loss of Income
Loss of potential future income
Emotional Damages (anxiety, depression, PTSD, etc…)
Punitive Damages
Victims of this incident or incidents like this one can contact our law offices to learn more about how to receive compensation for their injuries. Our team of attorneys is committed to ensuring every one of our clients has the resources to put up a fair fight for their case. As a show this commitment to you and your case we offer our clients the benefits of a zero fee guarantee policy. Under our zero fee policy, all clients don't pay for our services until their case is won. If you feel in need of a second opinion, second opinion case reviews are also free under this policy. Call our law offices today for a free consultation by one of our skilled attorneys, and we can discuss the incident, your damages, and the path to receiving proper compensation for your damages.